In spite of its reputation as a famously bad month for stocks (mostly linked with the 1929 crash), October 2011 saw most stocks rebound nicely, although it ended on a negative tone.
Both the Dow Jones industrial and the Standard & Poor's 500 index reported some of their strongest performances recently (best month since October 2002 and since December 1991, respectively).
Data center related stocks are also mostly positive in the month, with the only exception of 21Vianet Group (NASDAQ:VNET), the Chinese colocation player that has recently been in a negative trend following a much hyped IPO at $15.
Here is a quick look at how data center related stocks performed in October: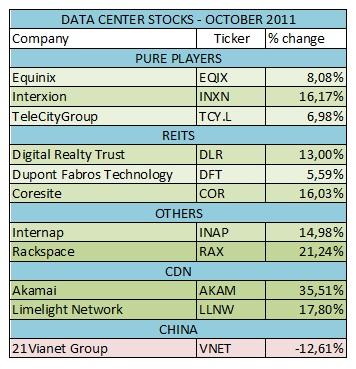 The month of October also saw a few companies reporting Q3 earnings. In general, the market seemed to like the number delivered, with three companies, Equinix (NASDAQ:EQIX), Digital Realty (NYSE:DLR) and Akamai (NASDAQ:AKAM) getting a positive push post earnings, while Internap (NASDAQ:INAP) Is the only company in the red: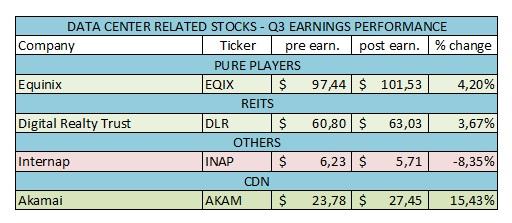 (Click to enlarge)
Year-to-date, the picture for data center related stocks gets mixed, but mostly positive for REITs and network neutral players.
On the negative side, CDN stocks and 21Vianet see their price almost cut in half, since the beginning of the year.
Rackspace (NYSE:RAX) delivers the best result so far, a sign of the strength of the "cloud computing related" theme in Wall Street, if the company is also capable of delivering solid growth numbers.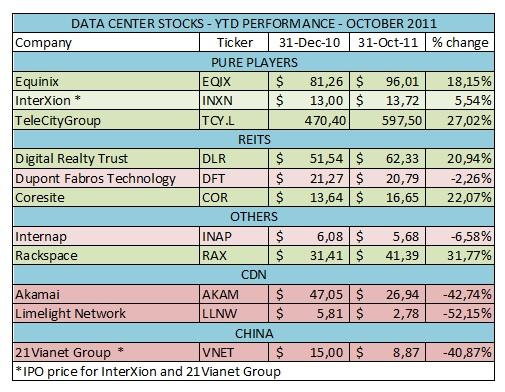 (Click to enlarge)