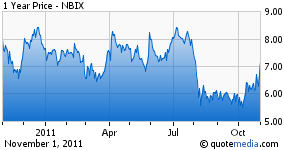 On October 31, 2011, Neurocrine Bio (NASDAQ:NBIX) reported financial results for the third quarter 2011. The company reported total revenues in the quarter of $41.6 million, which consisted of $2.4 million in sponsored R&D and reimbursement from Abbott Labs (NYSE:ABT) and Boehringer Ingelheim (BI), $9.2 million in amortization of upfront payments from Abbott, BI, and Dainippon Sumitomo Pharma (DSP), and $30.0 million in milestone payments from Abbott. Revenues were in-line with our estimate of $42.0 million, when including the $20 million milestone payment from Abbott noted in the press release issued October 4, 2011.
As a reminder, Neurocrine signed two research collaborations in the second quarter 2010, one with Abbott for elagolix that included $75 million cash up-front and the potential for $530 million in milestones, and one with BI for GPR119 that included $10 million upfront and the potential for $225 million in milestones. Neurocrine reported net income for the third quarter of $31.4 million, or $0.56 cents per diluted share. This was in-line with the company's overall financial guidance for the full year.
The company's balance sheet on September 30, 2011 reflected total assets of $149.0 million, including cash, restricted cash, short-term investments and receivables of $140.2 million. This amount includes both milestone payments from Abbott Labs. Management expects to have a net cash burn from operations of approximately $3 to $6 million for the full year 2011; meaning cash at the end of the year will still exceed $130 million. We believe this is sufficient cash to fund operations, including the in-house development of Uro-2, VMAT-2, and the remaining preclinical work on elagolix for which Neurocrine is still responsible, for the foreseeable future.
We are expecting revenues in 2011 of $78.7 million, which includes amortization of up-front license fees and R&D payments of approximately $48.7 million and recently earned milestones under the collaboration agreement with Abbott of $30 million. We see net income in 2011 of $37.0 million (Guidance: $34 to $39 million), which equates to $0.66 per share.
Elagolix Development Rolling Forward
On September 13, 2011, Abbott Labs announced it had commenced a phase 2 clinical trial to evaluate elagolix in the treatment of uterine fibroids. The trial is expected to enroll up to 300 women with heavy uterine bleeding associated with uterine fibroids at clinical sites around the U.S. for a total of 3 months. We expect the trial to take about twelve months to complete, meaning we should see data late in 2012. The initiation of the trial triggered a $10 million milestone payment from Abbott to Neurocrine Bio. Previous data with elagolix suggest the drug can reduce bleeding associated with uterine fibroids.
On October 4, 2011, Neurocrine announced that it has achieved a second major milestone from Abbott Labs on elagolix. Neurocrine and Abbott held a pre-phase 3 meeting with the U.S. FDA in September 2011, the results of which triggered a $20 million payment from Abbott to Neurocrine. We expect the phase 3 elagolix program in endometriosis to begin in the next few weeks. We expect that this pivotal program will include two large-scale (n~500) patient programs with co-primary Dysmenorrhea and Non-Menstrual Pelvic Pain endpoints, testing 150mg elagolix QD. The exploratory Dyspareunia endpoint may also be tested, as well as Patient Global Impression of Change in the trials. There will also be a long-term (n~400) safety program. Efficacy will be assessed by a responder analysis for statistical evaluation.
We are confident in the design of the phase 3 trials, and the efficacy and safety previously seen with elagolix. In total, Neurocrine has presented data from 12 phase 1 programs and 6 phase 2 programs (2 phase 2a and 4 phase 2b) on roughly 1,000 patients. Much of this data was presented at the 2011 annual meeting of the American Society for Reproductive Medicine, held October 15-19, 2011 in Orlando, Florida.
… A Billion-Dollar Opportunity …
Endometriosis is a medical condition characterized by growth of the endometrium (uterine tissue) outside of the uterus, most usually on the pelvis, that affects an estimated 100 million women of reproductive age worldwide, or about 10% of the female reproductive age population according to the World Endometriosis Foundation. There are an estimated 10 million women affected by endometriosis in the U.S. Endometriosis also occurs in a small percentage (2-4%) of postmenopausal women. Symptoms of endometriosis are severe recurring pain that can include dysmenorrhea (menstrual pain), dyspareunia (painful sex), dyschezia (painful bowel movements) and dysuria (painful urination).
From a sales standpoint, we think peak U.S. sales are around $1.5 billion. Abbott's upfront payment of $75 million in June 2010 (and $530M backend) seems to validate this forecast. We remind investors that Abbott owns the worldwide rights to elagolix, including in Europe, were we see another 10 million potential users.
Endometriosis is caused by an excess of the hormone estrogen, and thus can manifest during peak reproductive years. Hereditary and environmental factors, as well as associated infections (such as HPV), can increase incidence and severity. The disease is often treated, ineffectively, by a number of medications. NSAIDs are used to treat mild-to-moderate pain associated with endometriosis. Progesterone or progestin and hormonal contraceptives are used to regulate estrogen levels when appropriate. In fact, industry data shows that almost 20% of all oral contraceptives prescribed are written specifically for the treatment of endometriosis. Steroids and aromatase inhibitors are used to block estrogen levels and endometrium growth. However, these have significant negative side-effects.
Lupron, an injectable gonadotropin depo shot, is used to lower estrogen levels and slow endometrium growth. However, Lupron shuts down estradiol production and puts the body into "medicated menopause", resulting in significant side effects such as hot flashes and a reduction in bone mineral density. In the most severe cases, a hysterectomy is performed.
Elagolix, a gonadotropin-releasing hormone (GnRH) antagonist has efficacy characteristics similar to Lupron for the treatment of endometriosis, but with less potential for bone mineral density loss. It is also the first oral small molecule GnRH antagonist. The drug works by blocking the action of GnRH and suppressing luteinizing hormone and follicle-stimulating hormone. There are a few other GnRH molecules on the market, but none that are oral in dosing or have amassed the clinical data of elagolix. Therefore, we believe that Neurocrine can achieve significant market share gains with elagolix upon commercialization. Most women shy away from Abbott's Lupron due to side-effects. Nevertheless, Abbott is still the market leader in this category. As such, we believe that Neurocrine has the ideal pharmaceutical partner to further develop and commercialize elagolix in Abbott Labs. We believe a specialty Ob/Gyn sales force of 200 to 250 representatives can effectively target greater than 90% of the market.
Neurocrine Looks Well Positioned for the Future
We continue to very positive on Neurocrine Bio. The basis for our optimism is our belief that the collaboration deal with Abbott Labs for elagolix was a 'Homerun', and the drug has peak sales over $2 billion worldwide.
Besides elagolix, phase 2 candidate, NBI-98854, a VMAT-2 inhibitor, could play an important role in treating or preventing hyperkinetic movement disorders, such as Tardive dyskinesia (TD). TD is characterized by involuntary bodily movements as seen in patients suffering from Huntington's disease, Parkinson's disease, or as a side effect of dopamine modulation in patients suffering from schizophrenia and schizoaffective disorder. VMAT-2 is a protein concentrated in the human brain that is essential for the transmission of nerve impulses between neurons. Neurocrine's highly selective VMAT-2 inhibitor could be effective in regulating the levels of dopamine release during nerve communication, while at the same time having minimal impact on the other monoamines thereby reducing the likelihood of "off target" side effects. This is a $500 million opportunity in our view.
Neurocrine has a solid balance sheet with over $140 million in cash, investments, and receivables. The company has solid collaborations with Abbott Labs and Boehringer Ingelheim. Elagolix looks like a potential blockbuster and VAMT-2 offers meaningful upside to the story in 2012. We believe Neurocrine is in an outstanding position to build shareholder value over the next several years based on these factors. We recommend accumulating the stock at today's price, up to our $12 target. We have calculated this target based on discounted cash flow, which is available upon request.
Disclosure: I have no positions in any stocks mentioned, and no plans to initiate any positions within the next 72 hours.