* All data are as of the close of Monday, March 30, 2015. Emphasis is on company fundamentals and financial data rather than on commentary.
Time for a little spring cleaning in your portfolio? You could really clean up big time with some cleaning products companies. Today's competition within the Cleaning Products industry gives us everything we need to put a nice sparkle on our returns: a paper towels producer, a cleanser producer, and a sanitizer producer. All we need now is to figure out which has the cleaner financials.
Having already compared the 3 Largest Cleaning Products Companies, Ecolab Inc (NYSE: ECL), Church & Dwight Company (NYSE: CHD), and Stepan Company (NYSE: SCL), we'll now look at the next 3 largest companies in the industry: Zep Inc (NYSE: ZEP), Orchids Paper Products Company (NYSE: TIS), and Swisher Hygiene Inc (NASDAQ: SWSH) - all six of which are U.S.-based.
• Zep Inc, founded in 1937 and headquartered in Atlanta, Georgia, produces and markets cleaning and maintenance chemicals for the transportation, industrial maintenance, and janitorial and sanitation markets, in addition to the broader commercial, industrial, and institutional markets in North America and Europe, offering anti-bacterial and industrial hand care products, cleaners, degreasers, deodorizers, disinfectants, floor finishes, sanitizers, pest and weed control products, air-care products and delivery systems, and automotive maintenance chemicals.
• Orchids Paper Products Company, founded in 1976 and headquartered in Pryor, Oklahoma, manufactures and sells paper cleaning products including paper towels, bathroom tissues, and paper napkins under such owned brands as Colortex, My Size, Velvet, Big Mopper, Linen Soft, Soft & Fluffy, and Tackle, as well as licensed brands such as Virtue, Truly Green, Golden Gate Paper, and Big Quality, primarily to discount retailers, grocery stores, grocery wholesalers and cooperatives, convenience stores, janitorial supply stores, and the food service industry.
• Swisher Hygiene Inc, headquartered in Charlotte, North Carolina, supplies hygiene and sanitation solutions including cleaning and sanitizing chemicals, restroom hygiene products, detergents, cleaning chemicals, soaps, papers, air fresheners, water filters, and dispenser machines, in addition to germicides that inhibit bacteria growth, serving the foodservice, hospitality, retail, and healthcare industries in such countries as the United States, the United Kingdom, Portugal, the Netherlands, Singapore, the Philippines, Taiwan, Korea, Hong Kong/Macau/China, and Mexico.
Of course, the nature of the products these companies produce precludes us finding any high flyers among their stocks. Two of the six largest companies in the Cleaning Products industry, CHD and Swisher, are classified as consumer staples companies, while the remaining four are considered basic materials companies. Since staples and materials are, well, basic, there really isn't a great deal of room in such products for any value-added extras to boost profit.
As such, the industry contends with some of the narrowest mark-ups on the market - averaging just 6.354% in profit margin and 10.946% in operating margin for the five largest companies (excluding Swisher whose margins are deeply negative).
This produces stock charts that are rather dull, as graphed below. Since the deep correction of Q3 2011, where the broader market S&P 500 index [black] has gained 90%, only three of the six largest Cleaning Products companies have outperformed the benchmark, and rather modestly at that, as listed below in order from best to worst:
• largest ECL [orange] with gains of 139%,
• 5th largest Orchids [blue] with gains of 118%,
• 2nd largest CHD [yellow] with gains of 101%,
• 3rd largest SCL [gray] with gains of 26%,
• 4th largest Zep [beige] with gains of 23%, and
• 6th largest Swisher [purple] with losses of 97%.
It looks like two of our three underdogs from the second trio of companies are being taken to the cleaners in this competition.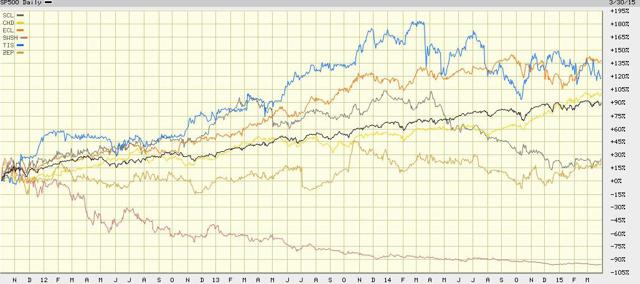 Source: BigCharts.com
Yet as mundane as the staples and materials sectors can be, the markets have a way of shaking things up in a hurry, lifting previously humbled stocks up to the stars while sending once high flyers crashing to the ground, as graphed below.
Where 5th largest Orchids had been the best performer of all six companies heading into 2014, over the past three months it has fallen to last place. Meanwhile, second-to-last performer Zep has been lifted up to the top of the heap. Even long-time last place holder Swisher managed to catch an up-draft, rising to top spot in February before falling back down to last place in March; that is, until Orchids came crashing down through it.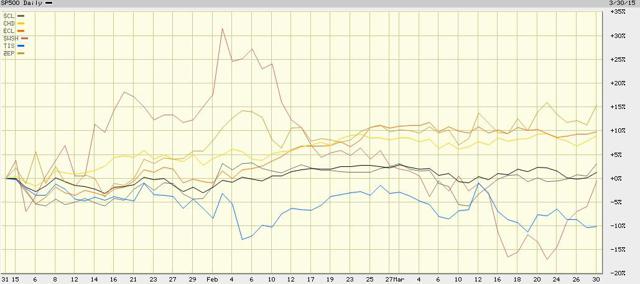 Source: BigCharts.com
What of these stocks' futures? Will such wild ups and downs continue? You bet they will, as projected by the companies' earnings growth estimates tabled below, where green indicates outperformance while yellow denotes underperformance relative to the broader market.
During the current quarter, 4th largest Zep is seen falling from its 3-month top spot all the way to the bottom as the only one of the six companies expected to shrink its earnings. Meanwhile, 6th largest Swisher, which had been the worst performer for years, is seen continuing its recent upswing seen in the graph above on the back of the most earnings growth of all.
The next quarter belongs to the other underdog, 5th largest Orchids, whose earnings are projected to grow the most at 585%!, lifting its growth for 2015 to a top ranking 66%. With fellow underdog Swisher close behind in second place, today's second trio of Cleaning Products companies seems to be cleaning up their act.
Even over the longer term, Orchids still remains near the top of the standings in 2nd place for the next five years.
Overall, while all three of today's second trio underdogs are projected to have their good moments here and there, 5th largest Orchids averages the best earnings growth among all six of the largest Cleanings Products companies.

Yet there is more than earnings growth to consider when sizing up a company as a potential investment. How do the three compare against one another in other metrics, and which makes the best investment?
Let's answer that by comparing their company fundamentals using the following format: a) financial comparisons, b) estimates and analyst recommendations, and c) rankings with accompanying data table. As we compare each metric, the best performing company will be shaded green while the worst performing will be shaded yellow, which will later be tallied for the final ranking.
A) Financial Comparisons
• Market Capitalization: While company size does not necessarily imply an advantage and is thus not ranked, it is important as a denominator against which other financial data will be compared for ranking.

• Growth: Since revenues and expenses can vary greatly from one season to another, growth is measured on a year-over-year quarterly basis, where Q1 of this year is compared to Q1 of the previous year, for example.
In the most recently reported quarter, Orchids delivered the greatest trailing revenue growth year-over-year, while Swisher delivered the least, which was negative denoting shrinkage.
Since Swisher's trailing earnings growth rate is not available, the metric does not factor into the comparison. Though it is worth noting that Zep's earnings growth beat Orchids', which was negative denoting shrinkage.

• Profitability: A company's margins are important in determining how much profit the company generates from its sales. Operating margin indicates the percentage earned after operating costs, such as labor, materials, and overhead. Profit margin indicates the profit left over after operating costs plus all other costs, including debt, interest, taxes and depreciation.
Of our three contestants, Orchids enjoyed the widest profit and operating margins, while Swisher contended with the narrowest, which were negative denoting loss.

• Management Effectiveness: Shareholders are keenly interested in management's ability to do more with what has been given to it. Management's effectiveness is measured by the returns generated from the assets under its control, and from the equity invested into the company by shareholders.
For their managerial performance, Orchids' management team delivered the greatest returns on assets and equity, where Swisher's team delivered the smallest returns, even losing some assets and equity.

• Earnings Per Share: Of all the metrics measuring a company's income, earnings per share is probably the most meaningful to shareholders, as this represents the value that the company is adding to each share outstanding. Since the number of shares outstanding varies from company to company, I prefer to convert EPS into a percentage of the current stock price to better determine where an investment could gain the most value.
Of the three companies here compared, Orchids provides common stock holders with the greatest diluted earnings per share gain as a percentage of its current share price, while Swisher's DEPS over current stock price is lowest, which was negative, denoting loss.

• Share Price Value: Even if a company outperforms its peers on all the above metrics, however, investors may still shy away from its stock if its price is already trading too high. This is where the stock price relative to forward earnings and company book value come under scrutiny, as well as the stock price relative to earnings relative to earnings growth, known as the PEG ratio. Lower ratios indicate the stock price is currently trading at a cheaper price than its peers, and might thus be a bargain.
Among our three combatants, Swisher's stock is the cheapest relative to company book value, while Orchids' is the most expensive.
Since Swisher's earnings and PEG ratios are not available, the metrics do not factor into the comparison. Though it is worth noting that Orchids' stock price is cheaper than Zep's relative to both ratios.

B) Estimates and Analyst Recommendations
Of course, no matter how skilled we perceive ourselves to be at gauging a stock's prospects as an investment, we'd be wise to at least consider what professional analysts and the companies themselves are projecting - including estimated future earnings per share and the growth rate of those earnings, stock price targets, and buy/sell recommendations.
• Earnings Estimates: To properly compare estimated future earnings per share across multiple companies, we would need to convert them into a percentage of their stocks' current prices.
Of our three specimens, Orchids offers the highest percentages of earnings over current stock price for all time periods, while Swisher offers the lowest percentages for all periods, which are all negative denoting earnings shrinkage.

• Earnings Growth: For long-term investors this metric is one of the most important to consider, as it denotes the percentage by which earnings are expected to grow or shrink as compared to earnings from corresponding periods a year prior.
For earnings growth, Swisher offers the greatest growth for the current quarter and next year, where Orchids offers it for next quarter and the current year overall. At the low end of the scale, where Zep offers the slowest growth near term, with shrinkage in the current quarter, Orchids offers it next year, with shrinkage.
Since Swisher's earnings growth for the next five years is not available, the metric does not factor into the comparison. Though it is worth noting that Orchids offers greater growth than Zep over the period.

• Price Targets: Like earnings estimates above, a company's stock price targets must also be converted into a percentage of its current price to properly compare multiple companies.
For their high, mean and low price targets over the coming 12 months, analysts believe Orchids' stock offers the greatest upside potential and least downside risk, where Swisher's offers the least upside and Zep's offers the greatest downside.
It must be noted, however, that Swisher has only one broker making prognostications, potentially limiting the targets' accuracy.

• Buy/Sell Recommendations: After all is said and done, perhaps the one gauge that sums it all up are analyst recommendations. These have been converted into the percentage of analysts recommending each level. However, I factor only the strong buy and buy recommendations into the ranking. Hold, underperform and sell recommendations are not ranked since they are determined after determining the winners of the strong buy and buy categories, and would only be negating those winners of their duly earned titles.
Of our three contenders, Orchids is best recommended with 2 strong buys and 1 buy representing a combined 100% of its 3 analysts, followed by Zep with 1 strong buy and 1 buy ratings representing a combined 40% of its 5 analysts, and lastly by Swisher with 0 strong buy and 0 buy recommendations representing 0% of its 1 analyst.

C) Rankings
Having crunched all the numbers and compared all the projections, the time has come to tally up the wins and losses and rank our three competitors against one another.
In the table below you will find all of the data considered above plus a few others not reviewed. Here is where using a company's market cap as a denominator comes into play, as much of the data in the table has been converted into a percentage of market cap for a fair comparison.
The first and last placed companies are shaded. We then add together each company's finishes to determine its overall ranking, with first place finishes counting as merits while last place finishes count as demerits.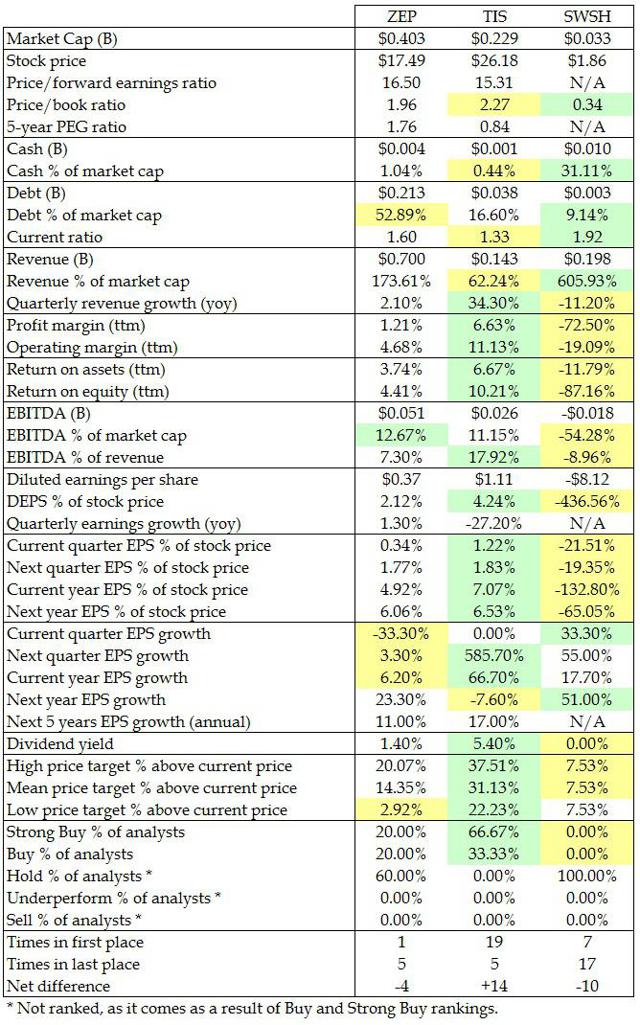 And the winner is… Orchids with a sweet smell of success, outperforming in 19 metrics and underperforming in 5 for a net score of +14, leaving Zep and Swisher with a lot of cleaning up to do as they underperform with scores of -4 and -10 respectively.
Where the Cleaning Products industry is expected to outperform the S&P broader market substantially this and next quarters, and meaningfully next year and beyond, the next three companies in the space are expected to split perform in their earnings growth - with 4th largest Zep shrinking near term before growing modestly longer term, 6th largest Swisher performing much better than it has in years, and 5th largest Orchids cleaning its competitors out near term while still holding 2nd place longer term.
After taking all company fundamentals into consideration, Orchids blooms with the finest financials, given its highest trailing revenue growth, widest profit and operating margins, greatest returns on assets and equity, highest EBITDA over revenue, highest diluted earnings over current stock price, highest future earnings over current stock price throughout, highest future earnings growth near term, highest dividend yield, best price targets, and highest strong buy and buy recommendations percentages - decisively winning The Next 3 Cleaning Products Companies competition.
Editor's Note: This article covers one or more stocks trading at less than $1 per share and/or with less than a $100 million market cap. Please be aware of the risks associated with these stocks.