Every now and again you find a diamond in the rough. One stock I recently came across that has a low valuation, insider buying and strong cash flow that I am considering buying is Iridium Communications (NASDAQ:IRDM).
Iridium Communications "provides mobile voice and data communications services through satellites to businesses, the U.S. and foreign governments, non-governmental organizations, and consumers worldwide. It offers post-paid mobile voice and data satellite communications services; prepaid mobile voice satellite communications services; high-speed data services; machine-to-machine services for sending and receiving data from one location to other; and ancillary services, including inbound connections from the public switched telephone networks, SMS, SIM, activation, customer reactivation, and other peripheral services to commercial customers.". (Business description from Yahoo Finance)
7 reasons Iridium is a buy at $6 a share:
1. The company is producing $40mm to $60mm in operating cash flow per quarter and has total enterprise value of less than $650mm
2. Insiders have consistently bought shares at higher levels over the past year and a half.
3. Famed value investor Whitney Tilson has accumulated a roughly 4% stake and the stock has been speculated as a takeover target from time to time.
4. The stock looks like it is trying to put in a bottom at just under the $6 level (See Chart)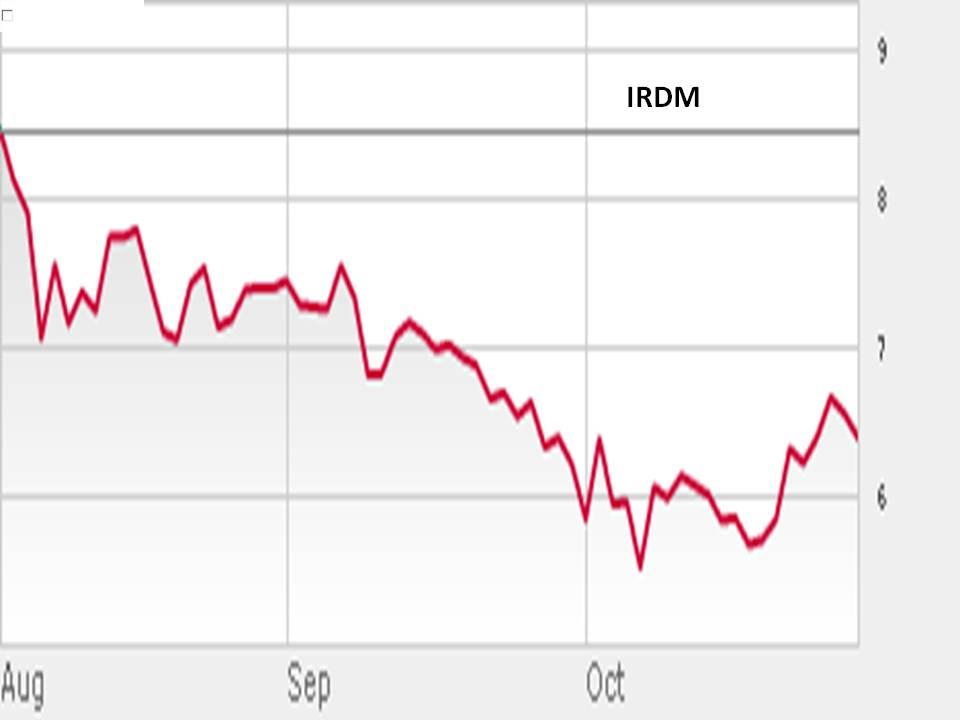 5. It is selling in the bottom third of its five year valuation based on P/S, P/CF and P/E.
6. It has a five year projected PEG of .55 and is selling at just .7 times book value.
7. The stock price is under analysts' price targets. The median analysts' price target on IRDM is $11, William Blair & Company initiated coverage of IRDM in September with an "Outperform" rating, though it does not have a price target on this stock.
Disclosure: I have no positions in any stocks mentioned, but may initiate a long position in IRDM over the next 72 hours.