Why make the change from stock selection to ETFs? I had too many holdings and I was not comfortable with the level of risk. The writing of Bill Bernstein, Rick Ferri, Jack Bogle, Larry Swedroe, Bill Schultheis and others have convinced me that I could do better, on a risk adjusted basis, by creating a diversified portfolio of ETFs.
Building my ETF based KISS portfolio has been a process, and it is not yet done. When I sold off my stock positions, I reinvested some immediately and decided I would invest the rest over time, making small purchases each week. This left me holding a high percentage of cash last year, and I'm still sitting at 27%. I'm not totally decided on every facet of my portfolio allocation, but I have a pretty good idea of where I think it will end up.
This is the last in my series about KISS portfolios. In this one, I'm going to do things a little differently. In previous articles, I backtested a KISS portfolio and compared the results to S&P 500. In this article we're backtesting three portfolios and comparing them:
My Portfolio as it exists today - with slight modifications to allow me to backtest to 1972.
My Proposed Portfolio as I envision it looking when I complete my investments.
Bill Schultheis Coffeehouse portfolio (it is similar to my portfolio and it's backtested results were very strong.)
As in previous articles we will examine:
How a $10,000 initial investment would have grown between 1972-2014
How our $10,000 investment did during bear markets.
How our portfolio did if we started with $10,000 and made contributions every year starting at $5,000 and adjusting the contribution for inflation every year.
How our portfolio did if we started with $100,000 and made a withdrawal every year starting at $4,000 and adjusting the withdrawal for inflation every year.
The portfolios are rebalanced annually.
As with the previous articles, this article is intended to start a conversation. I consider this a group effort. The primary benefit of SA, in my view, is it gives us an opportunity to discuss investment ideas. I encourage you to participate in the conversation.
I used PortfolioVisualizer.com to run the backtests.
One of the time frames I have been using to backtest the retirement portfolio is 1972-2014. A commenter pointed out that 1972-2014 is a longer period than most people will be retired. That is a valid point. I'm going to stick with the same time frames to be consistent with my other articles, but I encourage any readers who want to see the results over different time periods, to go to PV and plug-in the time period of their choice.
The commenter, also was not satisfied with the data PV uses to represent the various asset classes, or with the way PV handles withdrawals. In my view backtesting is more like horseshoes than chess, and there is no way to be perfectly precise. I believe PV does a pretty good job, but I encourage you to look at the information on the site and judge for yourself.
The Portfolios
Bill Schultheis Coffeehouse Portfolio

I backtested this portfolio in a previous article and it had excellent risk adjusted returns.
My Current Portfolio

My current portfolio is the result of a plan I've had to simplify and diversify my portfolio. When I started on this plan I had an inexact idea of how I wanted my investments distributed amongst assets. That plan is evolving over time and this series of articles on KISS portfolios has helped me to tighten up the plan.
The portfolio shown here has some small differences from my portfolio to make it possible to back test it on PV. It has a short-term Treasury fund that invests in bonds between 3-10 years and a fund that invests in Treasuries between 1-3 years. I represented all of these as 5-year T-Bills as it allowed me to back test to 1972. My current portfolio is also actually slightly more complicated than this, as I use multiple ETFs to tilt towards value and small caps internationally.
My Proposed Portfolio

This is approximately where I believe my portfolio will end up.
Performance from 1972-2014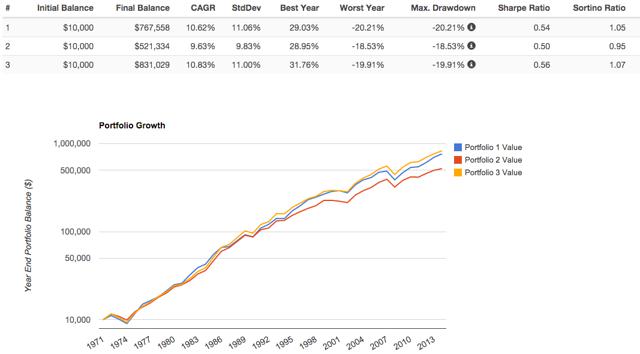 My current portfolio has the smallest drawdown, but the worst Compound Annual Growth Rate and risk adjusted performance. Given the large amount of cash I am now holding these results are not surprising.
My proposed portfolio did very well; it had the best CAGR, and Risk Adjusted returns based on the Sharpe and Sortino ratios.
For those that are not familiar with the Sharpe Ratio and the Sortino Ratio, both are attempts to relate portfolio performance to risk. In Modern Portfolio Theory, risk is measured by volatility and the theory is that taking on more risk will enhance the upside potential of a portfolio. However, it will also enhance the downside risk of a portfolio. Both the Sharpe Ration and the Sortino Ratio attempt to even the playing field by measuring the portfolios on a risk-adjusted basis. For a better understanding of these ratios follow the links earlier in this paragraph.
During Bear Markets
Many investors believe that markets always bounce back and that they will patiently wait through any bear market, holding their positions until they recover. I believe both beliefs are incorrect. Most investors given a long enough bear market will panic; in fact bear markets can only occur when there are more sellers than buyers causing prices to drop until the demand matches the supply. As far as waiting out a bear market, I believe investors are biased by the fact that recent bear markets have had quick recoveries. It can take decades for markets to recover, as shown by the great depression and the fact that the Nikkei (Japan's Nikkei 225 Stock Average) is still less the 50% of its 1989 high. Given a long enough bear-market most investors will panic or simply not be able to afford to wait it out, especially those who are in the withdrawal phase using their portfolio to fund their retirements. This is one reason to look at how portfolios have performed in Bear markets.
1973 - 1978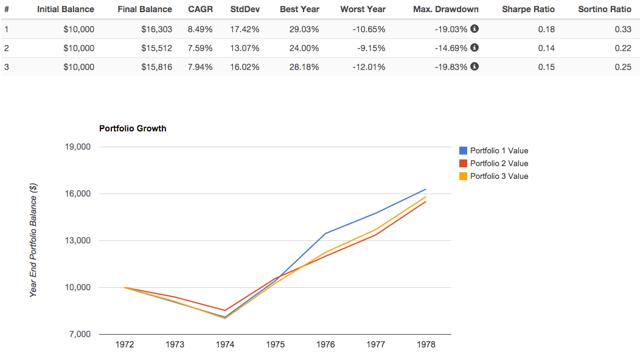 My current portfolio had the smallest Drawdown, but the Coffeehouse portfolio performed the best based on CAGR and risk adjusted returns. My proposed portfolio had the largest drawdown, but overall provided decent downside protection, compared to the returns of the S&P 500 during this period:
S&P 500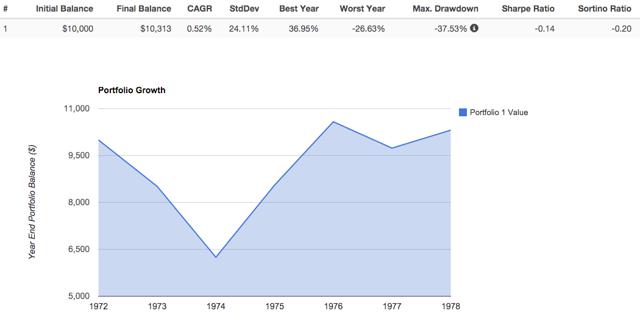 2000 - 2005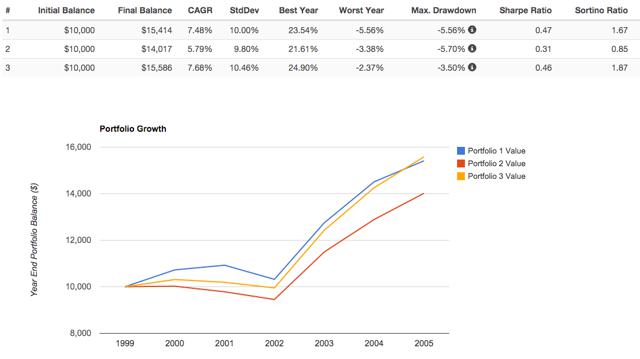 During this period my current portfolio had the worst performance but my proposed portfolio performance compared to the Coffeehouse portfolio stood up very well. All the portfolios did much better than the S&P 500. I'm especially impressed with the very small Drawdowns relative to the large losses in U.S. Large Caps:
S&P 500 returns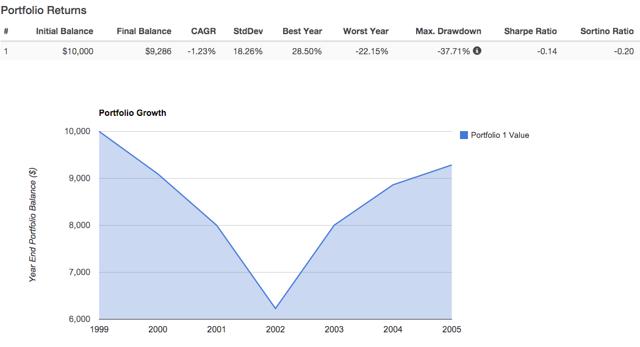 2008 - 2011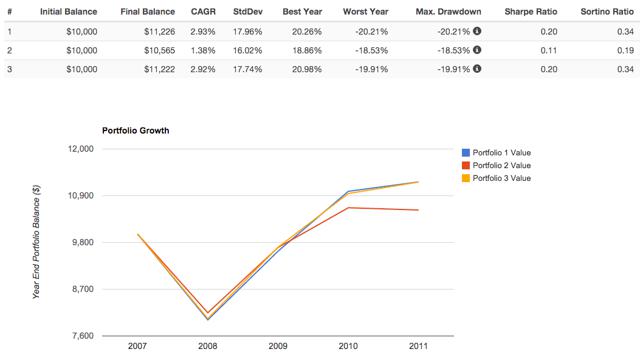 During this period my current portfolios large cash position caused it to fall behind during 2009 and 2010. The proposed portfolio again matches up well with the Coffehouse portfolio. All the portfolios have much smaller Max Drawdowns than the S&P 500.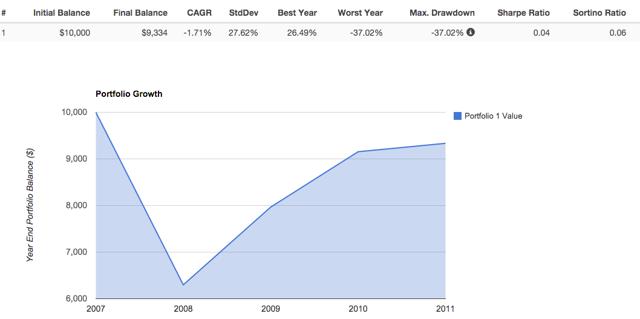 In Accumulation Phase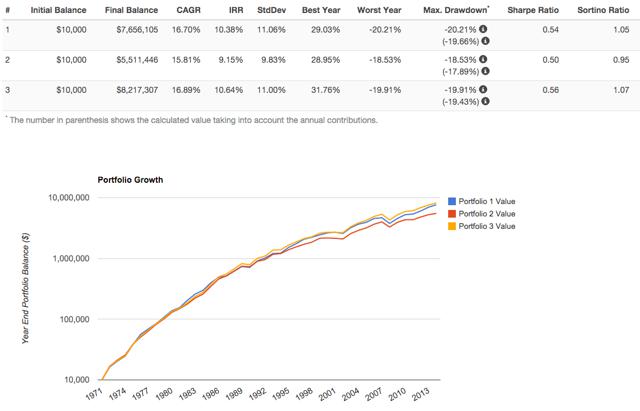 All the portfolios do well during the accumulation phase. I was surprised my current portfolio hung in so well given the large amount of cash it held. Below are the results for the S&P 500, both the Coffeehouse Portfolio and my Proposed Portfolio have similar CAGRs with much lower volatility.
S&P 500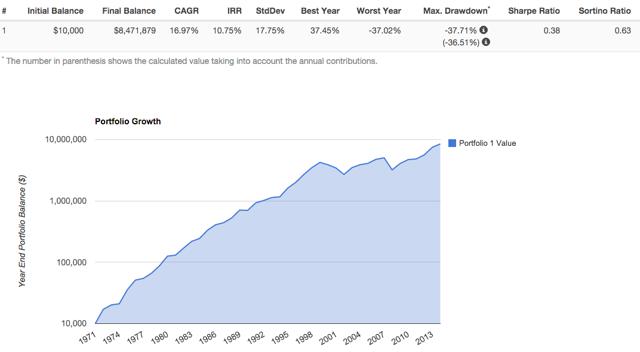 In Withdrawal Phase
A market downturn during the withdrawal phase is particularly painful, as investors are losing money in the market and compounding the problem by withdrawing living expenses. The negative effect is made worse when it occurs early during the withdrawal phase.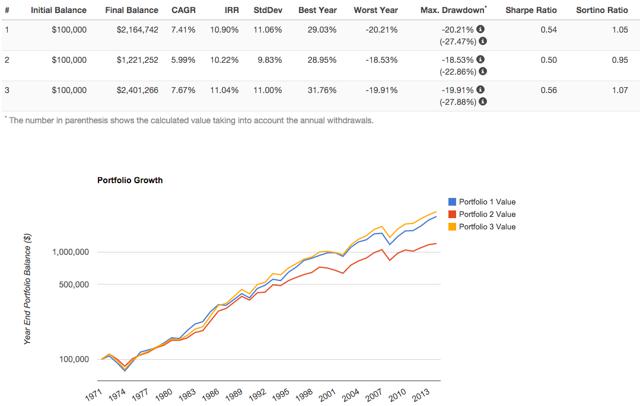 During the withdrawal phase all the portfolios have better performance than the S&P 500 due to the smaller drawdowns early in period. My Current portfolio began falling behind during the markets big run up during the 90s. Again my proposed portfolio results are very comparable to the Coffeehouse portfolio.
All the portfolios do much better than the S&P 500.
S&P 500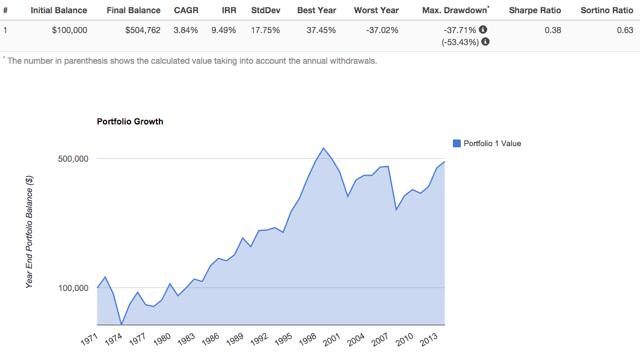 Portfolio Components
There are many funds that can be used to approximate the asset classes used in these portfolios, including those listed below:
Total U.S. Market:
Large Cap Blend
Large Value
Small Cap Value
Vanguard Small Cap Value Index Fund
Vanguard Small Cap Value ETF (NYSEARCA:VBR)
iShares Russell 2000 Value Index (NYSEARCA:IWN)
Small Cap Blend
REITS
International Stock Market
Vanguard Total International Index Fund (MUTF:VGTSX)
iShares Core MSCI Total International Stock ETF (NYSEARCA:IXUS)
Vangaurd Total International Stock ETF (NASDAQ:VXUS)
Total Bond
Vanguard Total Bond Market Index Fund (MUTF:VBMFX)
Vanguard Total Bond Market ETF (NASDAQ:BND)
Schwab U.S. Aggregate Bond ETF (NYSEARCA:SCHZ)
iShares Core Total USD Bond Market ETF (NYSEARCA:IUSB)
International Developed
Vanguard Developed Markets Index (VDMIX)
iShares Core MSCI EAFE ETF (NYSEARCA:EFA)
Vanguard MSCI EAFE ETF (NYSEARCA:VEA)
iShares Core MSCI EAFE ETF (BATS:IEFA)
Emerging Markets
Treasury Inflation Protected Securities
Intermediate Treasuries
Long Term Treasuries
Vanguard Long Term Treasury (MUTF:VUSTX)
iShares Barclays 20 Year Treasury Bond Fund (NYSEARCA:TLT)
Vanguard Extended Duration Treasury Index Fund (NYSEARCA:EDV)
Notes on my Portfolio
When I decided to take a more passive approach to investing, I also decided I would let myself ease into it over time. I didn't want to invest it all at once because I had not selected the exact asset allocations I wanted.
In addition, I thought both stocks and bonds where richly valued. However, I realize there are dangers in trying to time the market. My compromise was to hold a lot of cash on the sidelines initially, but require myself to invest some of it every week.
That is what got me to the portfolio I have today. It is fairly well diversified and contains the asset classes that I believe I should hold, but it was time to decide on the proportions.
The decision isn't final, but my current thinking is: it will be something close to what I have created with portfolio 3.
I want diversity and I want to limit downside risk. I have tilted towards small caps and value because they have historically outperformed. I have a healthier dose of foreign equities than many KISS portfolios, like the Coffeehouse portfolio, because I believe they offer better relative value than U.S Equities.
My bonds consist of only U.S. Treasuries because lower rated bonds tend to correlate more closely with equities in bear markets. Treasury Inflation Protection Securities are included to provide some protection in inflationary periods and the nominal Treasuries are included to protect in deflationary periods, both should supply some downside protection when equity markets correct. A couple of areas that require more thought are the proportion of TIPS to nominal Treasuries and the correct mix of durations. Another thing I expect may change is replacing Treasury Funds with Treasuries.
There are some difficulties with the approach I have taken. A diversified portfolio is never going to be totally invested in the best performing asset class. It is important that I maintain discipline and give my portfolio the chance to work when I see it trailing the S&P 500 or Emerging Market Equities or some other asset class. It is also difficult to avoid attempting to time the market. I currently feel that both the equity markets and bond markets are over valued. For this reason I have allowed myself to hold a high percentage of cash that I have been investing over time. However, I realize timing the market is a dangerous game and once I'm fully invested I plan to stay that way. Annual rebalancing should help keep my portfolio from being overly invested in the most over-priced asset classes.
Conclusions
The past can be used to give us some insight into the future, but the insights must be used with some caution. Market situations now and in the future will never exactly match what has occurred in the past. backtesting provides some useful information, but its ability to predict the future performance is far from perfect.
As my potential to earn diminishes, it becomes more important to protect my portfolio, in an effort to do that, I have opted to simplify and diversify by creating a simple ETF Based KISS portfolio. I believe this series of articles has shown that this approach has worked very well in the past, reducing downside risk and providing solid returns.
What do you think?
I am not a professional advisor or researcher. I am an individual investor who studies investing and shares my thoughts. I encourage all investors do their own due diligence and please share your findings. I strongly feel the best thing about Seeking Alpha is the sharing of ideas. Please comment; I value your input. Divergent opinions are welcome.
Disclosure: The author is long VTIP, VWO, EDV, SCHP, VBR, SCHB, SCHR, TLT, VNQ, IEFV, SCHE, VTV.
The author wrote this article themselves, and it expresses their own opinions. The author is not receiving compensation for it (other than from Seeking Alpha). The author has no business relationship with any company whose stock is mentioned in this article.