(This is the third in our series about a certain kind of Internet Information provider that we call, "Desired Monopolies." Please see the previous reports in the series, about Ariba (NASDAQ:ARBA) and Zillow (NASDAQ:Z).)
Ancestry.com: Who's your (Grand)daddy?
Did you know that, on average, about 3% of the world's population is mistaken about who their biological father is? And in cases where a man has cause to doubt whether he is the father of a child (i.e., he's being compelled by a court order to provide child support), about 30% of the time a DNA test will prove he's NOT the biological father?
And yet in many jurisdictions (including many U.S. States), if the man voluntarily signs a document acknowledging (i.e., "agreeing") that he is the father, then he's legally bound to support the child, even if subsequent DNA tests prove he's not the biological father. And that obligation will remain in force even if the biological mother marries the biological father. Yes, that's right: our hero could easily be in the position of paying the real parents to raise their real kid – just because the blushing bride couldn't keep her boyfriends straight.
This is where the Paternity-Industrial Complex kicks into gear. With lawyers warming up their laptops and paralegals swabbing the insides of everybody's cheeks.
You see, here in the U.S., child support is big business. Specifically, in 2010, $26.6 billion was collected from parents (almost always fathers) and re-distributed to over 17.5 million children. Further, the entire Federal and State administration of these child support programs cost $5.8 billion in 2010. Along the way, over 1.7m paternities were "established" last year. The vast majority of these paternities are uncontested, and simply the result of the father acknowledging as much in writing. But plenty of paternities are contested because the financial obligation of raising a child is now so great.
There are legitimate reasons for non-paternity, like adoption, innocent switched-at-birth events and surrogate parenting. But the 3% figure excludes all these and still leaves us with a whole lot of people mistaken about a very crucial fact, one with implications for say, inheritances. Or inherited medical conditions.
Now, thanks to modern technology, these issues are only getting more complex. In-vitro fertilization, sometimes done with anonymously donated eggs and/or sperm, has brought new life and great joy to infertile couples. But the unintended consequences are shocking: in September, the New York Times reported that one sperm donor in California was so popular, he'd ended up fathering 150 kids, most of whom had no idea they had 149 siblings. One of the mothers quoted in the article put it succinctly, "Is it fair to bring a child into the world who will have no access to knowing about one half of their genetics, medical history and ancestry?"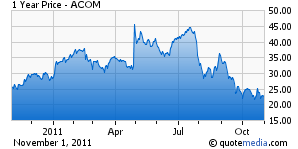 Right now, Ancestry.com (NASDAQ:ACOM) is the commercial market leader in genealogy and we think it's a Desired Monopoly in that field. But with so much money and emotion riding on the issue of, "who's your daddy?" one wonders if combining the actual, lived-in real world of family relationships with the genetic connectivity is a logical next step for the company.
Consider that along with its traditional business helping people search historical databases and create family trees, Ancestry.com also sells two kinds of DNA testing kits. The Paternal Lineage Test (Y-chromosome) matches the test-taker with genetic relatives who share a common paternal ancestor. The Maternal Lineage Test (mitochondrial DNA) provides information about maternal ancestral origins. Right now, these tests are a very small part of the company's business. But with the issues previously discussed, they seem likely to grow in importance to the company's mission.
Today, however, Ancestry.com has its hands full merely keeping track of millions of innocently created family trees. And the company is very successful in this more genteel side of genealogy, the one more redolent of the Daughters of the American Revolution, rather than say, the Sons of Anarchy.
Data Sheet:
Name: Ancestry.com
Market Cap: $993 million
Trailing 12-months Revenue: $378.2 million
Forward Price:Earnings Ratio (estimated): 14.3x
HQ: Provo, Utah
Founded: 1983
Description:
The company's lineage begins with Ancestry Inc.'s founding in 1983, and descends through several names/incarnations/business models. Its most recent transformation occurred in December 2007; what was by then known as The Generations Network became Ancestry.com as part of a restructuring/refinancing. Ancestry.com became a public company via an IPO on November 5, 2009.
Ancestry.com is the world's largest online family history resource, with just over 1.7 million paying subscribers worldwide as of September 30, 2011. Subscribers in the U. S. pay $19.95/month, or $155.40/year (= $12.95/month). International subscription rates are slightly different and generally higher. In the second half of 2011, Ancestry.com has been experimenting with different price points (via promotional efforts) in order to maximize the length of time that subscribers remain involved and pay for doing so. The current monthly "churn" rate of ~4% implies that the average Ancestry.com subscriber remains a paying customer for just over two years.
Subscribers use the dedicated website and vast digital historical record collection to research family histories, build family trees, collaborate with other subscribers, upload their own records and publish and share, in way familiar to users of social networking sites. (In fact, staring in November, the company is planning to release a number features that allow and encourage greater integration with Facebook, a natural platform for exploring family relationships.)
As of the end of September, Ancestry.com users had created more than 28 million family trees on the website. Additionally, users have uploaded and attached to their trees more than 50 million photographs, scanned documents and written stories. Such user-generated content costs Ancestry.com nothing, yet adds color and context to the family trees. Registered users also have attached to their trees more than 800 million records, a process that is helping further curate the collection. Ancestry.com operates country country-specific Web sites for seven countries in addition to the United States: the United Kingdom, Canada, Australia, Sweden, Germany, France and Italy. Twenty five percent of Ancestry.com's revenue is from non-U.S. customers.
Market Opportunity/Addressable Market:
Various sources estimate that roughly 10 million Americans consider genealogy a hobby. Ancestry currently has approximately 1.4 million U.S. subscribers, or roughly 14% of the total domestic market.
Ancestry.com can expand its business (and its market opportunity) in a variety of dimensions:
· More databases made available to existing subscribers;
· A higher proportion of subscribers (currently 47%) choosing premium subscriptions, which provide access to more databases;
· More geographies: while any subscriber can create a family tree on Ancestry.com, the real draw is the availability of census-type info from a particular country;
· A greater emphasis on genetic information, perhaps with a tie-in to medical histories, in order to track genetic anomalies in order to reveal, or even prevent, unwanted inherited traits;
· More interest in genealogy from individuals younger than the typical 50- to 60-year-old subscriber.
Recent Financial Performance:
Ancestry.com just reported its September quarter financial performance on October 26, 2011. Ancestry.com reported earnings per share of $0.40, better than the consensus estimate of $0.36; revenue in the quarter was $103.1m, in-line with the consensus estimate and an increase of 30% year-over-year. Management offered revenue guidance for the current quarter (Q4, ending in December) that was slightly below consensus.
Subscribers totaled 1,701,000 as of September 30, up 24% year-over-year and 2% sequentially. Monthly churn was 4.2% vs 4.0% a year ago and 4.6% in Q2. By the company's own admission, gross subscriber growth has decelerated from the high teens to the high single digits and for the first time in its history, Ancestry.com's net subscriber count is forecast to decline from Q3 2001 to Q4 2011;
In addition to its earnings release, Ancestry.com announced a $50 million stock buyback, equivalent to 2.3 million shares or about 7% of the shares outstanding. This follows a $50m buyback completed in Q3.
The bottom line on Ancestry.com's third quarter: growth is decelerating, but the company is still exceptionally profitable. It is choosing to use those profits to a) make more content available to subscribers; and b) buy back stock in order to provide greater returns per share. But it was unsurprising that ACOM shares fell 9% the day after the earnings announcement. Investors who bought ACOM expecting continued 30% growth have been disabused of that notion.
Concerns/Risks/Issues:
Effect of "Who Do You Think You Are?"
This television program, which has been broadcast in each of the last two Springs on NBC, is set for a third season in Spring 2012. WDYTYA has earned solid ratings, depicting very high quality A- and B- list celebrities (e.g. Gwyneth Paltrow, Matthew Broderick, Tim McGraw, Marisa Tomei) researching their personal genealogy. Ancestry.com pays the show's producers for what it terms, "product integration," as well as buys national advertising during each airing.
The US version follows on multiple other country versions, including the UK, Canada, Russia, South Africa, Denmark, Sweden and Ireland. The good news is that the show appears to drive subscriber additions: traffic to ancestry.com's primary U. S. web site rises 35% from November to March. The bad news is that Ancestry.com management noted just two days ago that the positive effects of the show in the UK (where it has aired the longest) have apparently worn off.
Customer acquisition costs vs. ARPU
Ancestry.com's average monthly revenue per user (ARPU) is ~$18.75. The average subscriber stays for roughly 25 months, paying roughly $469 in total. This figure is increasing about 5% annually. Meanwhile, the cost to acquire each customer is now $93, up about 15% annually. This means there is an increasing disincentive to grow the number of subscribers, unless each subscriber can be made to pay more. Barring a quick fix, these two trends cement Ancestry.com's new reality as a slower growing but profitable enterprise.
Competitive Landscape:
· Other Websites: FamilySearch.org (LDS), Geni.com, Myheritage.com, Footnote.com, Familybuilder.com, Archives.com;
· Paid competitors: Origins Network, FindMyPast, Genes Reunited (UK), OneGreatFamily, GenealogyBank;
· Commercial Entities: Genealogical societies, Search engine portals, Social Networking sites;
· Public Entities: City halls, local governments, federal agencies.
While numerous, none of these many competitors comes close to Ancestry.com's combination of paid subscriber base and its database of company-owned and user-generated content. And in terms of web traffic, Ancestry.com's eight million unique monthly visitors dwarfs second place familysearch.org's 1.2 million.
Financial Analysis (DCF and Comparative):
As part of our analysis of Ancestry.com, we built a Discounted Cash Flow (DCF) model for the company. We used the following parameters and values to arrive at our DCF value:
· Term: 5 years;
· Initial Cash Flow: $100.050 million (this represents the estimated annual free cash flow for the current fiscal year);
· Short Term Cash Flow Growth Rate: 8% (lower than the most recent few quarters, but consistent with near-term guidance.);
· Long Term Cash Flow Growth Rate: 4%;
· Discount Rate: 8.94% (derived using CAPM: Risk Free Rate = 3.22% from the 30–year Treasury Bond; 4.4% equity risk premium from Ibbotson; an estimated Beta of 1.3);
· Current Share Count: 49.833 million (conservative, considering the company's penchant for announcing and executing significant share buy-backs).
Using these inputs, our calculated DCF value per Ancestry.com share is $51.99, about 135% higher than the current share price of around $22. DCF models have their flaws, but are most useful in valuing slower-growing companies with predictable cash flow. Conveniently, Ancestry.com has just become such a company.
Now let's look at Ancestry.com compared with six other software-as-a-service peers. (Note that Ancestry.com's most-recent-quarter revenue growth is well ahead of the expected high-single-digit growth expected in Q4 and beyond.)
Ancestry.com

Ariba

CoStar

LinkedIn

OpenTable

Zillow

Google

Ticker

(ACOM)

(ARBA)

(NASDAQ:CSGP)

(LNKD)

(NASDAQ:OPEN)

(Z)

(NASDAQ:GOOG)

Market Cap

$992.7m

$3.09b

$1.62b

$8.40b

$1.11b

$847.93m

$193.46b

LTM Revs

$378.2m

$443.8m

$237.1m

$358.5m

$123.3m

$44.9m

$35.76b

Op CF Margins

32.8%

16.8%

14.3%

25.8%

37.2%

25.9%

39.6%

MRQ Rev Growth

30%

44.5%

11.3%

120.5%

52.7%

116.0%

33.4%

Forward P/E

14.3

33.8

59.2

290.8

27.8

109.9

13.6

EV: Revs

2.88

6.33

3.87

21.64

8.62

17.45

4.31

Float: Shares Out

0.693

0.985

0.954

0.055

0.815

0.233

0.784

Source:

Yahoo Finance
We had several takeaways from this data:
· Even if Ancestry.com continues to grow at only 8-9% going forward, its relatively low forward P/E of 14.3 seems to discount this;
· Ancestry.com's operating cash flow margins provide confidence that the company can not only continue to buy back shares, but also begin paying a dividend;
· With a float: shares outstanding ratio of 0.693, there is diminished risk of a major number of shares suddenly available for sale, depressing the share price. Note LinkedIn's microscopic 5.5% float.
Conclusion:
Ancestry.com is a desired monopoly in the genealogy database business. Its growth is slowing, but the business is still very profitable. Ancestry.com has, to its credit, already begun the transition to a long-term, slower-growth business model, exemplified by its recently completed and forthcoming share buybacks. With shares already trading at a reasonable valuation (about 14x forward earnings), shareholders have also seemingly made the transition with them.
What's going on with the stock right now is known on Wall Street as, "distribution." That is, Ancestry.com shareholders have until now been largely growth-oriented, used to seeing the company grow revenue and subscribers by 30-40% annually, and sparingly use cash flow to further the business via acquired databases.
Now growth is slowing, seasonality is more evident and the company is using its cash to buy back material amounts of stock. Perhaps a dividend isn't far off. So the shareholder base is changing, as growth-oriented shareholders are distributing their shares to a different type of shareholder, one more interested in long-term value creation. The recent decline in the stock is nothing more than a reflection of supply and demand: the growth-oriented shareholder population is apparently larger than the value-oriented.
With all the possible ways for business to expand, and the likelihood that genetic paternity and maternity testing will become the rule, rather than the exception, Ancestry.com offers a variety of ways to return value to shareholders from this point forward. But it may be a few more weeks or months until the share distribution in complete.
Disclosure: I am long ARBA in the separately managed account product for which I am portfolio manager and in which I am an investor.