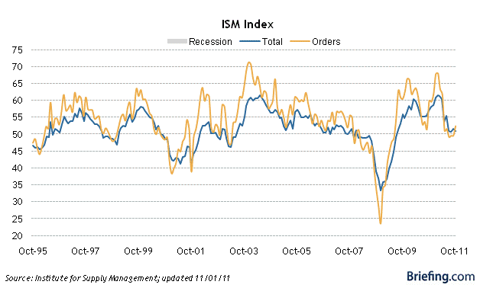 The market had a rough day on Tuesday as Wall St. got some shocking news out of Europe. The Greek Prime Minister Papandroeu came out with an announcement that Greece will be doing a confidence vote this week as well as a referendum on the EU bailout passed last week, which raised new concerns that Greece will not be able to pass the bill and that the bailout is now not as soundproof as it once seemed.
Economic data did not help the situation for the market as Construction Spending and the ISM Index were released Tuesday lower than consensus estimates, which helped curb any potential upside after a very weak start to the day. ISM came in at 50.8, barely showing growth in industrials for the nation, missing the 52.0 estimate. Construction spending came in at 0.2%, missing targets of 0.3%. These reports placed a damper on any hopes of a rebound today.

Earnings continue to play a big role in the market, and we got mixed earnings again Tuesday. Earnings were weak from Winn-Dixie Stores (NASDAQ:WINN), Baker Hughes (BHI), and Archer Daniels Midland (NYSE:ADM) as they missed estimates or guided poorly. We did see strong earnings from Pfizer (NYSE:PFE), and healthcare stocks continue to be strong in this quarter.
We had another solid day in the market as we started the day on a sour note but quickly rebounded. We initially lost at the open as Hansen Natural (HANS) blew through our stop loss on the big down day, but we rebounded as we went long intraday on oil with Ultra Proshares Oil (NYSEARCA:UCO), making 2% as well as buying calls on Ultra Proshares Dow30 (NYSEARCA:DDM), which we made over 11%. Additionally, the down day was great for our bear calls spreads in Sina (NASDAQ:SINA) and InterOil (NYSE:IOC), two stocks that we think have very little upside through the end of 2012.
We also are holding sold $40 puts in Baker Hughes (BHI) for November expiration. We have a nice bull put spread on Apple (NASDAQ:AAPL) as well as Google (NASDAQ:GOOG) for November at 350/345 as well as 535/530. Additionally, we are looking for Cummins (NYSE:CMI) to hold $80 with a sold put we have for November expiration. We are long on Tesla (NASDAQ:TSLA) as well as we think the stock has strong upside into earnings.
Moving into Wednesday, we are looking for the market to rebound from Tuesday. The market did hold onto some key levels for most of the day despite a slight dip to end the day. Further, news was breaking that the referendum would not be on towards the end of the day. If that rings true, this market will make a nice bounce back Wednesday.
One position we like moving forward is a short on Seagate Tech (NASDAQ:STX). This stock has rallied significantly in the past month, and it just reported great earnings. The problem we see for STX is that the company has not started to factor in any impact from rising floods in Thailand that are about to grip the hard driver sector.
Other companies have already started to note significant impacts from this, and sources in Thailand report the situation is much graver than being reported here. A disruption to the pipeline would be detrimental to the stock price. We worry about this impact on STX, and thinking of buying for Jan2012 expiration is not a bad way to hedge a position on STX as well as make money on the speculative side.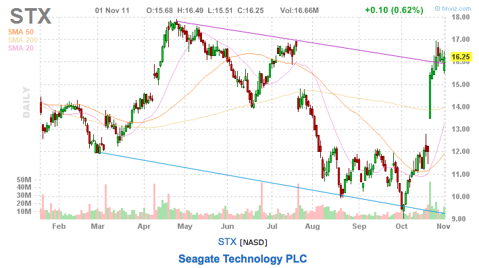 Disclosure: I am long BHI, AAPL, GOOG, CMI, TSLA, DDM, UCO, CF.
Additional disclosure: I am short IOC and SINA.