After its second quarter earnings call on August 5, 2011 SandRidge Energy (NYSE:SD) fell 20 percent despite growing core production revenues, EBITDA and production volumes by 30%, 18% and 24%, respectively. This was in addition to the 13 percent drop that occurred the previous day after the company announced a $500mm JV (representing a 13.2 percent working interest) in its Horizontal Mississippian ex-SandRidge Mississippian Trust I (NYSE:SDT). Good news was brushed aside and SandRidge shareholders have suffered. The stock is now more than 35 percent below its 52-week high.
Investors were clearly spooked by the company's decision to raise 2011 capital expenditures to $1.8bn (from $1.3bn) and initiate 2012 capital expenditure guidance at $1.8bn. When any company boosts its capital expenditure budget by almost 40 percent, investors take note. But it is particularly surprising that in this case, the company is SandRidge. It was only a few years ago that after taking on too much debt to fund its capital expenditures, SandRidge found itself at risk of bankruptcy. The company then had to issue preferred and common equity in a poor economic and stock market environment to properly capitalize itself. This recent history, combined with the current economic environment where investors fret about a global slowdown and European and US debt problems, has seemingly created a perfect recipe for investors to bet against SandRidge.
Not so fast.
Today SandRidge Energy has never been in a better position to succeed and prove doubters wrong. Despite CEO Tom Ward's aggressive ways, this is not the same company it was during the U.S. financial crisis. Tom Ward has made astute, strategic decisions that now provide SandRidge greater protection in unfavorable environments – specifically, the company is now an oil company. In just two years Mr. Ward has transformed SandRidge from a natural gas (83 percent of revenues) company to an oil (80 percent of revenues) company.
The importance of this switch cannot be overlooked. Relative to natural gas, the long-term supply/demand characteristics of oil are stronger. With no reason for this to change in the foreseeable future, oil prices should be protected from unreasonable price declines and sustain prices quite profitable for exploration and production activities. Therefore, SandRidge's future operating cash flow and EBITDA should not only be less volatile than before, but also more robust in absolute terms.
Along the theme of achieving steady EBITDA, the company has also hedged 71%, 65% and 54% of its second half 2011E, 2012E and 2013E production through the use of fixed-price swaps priced at $88.00, $89.35 and $94.99, respectively – all currently close to spot. Even if we assume that oil prices fall to $60.00 (the low end of what Rex Tillman, Exxon's (NYSE:XOM) CEO, recently stated in a Congressional testimony as the marginal cost of producing the next barrel of oil) in 2012E, SandRidge is still in a position to attain net realized oil prices above that of the $76.26 achieved in Q2 2011.
Thus, with the prospect of higher realized future oil prices combined with 15-20 percent production growth from now through 2012, the table is set for very robust EBITDA growth. While a long time coming, SandRidge has reached the critical production volume to leverage its cost structure and finally put itself in a position to achieve EBITDA growth in excess of its 2012E core revenue growth of 30 percent. In the coming quarters the company is likely to show investors that its EBITDA is not only resilient, but also underestimated.
The significance of this EBITDA growth potential cannot be ignored, for as EBITDA increases, the less SandRidge has to rely on other sources to fund capital expenditures. In other words, though SandRidge has many valuable oil and natural gas properties that can be sold, JV'd and packaged into a Trust, every day EBITDA grows the company moves farther and farther away from its dependence on the capital markets to fund capex.
While 2011 might be remembered as the year where SandRidge successfully sold assets and packaged the Mississippian Trust I and Permian Trust (NYSE:PER), 2012 will be the year that investors learn that SandRidge is no longer handcuffed to the capital markets to fund capex – no more dilutive equity, unfavorable debt terms, mispricing of asset sales or Trusts to worry about.
To demonstrate, see below sources and uses of funds 2011E and 2012E: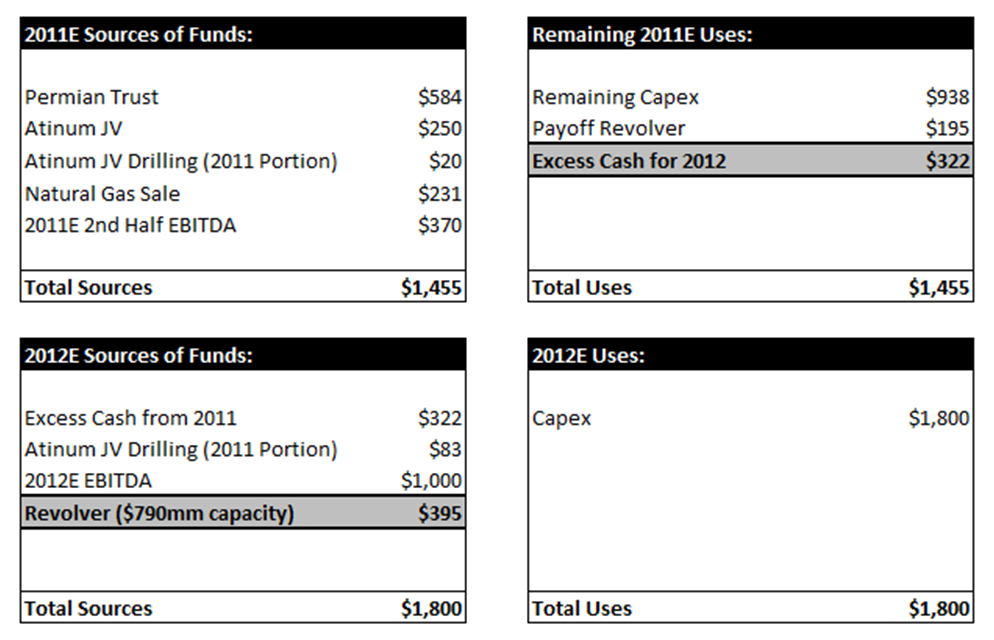 In summary, EBITDA should grow from $675mm (38% sources of funds) in 2011E to $1,000bn (56% sources of funds) in 2012E. Given Tom Ward's goal of achieving $2bn EBITDA by 2014, 2012E EBITDA could be conservative. Moreover, even if SandRidge comes up short of its "stated" 2014 EBITDA goal, it is far from encountering a shortage of capital for 2012. As shown above, with an unused $790mm revolver already in place and only $395mm sources of funds unaccounted for, SandRidge already has a backstop to cover any hiccup and much more.
With a stock price of less than $8.00 SandRidge is primed to return to 2011 highs – $13.00. As investors realize the company's enormous cash generation potential and lack of need for external financing, long-term stockholders should be handsomely rewarded. With the capital expenditure concerns alleviated SD shareholders would benefit from multiple expansion. SandRidge would finally command the premium valuation appropriate for a company with industry leading 3-5 year production growth…a la Continental Resources (NYSE:CLR).
Disclosure: I am long SD.