Sometimes the stock market decides to give you a gift for being there at the right place and the right time; Equal Energy (NYSE: EQU) is one of those gifts.
Brief history:
Equal Energy was formed in 1998 and operated under the name Enterra Energy for much of the last decade. In 2003 the company, which is Canadian based, decided to transform into an Energy trust and thus changed its name to Enterra Energy Trust. Unfortunately, there was no "trust" in it whatsoever, shortly after converting into a trust the company went on a borrowing binge to support its ever growing and unsustainable distributions to the point of reaching 6 times leverage to free cash flow by mid-decade.
In late 2008 at the verge of bankruptcy the company changed course (or actually was forced to change course) and hired a new CEO under the name of Don Klapko. Don is a veteran energy executive with over 30 years in industry experience. Over the last 3 years Don put the company on a severe diet; he suspended the dividend, shed non-core assets, improved operational efficacy, hired a new executive team, and changed the name of the company (to Equal Energy). He repositioned the company for growth by focusing on a number of emerging energy plays, most notably the oil weighted Cardium and Viking trends in Alberta, the low-decline liquid rich natural gas of Hunton in Oklahoma, and the exciting emerging light oil Mississippian shale oil trend in that same area. (Click here to read more on Mississipian and Hunton operations.)
As things stand today, the company is profitable, cash flow positive and with a leverage/FCF ratio of 1.9 which compares favourably to its peers' average of 2.1, yet it is trading at half of its net asset value. The company's just under 10000 Bpd production is divided as follows: 21% crude oil, 30% NGL and 49% Gas.
Why Equal, Why Now?
When a company declines in value to 50% of its net asset value, it is important to know the reason why in order to judge whether the company is a value trap. In Equal's case the underlying reasons are clear:
The company was mismanaged for a number of years, and a recovery from a reputation point of view and an operational prospective takes a number of years.
The company was highly leveraged (not the case today).
The company converted in 2010 from a trust to a standard E&P company, thus losing its income focused shareholder base, or at least those who hoped the company would resume dividend payments.
The company had a plethora of assets spread over 3 provinces in Canada and one state in the U.S., yet up until recently most of these assets were not terribly exciting.
Up until early 2011 the company was entangled in a lengthy legal dispute with its bankrupt partner at its Hunton asset. The dispute severely curtailed the company drilling in that area in 2009 and 2010 (hence limiting production growth).
Fortunately, as of today, all of the above problems are resolved. Hence we can fully focus on the future, as the company puts all those issues behind it.
The future:
After divesting all its non-core assets (last divestiture took place on October 27th), the company is now focused on 3 core areas and one emerging area:
Hunton Twin City Oklahoma:
An area that has liquid rich gas with very attractive metrics, a recycle ratio of 2.7 to 4.2 times and 28% to 55% IRR. One of the positive characteristics of the area is the low declines profile (estimated at 9% per year), the company has 10000 undeveloped acres in this location with a 50+ identified drilling locations. Equal continues to add to its acreage at Hunton.
Lochend Cardium:
The Cardium formation is in central Alberta, it is a well known light sweet oil prone area with estimated recoverable reserves of 2.7 billion barrels. The Lochend Cardium is to the north of the formation, this area is only being recently exploited with companies such as TriOil (OTC:TRIAF) and NAL Energy (OTC:NOIGF) showing positive results.
Equal Energy which expanded in this area in late 2009 (one of Don Klapko's excellent moves) has also shown excellent drilling results, the company controls just under 8000 net acres with 30+ identified drilling locations.
Alliance Viking:
The Viking formation is also located in eastern-central Alberta, it also extends to central-west Saskatchewan. Oil produced in the region is indexed at 34 API, Equal Energy controls 15500 net acres in the area with over 90+ identified drilling location at 2.2 to 2.9 recycle ratio.
Collectively, the above 3 areas present 40 million barrels in proven and probable reserves according to the company. However, according to the analyst Alistair Toward at PI Financial, the company's remaining drilling inventory is generally not booked in the current reserves numbers, from his latest October research note:
"Although Equal has assembled (and validated) a large Cardium and Viking inventory they have yet to exploit it. The result is a decidedly low-decline production base with over five years of high-quality inventory. Detailed within, this inventory is generally not reflected in current reserves" - PI Financial
Now the good stuff! – The Mississippian shale oil trend
While Equal Energy was busy dealing with its legal problems in 2009-2010 for its Hunton acreage, other companies started validating an emerging shale oil play comparable to the Eagle Ford and the Bakken, around its Hunton acreage. This trend is called the Mississippian shale oil trend.
The Mississippian play is spread across 6.5 million acres in a few counties of northern Oklahoma and southern Kansas. There are about 7,500 vertical Mississippian producing wells and about 250 horizontal wells in the play so far. Over 50 rigs operating in the play are presently drilling horizontal wells. The biggest of the biggest in the industry are focusing on the area today, such as Chesapeake energy (NYSE: CHK), Range Resources (NYSE: RRC), Sandridge Energy (NYSE:SD) and Devon Energy (NYSE:DVN) among others. As a matter of fact, the area is so hot that in August 2011, Sandridge did a joint venture for 113000 acres for $500 million, or $4424 per acre compared to the $200 per acre Sandridge paid only 2 years earlier. According to Sandridge, the play economics are very attractive due to the shallow nature of the reservoir and low horsepower fracturing requirement, as well as the extensive existing infrastructure in the area. Sandridge put target IRR in this area at 120%. The company has already drilled over 147 horizontal wells, many of them adjacent to Equal Energy lands.
In July, Chesapeake indicated that it will develop its 1.1 million acres in the area through a joint venture by early 2012. Meanwhile, Range Resources multiplied its holding in the area 5 fold-- from 22000 acres early in the year to over 100000 acres today.
Mississippian trend and Equal lands overview:
Click to enlarge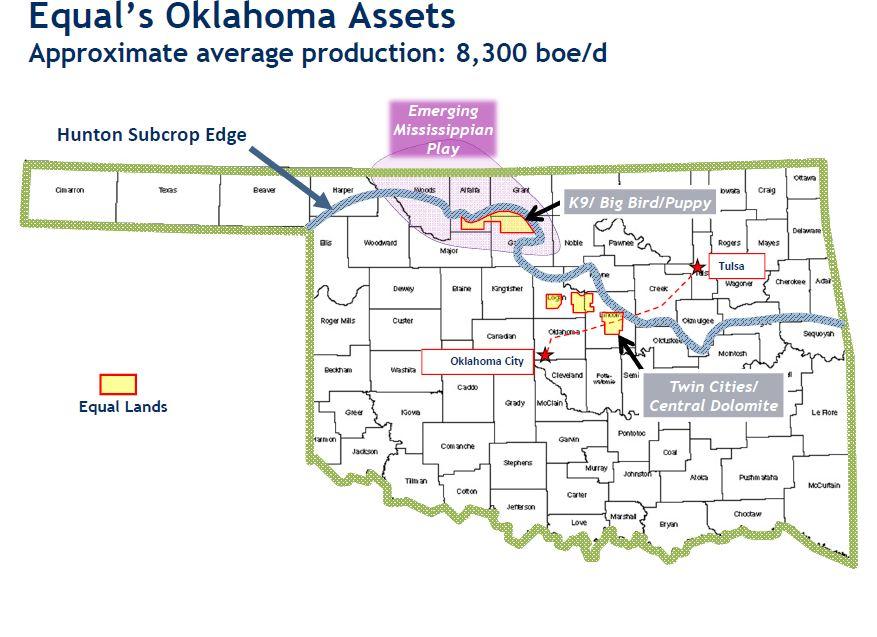 Equal Energy Hunton acreage is right at the heart of this play, thus giving the company instantly over 20000 acres in the area. Notice how Equal Energy acreage is surrounded by several horizontal drilling operations on the Mississippian. (Equal Energy acreage is the green and yellow squares, the purple dots around it is either operating or planned horizontal drilling):
Click to enlarge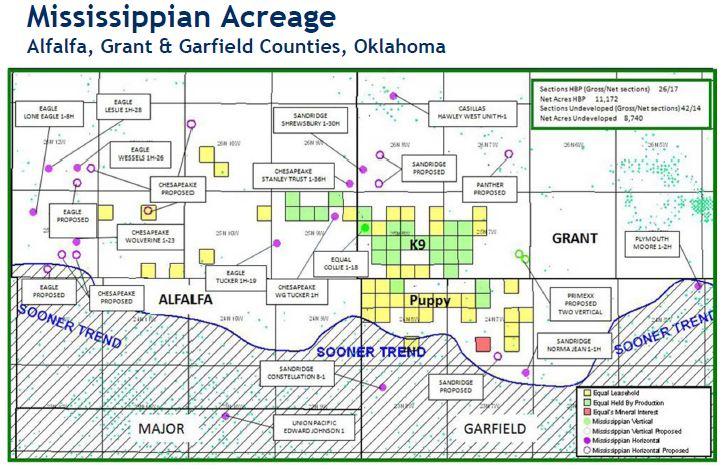 Equal Energy is aware of the importance of this play, the management team indicated that they are assessing the potential in their lands, as well as adding to holdings in the area; the first Mississippian Equal Energy well should be drilled in the area in 2012.
It is worth noting that Equal Energy exposure to Mississippian is valued at exactly $0 in the balance sheet, and naturally no reserves are booked for this play; the investment community is largely ignorant of Equal Energy's exposure to the Mississippian; one reason for their ignorance is that Equal Energy happened to find itself in the middle of the trend rather than purposely expanding in this area. However if Equal acreage is prospective for oil (which is highly probable), those 20000 acres alone would be worth (at current prices per acre) close to half of Equal Energy's current market capitalization of $180 million.
What is the catalyst?
As in every undervalued stock, a catalyst is often needed to unlock the company value. Going forward we can see a number of catalysts:
Initiation of drilling on the Mississippian shale oil play, news on this front may come as early as mid-November in conjunction with Q3-2011 results; after its latest non-core asset disposition the company has the financial flexibility to start the Mississippian operations. At year end the company should be only $57 million drawn on its $200 million credit line.
Continued M&A in the sector-- as we have witnessed lately from StatOil's (NYSE: STO) acquisition of Brigham Exploration (NASDAQ: BEXP) and Sinopec's (NYSE: SHI) acquisition of Daylight Energy (OTC: DAYYF.PK)-- needs to add reserves and grow production due to the majors.
New Joint ventures in the Mississippian shale oil play-- such as the planned 2012 joint venture by Chesapeake, or by any of the active players in the play-- will further highlight the importance of this play.
Continued increase in energy prices-- especially WTI, which has a direct impact on the company revenues and cash flow-- and a key driver for higher energy stocks valuations.
Once the catalyst is in place the stock should appreciate considerably due to the fact that it is trading significantly under NAV and under book value, it has a very low institutional ownership (only 7% vs 60%-80% for independents in the sector), it is cash flow positive, profitable and its production is more liquid weighted. Finally, due to its well defined, concentrated, highly promising asset base and its low valuation, it is an ideal takeover target.
Conclusion
Equal Energy offers safety of principle due to its severely discounted valuation, the stability of its producing assets, its improving balance sheet and rising positive cash flow. At the same time it offers sizable upside potential driven by clear upcoming catalysts. It is this asymmetry of returns that makes Equal such an attractive opportunity. Readers may benefit from reading this in-depth article on Equal Energy.
Disclosure: I am long EQU.