In this article I will discuss two companies that I feel offer a tremendous amount of upside. These stocks are on the lower-end of their 52-week range, and have been really beaten down lately.
While Glu Mobile (NASDAQ:GLUU) is a highly speculative play, LDK Solar (NYSE:LDK) is a well-established name in the solar sector. There are certainly risks associated with owning any stock or call options with GLUU or LDK, but current prices shouldn't drop too much lower than they already are. It may take some patience, but if you hold these stocks or options through at least mid-2012, there should be a nice profit.
GLUU has a very good chance of being a takeover candidate at some point next year. Its market cap is so low that one has to assume that a bigger player will take a chance on the company.
1.) Glu Mobile, Inc.
From Glu Mobile's own website, the company "is a leading global developer and publisher of Social Mobile games for smartphone and tablet devices. Glu's unique technology platform enables its titles to be accessible to a broad audience of consumers all over the world -- supporting iOS, Android, Windows Phone, Google Chrome and beyond. Glu is focused on bringing the best in social, freemium, cross-platform mobile gaming experiences to the mass market. Founded in 2001, Glu is headquartered in San Francisco and has major offices in Kirkland, Washington, Brazil, Canada, China, Russia and the UK. Glu is focused on creating compelling original IP and also partners with leading entertainment brands including Activision (NASDAQ:ATVI), Atari, Caesar's and Fox.
GLUU has been on my radar for quite a while, actually. A very volatile stock, it currently has a beta of 2.16. The stock is currently trading at $3.11/share. The 52-week range is $1.54 - $6.10.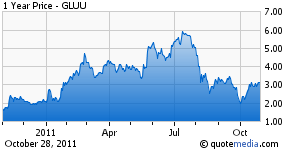 | | |
| --- | --- |
| 52wk high: | 6.10 |
| 52wk low: | 1.54 |
| EPS: | -0.25 |
| PE: | N/A |
| Div Rate: | N/A |
| Yield: | N/A |
| Market Cap: | 196.43 M |
| Volume: | 1.42 M |
Before the markets started falling in mid-July 2011, GLUU was seeing its share price steadily climb above $6.00/share. Volume was unusually high and has been fairly consistent since.
GLUU has been mentioned as a possible buyout target for a company like Zynga, who is scheduled to release an IPO in the near future. However, it is possible that Zynga is not the only company that might be interested in Glu Mobile. GLUU also purchased two game developers, Griptonite Games and Toronto-based Blammo Games in August 2011. Please see this article for more information on this.
Is there risk investing in GLUU? Absolutely. This is a pure speculation play that can reap a nice profit, but also turn out to be a complete dud. However, Glu Mobile is one of the few stocks available in the market that concentrates on the mobile/tablet app genre, which is booming. See this article for expected revenue increases in this growing market space.
GLUU surprised some by turning in a less than expected loss last quarter. Next quarter, consensus projections are calling for a loss of -0.12/share, however, I think the company will slightly beat this number again. Here are its past and future earnings projections:

GLUU also has a 10.49% short-interest. If any good news for the company is announced, this can also send the stock much higher. Analysts have the following price targets for GLUU :
Price Target Summary
| | |
| --- | --- |
| Mean Target: | 6.25 |
| Median Target: | 6.50 |
| High Target: | 7.00 |
| Low Target: | 5.00 |
| No. of Brokers: | 4 |
2.) LDK Solar Co.
LDK engages in the design, development, manufacture, and marketing of photovoltaic (PV) products; and development of power plant projects. It offers solar-grade and semiconductor-grade polysilicon, and multicrystalline and monocrystalline solar wafers to the manufacturers of solar cells and solar modules. The company also provides wafer processing services to monocrystalline and multicrystalline solar cell and module manufacturers.
Along with Yingli Green Energy (NYSE:YGE) and Trina Solar (NYSE:TSL), which I wrote about in this Seeking Alpha article, I feel LDK Solar offers tremendous upside from its current price.
When the smoke clears with the solar sector, LDK should see its stock price increase substantially. I personally wouldn't touch any U.S.-based solar company, which includes such names as First Solar (NASDAQ:FSLR) and SunPower Corporation (SPWRA). LDK is currently trading at $4.10 at noon on Monday. Its market capitalization is $546 million. The 52-week range is $2.55 - $15.10, so there is plenty of upside.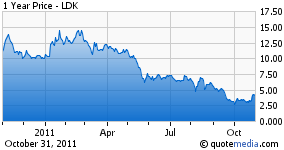 | | |
| --- | --- |
| 52wk high: | 15.10 |
| 52wk low: | 2.55 |
| EPS: | 2.27 |
| PE: | 1.40 |
| Div Rate: | N/A |
| Yield: | N/A |
| Market Cap: | 546.43 M |
| Volume: | 1.3 M |
Chinese solar companies have a distinct advantage over their competition: China supports solar energy like no other country, and provides tax benefits, subsidies, and loans that are very favorable. This allows it to sell products at a much cheaper rate than the competition.
With that said, solar stocks are extremely volatile. As of this writing, LDK is almost down 6% for the day after sky-rocketing on Friday. If you are not able to withstand the large price fluctuations daily, then I recommend that you do not take a position in LDK. Here is a closer look at LDK Solar's LDK balance sheet:
Balance Sheet
Total Cash (mrq):
636.45M
Total Cash Per Share (mrq):
4.50
Total Debt (mrq):
3.32B
Total Debt/Equity (mrq):
215.62
Current Ratio (mrq):
0.70
Book Value Per Share (mrq):
9.53
Earnings-per-share (EPS) is expected to improve in the future as compared to last quarter, as this chart shows:

LDK also has a current short-interest of 21.2%, which is exceptionally high.
And, finally, here is analysts' price targets for LDK:
Price Target Summary
| | |
| --- | --- |
| Mean Target: | 5.50 |
| Median Target: | 5.80 |
| High Target: | 13.50 |
| Low Target: | 1.00 |
| No. of Brokers: | 14 |
Disclosure: I am long GLUU, LDK.
Additional disclosure: I own long call options on both.