One stock that has fallen 50% in the last three months due to a disappointing earnings report, but seems to have been oversold is McDermott International (NYSE:MDR).
McDermott International –
McDermott International, Inc. operates as an engineering, procurement, construction, and installation company worldwide. The company focuses on designing and executing complex offshore oil and gas projects. It involves in the fabrication and installation of fixed and floating structures, and bottom-founded production platforms; installation of pipelines and subsea systems; and provision of engineering and procurement, and project management and procurement services. The company primarily serves multinational and state-owned oil and gas companies in the Asia Pacific, the Atlantic, and the Middle East. (Business Description from Yahoo Finance)
7 reasons to buy McDermott at under $11 a share:
1. It is selling at the bottom of its five year valuation range based on P/S, P/E, P/B and P/CF.
2. It has a robust balance sheet with almost $2 a share in net cash on its books.
3. Insiders have done no selling over the previous four months and appear to hanging onto their shares.
4. It has a forward P/E of just 7.6 which is a 50% discount to its five year average.
5. MDR looks like it has built technical support of $10.75 to $12 range over the last three months (See chart.)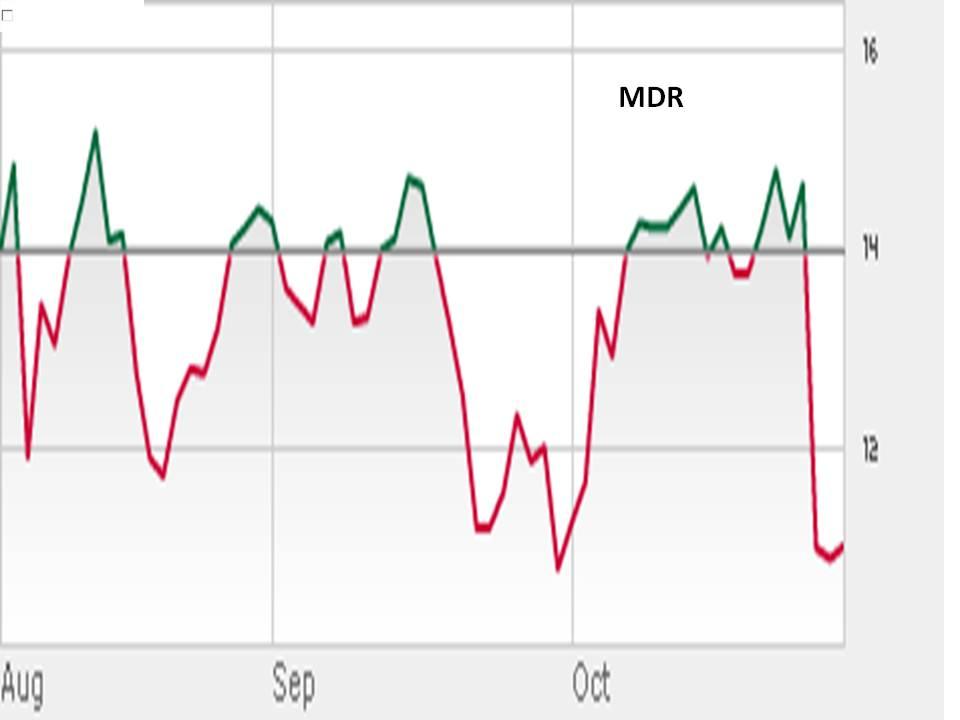 6. It has a projected PEG of just .6 which is an over 50% discount to its five year average.
7. MDR is way under analysts' price targets. The median analysts' price target is $22 on McDermott and Barclays is at $16 on MDR.
Disclosure: I have no positions in any stocks mentioned, but may initiate a long position in MDR over the next 72 hours.