After the shock of the financial crisis and subsequent market meltdown, the S&P 500 almost doubled in value between its March 2009 low and its spring 2011 high. Although traumatized investors welcomed this rally with open arms, elevated stock prices forced bargain hunters to focus on lower-quality names and growth stories.
But the recent pullback offers a second chance to buy best-of-breed stocks at a discount--particularly if you have a contrarian streak.
Shares of freight and logistics firms have pulled back substantially in recent months, reflecting concern about the U.S. economy's summer swoon and a potential slowdown in global trade.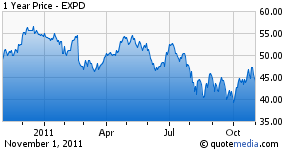 Logistics firm Expeditors International of Washington (NASDAQ:EXPD) boasts operations on six continents but doesn't own fleets of planes, ships or trucks. Instead, the company purchases freight capacity from major shipping and air transport firms, and resells the cargo space to customers looking to ship internationally.
Air and sea freight each account for about a third of the company's annual revenue, with the firm's customs brokerage operation generating the remaining third of sales.
The bulk of the Expeditors International of Washington's business involves moving goods between Asia and North America, though the firm also has a burgeoning presence in Africa, the Middle East and Latin America.
Shares of Expeditors International of Washington have sold off by almost 20 percent in 2011, reflecting fears that weak economic growth in Europe and the U.S., coupled with a slowdown in China, would erode the company's earnings.
But these worries appear overblown.
Despite softness in the global economy, Expeditors International of Washington managed to increase its first-half revenue by more than 19 percent year over year. Analysts also remain bullish on the firm's growth prospects in second half of 2011. The Bloomberg consensus estimate calls for the company to post full-year sales growth of 11 percent to 15 percent.
With some of the strongest profit margins in the freight management industry, Expeditors International of Washington should post solid earnings if the global economy avoids a major meltdown.
At the same time, the firm is well-positioned to endure a downturn if business conditions deteriorate. Further economic weakness would likely prompt more companies to outsource their logistics functions in an effort to eliminate costs and improve operational efficiency.
I like Expeditors International of Washington for its $1.1 billion in cash and no net debt. The company has a bulletproof balance sheet that provides peace of mind to investors and customers alike, which is a big reason for my continued coverage of the company in Personal Finance.
The stock currently trades at 5 times book value and sports a price-to-earnings ratio of 25.2 -- a solid entry point for investors seeking long-term growth. Check out my colleague, Elliott Gue's free report, Top Growth Stocks to Own Now, for more great tips on growth investing.
Disclosure: I have no positions in any stocks mentioned, and no plans to initiate any positions within the next 72 hours.