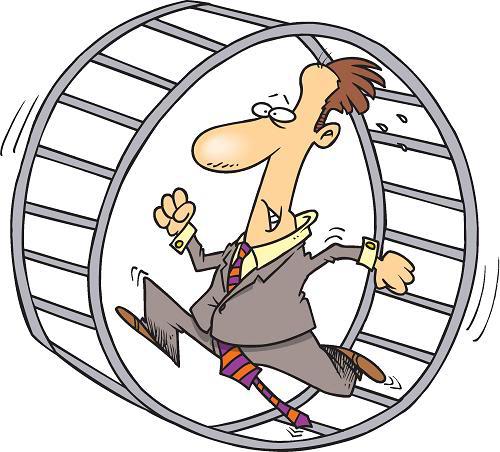 So, here we are at the end of the first quarter and all the major averages are back where we started the year, just about flat. As of this writing, the Dow is up year to date, all of .2% and the S&P 500 is up .8%, flatter than a door nail.
With respect to the initiation of the Fill-The-Gap Portfolio on 12/24/14, the S&P 500 is down .37% and the Dow is down .99%, while the FTG Portfolio is up .25% in capital appreciation. However, due to dividends received, dividend increases, and reinvestment of those dividends, this portfolio has grown $13,701 in value, and annual income has grown to $22,192.63.
With all the back and forth, and volatility returning with a vengeance, you'd think somebody made some money this quarter. Well, aside from a few day traders who got it right, while most of their brethren got caught on the wrong side of the trade, you'd be right if you guessed that most investors got nowhere fast, like hamsters in an exercise wheel. Unfortunately, most investors got no exercise and lost no weight.
Keep your eye on the prize
While most investors concern themselves with ever-changing price quotes on the stocks in their portfolios, the dividend growth investor is concerned with the ongoing strength, quality and earnings-based ability of those companies to pay their dividend.
Dividend growth investors don't have to trouble themselves with the complexities of the oil debacle, whether the historically high oil inventory is about to over-flow available storage tanks in Cushman, or whether in fact oil refiners are buying cheap oil hand over fist because their profit margins are expanding now that gasoline use is up 9% this month. Miles driven are trending higher, and SUV sales are taking off like a rocket in China.
No, these worries are best left to the traders, speculators, and others focused on making capital gains. We can take a pass on this source of anxiety and woe and give those folks our antacids and let them deal with the ulcers, thank you.
Watching the paint dry
Some folks disparage the dividend growth style of investing as being a very boring pastime. Dividend growth investors know better. While we may forgo the daily rough and tumble of the market place, we spend our time diligently doing our research, searching for those companies that have wide moats, difficult barriers for competitors to challenge and overcome, years of earnings growth accompanied by a long history of sharing some of those earnings with shareholders.
Once we discover those gems for our portfolios, we make our investment. Speculators would refer to this as placing their bets, but we know better. Once we assemble our companies that we've partnered with into a portfolio, we set up our spreadsheets and monitor the growth of those dividends to track our progress and that of our partners.
Since the payment of dividends is a strong reflection of the quality of earnings and the growth of those earnings, we are aware of progress, or the lack thereof. With respect to this concept, I offer up Omega Heath Investors, Inc. (NYSE:OHI) as a keeper stock, the kind of company we like to keep company with for the long haul. Their continued strong growth, witness their upcoming merger with Aviv (NYSE:AVIV) in a $3 billion deal that will result in a combined portfolio of 789 properties in 41 states, and evidenced by a long history of continued dividend enhancements, serve as our reason for adding additional shares of this fine company to our Fill-The-Gap Portfolio this month.
Omega Healthcare Investors gives investors annual 8% to 10% steady dividend growth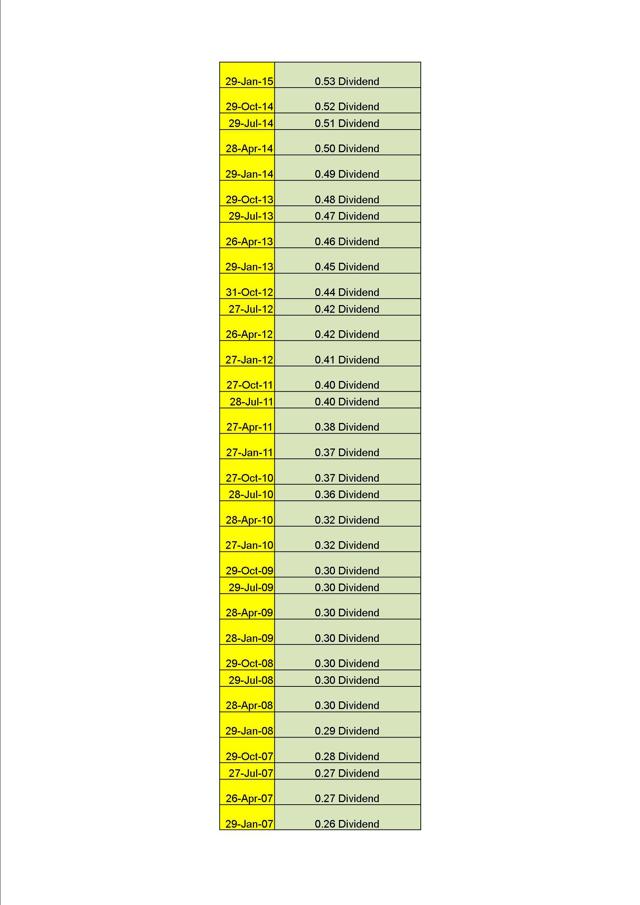 The purchase of 82 additional shares with $1124 of new dividends from CTL, ARCC and VGR, and the remaining balance on the account, brings our total position in Omega up to 315 shares. Omega Health serves the entire spectrum of health consumers, but is additionally focused on the aging, boomer population which we know is the largest existing population cohort, with 10,000 retiring daily for the next 20 years or so.
With all of their skilled nursing homes, assisted living facilities, hospitals and clinics, Omega is well-positioned to take great advantage of revenue and earnings potential for the foreseeable future.
In the movie, "The Graduate", it was plastics, plastics, plastics. In real estate, every broker will tell you the largest potential for profit and escalation of value is all about location, location, location. Today, that same gold mine can be defined by healthcare, healthcare, and more healthcare. The number of consumers needing these services points us in this direction. The escalating inflation in healthcare costs advocates for this position. The congressional agreements this week firming up Medicare and making permanent the formulas to reimburse health care providers gives us additional support for this position.
Fill-The-Gap Portfolio Constituents
This portfolio currently consists of 16 companies, including AT&T, Inc. (NYSE:T), HCP, Inc. (NYSE:HCP),Altria Group Inc. (NYSE:MO), Consolidated Edison, Inc. (NYSE:ED), Verizon Communications Inc. (NYSE:VZ), CenturyLink, Inc. (NYSE:CTL), ConocoPhillips (NYSE:COP), Main Street Capital Corporation (NYSE:MAIN), Ares Capital Corporation (NASDAQ:ARCC), Reynolds American Inc. (NYSE:RAI), Vector Group Ltd. (NYSE:VGR), EPR Properties (NYSE:EPR), Realty Income Corporation (NYSE:O), Sun Communities Inc. (NYSE:SUI), Omega Health Investors (NYSE:OHI) and Stonemor Partners LP (NYSE:STON)
(Main Street Capital has been paying monthly dividends plus two extra dividends per year the past 2 years, and Vector Group has been paying, in addition to its quarterly dividends, a 5% stock dividend for many years).
This portfolio provides 91 pay days in the form of dividend events throughout the year.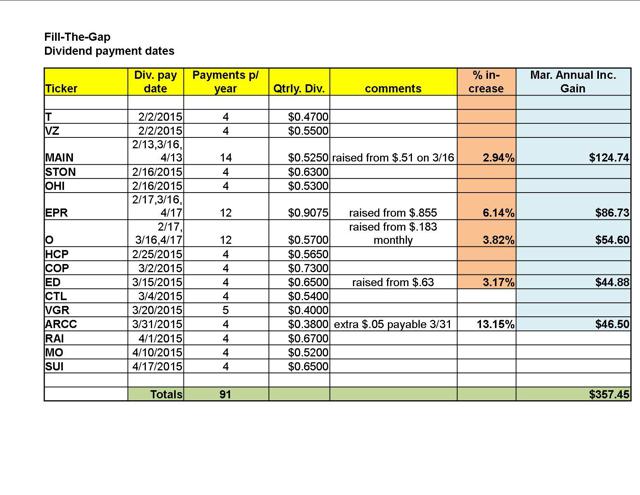 Regardless of the stalemate in the market place, the FTG portfolio was able to make good progress, once again. With dividends and dividend increases accruing, reinvestment of those dividends in the accumulation stage is able to overcome daily price movements of the marketplace and fulfill its goal of growing the portfolio value and increasing income for the investor.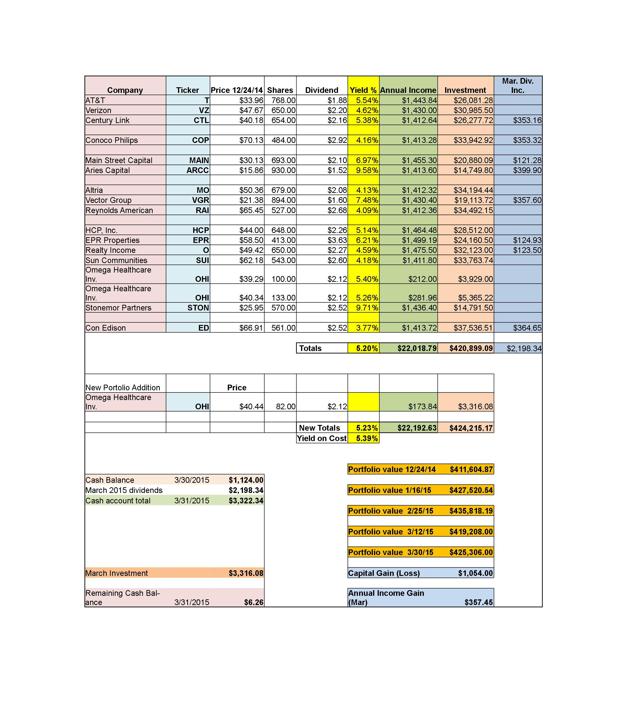 While the S&P 500 and Dow indexes have both given up almost all of their gains and gone into negative territory, the portfolio has increased in capital value from $411,604 to $425,306, for a gain of $13,702 or 3.33% increase.
This compares favorably to the loss of -.3% in the Dow and the S&P 500 slight gain of .21% over this period.
Most importantly, the portfolio income has grown from $21,246 when it was first constructed, to $22,193 currently, a gain of $947 annually, or 4.46% increase in twelve weeks time.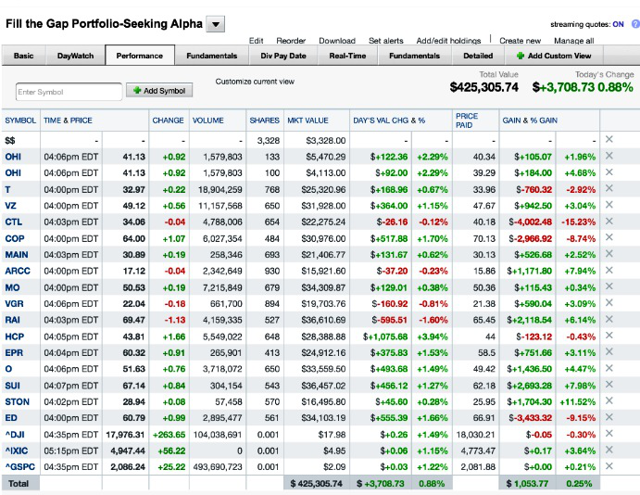 FTG Portfolio Re-Cap
While the S&P 500 index has increased .21% during this period, and the Dow Industrials has decreased .3%, the FTG Portfolio has increased in capital value by 3.33%, outperforming both the S&P and Dow by a factor of almost 16 times.
With the accumulation of dividends since inception, and the opportunistic reinvestment of those dividends, the FTG Portfolio has grown in capital value from $411,604 to $425,306, a capital growth of $13,702, or 3.33% growth in twelve weeks time.
More importantly, since the December 25, 2014 inception of this portfolio, income has already grown from $21,246 to $22,193 for an annual income increase of $947, or a 4.46% gain in annual income in just twelve weeks time.
The yield on cost has already increased from 5.2% at inception to 5.39%.
As discussed in the introductory article, the average two-earner couple can expect around $28,800 in annual Social Security income. To close the gap between a fairly comfortable $50,000 retirement income, this average couple needs additional income of $21,200.
Having suffered no dividend cuts or eliminations, and having enjoyed many increases in a very short time period, it is safe to assume we are currently in cruising mode, having surpassed our income goal and requirements quite rapidly.
Any excess income above the $50K can now be used for discretionary spending, shiny new things, extra vacations, gifts for the kids and grandkids. Whatever suits your fancy, just fill in the blank.
Final Thoughts
After only twelve weeks of having initially constructed this portfolio to fill that gap, the gap has already been filled, and then some, accomplishing the goal in short order.
As we go forward with this project to track further development and progress, we'll be adding more names to the portfolio for further diversification and to add income. Additional income will allow the average couple to have more discretionary funds available for spending, above and beyond everyday expenses. Except for OHI, the other 15 names in the portfolio have been balanced as to dividend income received throughout the year. This gives us some protection if one of our names decides to reduce or eliminate their dividend. The potential resulting loss of approximately 5% of dividend income can be handled without much of a change required to lifestyle.
The Fill-The-Gap portfolio for 2015 presents a new beginning, an opportunity for retirees, near retirees and new investors to start the process of making their transition to dividend growth investing in some of the safest, most predictable, long-paying, high-payout companies in America.
Please consider following me in real time. This will enable you to receive an email the moment any of my articles are published on Seeking Alpha. Just click the down-arrow next to the "follow" link above this article title, and check the two boxes to Follow this author and Real-time alerts on this author.
If you found this article, the concept and investment results interesting and intriguing, I invite you to read the other articles in this series. Stay tuned for further articles that will introduce additional sectors and names to further diversify a portfolio for continued ballast and mitigation of risks to any one sector.
Should you be interested in reading any of my other articles detailing various strategies to enhance your returns on a dividend growth portfolio, please feel free to find them here.
As always, I look forward to your comments, discussion and questions.
Disclaimer: This article is intended to provide information to interested parties. As I have no knowledge of individual investor circumstances, goals, and/or portfolio concentration or diversification, readers are expected to complete their own due diligence before purchasing any stocks mentioned or recommended.
Disclosure: The author is long ARCC, ED, MO, SUI, EPR, O, T, COP, RAI, VGR, CTL, MAIN, STON, VZ.
The author wrote this article themselves, and it expresses their own opinions. The author is not receiving compensation for it (other than from Seeking Alpha). The author has no business relationship with any company whose stock is mentioned in this article.