Before you review the Long-Shot Portfolio's performance to date, please take a second to see what it's all about in the first two installments of the series:
I've put two of the trades - Ford (NYSE:F) and Sprint (NYSE:S) - on in one of my personal accounts. You can see their performance, as of roughly 11:25 a.m., Wednesday, courtesy of my Interactive Brokers account below.
Click to enlarge


The S position continues to perform just as I want it to with the covered call most likely set to expire worthless and the shares up sharply from the bottom-feeder price of $2.17 (actually less excluding commission) I bought them at. Of course, it's the stock position in S that's the long-shot play. As for F, it continues to slog along, but, like the rest of the universe, I expect considerable returns in 2012.
My Apple (NASDAQ:AAPL) January 2014 $600 call option acts, unsurprisingly, like a deep out-of-the-money LEAPS option. I picked it up for $32.80 on October 26th. As of about 11:30 a.m., Wednesday, it trades for $29.90, using the midpoint price. Tracking that one at this early stage typically proves to be an empty exercise.
Trade #4
Lululemon (NASDAQ:LULU). I'm always careful not to get taken by the Peter Lynch style of investing. Just because I like and use something and/or you like and use something and/or your girlfriend's cousin's son likes and uses something does mean that investors should pile into the underlying stock. Times do exist, however, when what you see out on the streets matters.
For some time, I've made the case that in this uncertain economy and this unequal world, investors should bank on companies that target high-end consumers who live in posh urban cores. It's this line of thinking that makes me bearish on recent-IPO Teavana (TEA), which ignores streetscapes in big cities for shopping malls at the darkness on the edge of town.
Lululemon locates all over the place, but the company focuses on places with people with disposable income who are not greatly impacted economic downturns. This focus tends toward North America's greatest and most prosperous urban cities and neighborhoods. Just consider where the company chooses to place stores in Manhattan and Toronto. And, in a smaller city like Portland, it puts the store smack dab in the heart of the city's trendiest neighborhood, The Pearl District.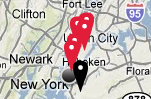 I live in Santa Monica where half of the population "has more money than God." I cannot leave the house without seeing the LULU logo on the backs (or elsewhere) of young and older women alike. (Yes, I am looking; come visit, you'll see that it's impossible not to). Lululemon is a huge urban trend (not fad) that targets a market that does not sneeze one bit at dropping $100 on yoga pants, $200 on a "softshell" jacket or $50 on a sports bra - affluent women.
Often, investors who live outside of the nation's urban centers - or outside of the "hip" neighborhoods in some of these places - miss out on these urban trends and write off the Lululemons of the world as overvalued. My case for LULU is similar to my case for Tesla Motors (NASDAQ:TSLA):
Tesla has five stores in California, one in New York City, one in Chicago, one in Phoenix and one in Seattle. There's a method to the madness after all ...

Living in major metropolitan areas can equate to living in a bubble. On the flip side, living outside of these spheres of affluence can be tantamount to leading a sheltered life. At day's end, you create your own reality. All of us should be careful not to extrapolate it out to the rest of the world. Tesla bears seem to be doing this, assuming that because the average Anytown resident cannot afford or simply does not want a Roadster or Model S, Tesla will not be successful. Tesla bulls seem to realize that Anytown has no place in this debate.
Neither company needs to change or take over the world to be wildly successful. They just have to produce products that catch the eye of the market I speak of. Both have done - and will continue to do - a tremendous job at this.
With that said, as the shorts prepare to pounce on LULU, I am initiating a long-shot play by buying the stock outright. I was going to make it a tried-and-true long-shot play by going with deep out-of-the-money options, but LULU options are thinly-traded with pretty wide bid/ask spreads. Plus, they're pricey. I don't like the looks of them.
That said, there's a torrent out there that places LULU with the ranks of the apparently overvalued. Earnings come in early December and any misstep could send the stock reeling. But I think my bullish conviction makes sense, therefore I will take the chance and pick up 100 shares for $55.25, the ask price just after Noon on Wednesday.
Disclosure: I am long F, S, TSLA.