The most straightforward way to invest in natural gas is to go long or short the prompt month (nearest month to delivery). The prompt month is used as this provides the most liquidity to investors, then as the contract nears expiration, the investor can roll his/her position to the next month.
However, many investors prefer to stay away from futures for a multitude of reasons including capital requirements and/or leverage. Investors have a choice of several different natural gas ETFs/ETNs to trade either long or short, with varying amounts of leverage (also see my oil article on ETFs/ETNs):
Selection of Natural Gas ETFs/ETNs
Long
Short
VelocityShares 3x Inverse Natural Gas ETN (NYSEARCA:DGAZ)
ProShares Ultra Short Bloomberg Natural Gas ETF (NYSEARCA:KOLD)
Factors to Consider When Considering Natural Gas ETFs/ETNs
It is important to consider the liquidity of an ETF/ETN, as one must look at a possible position size versus the average volume of the day. As seen below, UGAZ, UNG, and DGAZ all have average volume over 10m shares traded per day, while the other funds have under 100k trades per day. Thus, if an investor is hoping to get into a position in a large size, higher liquidity is needed to ensure getting the best price possible. Moreover, UNG provides the best long-term option for holding a long position in natural gas.
Additionally, as is the case with any ETF/ETN, the investor must consider the fees and how fees will impact returns. Summarized below are the fees for the natural gas funds above, ranging from 0.60% to 1.65%. These fees primarily derive from the amount of leverage and how often the fund is rebalanced. Accordingly, UGAZ and DGAZ have the highest fees (rebalanced daily, 3x levered), while UNG has the lowest fees (rebalanced less often, no leverage).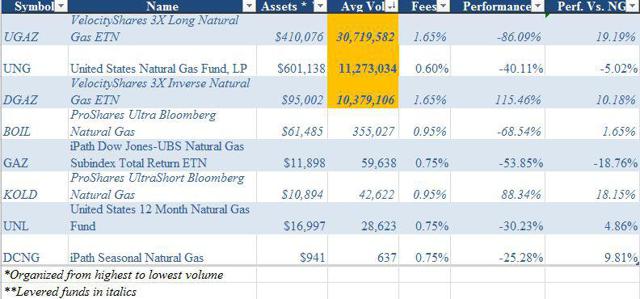 Additionally, an investor must consider when each individual fund rolls (for instance, UNG next rolls from April 14-17) from the prompt month to the next month, and how this rolling impacts the price. Lastly, one must look to see when each fund is rebalanced and the impacts of the rebalance (for instance, tracking error when holding levered funds long term).
Correlation to Rolling Prompt Month Natural Gas' Performance
Performance of Natural Gas Futures
Over the last 6 months, from October 1 - March 31, prompt month natural gas prices have decreased from $4.032/mmbcf to $2.617/mmbcf, primarily due to overproduction. Moreover, the price has decreased -35.09% as seen below.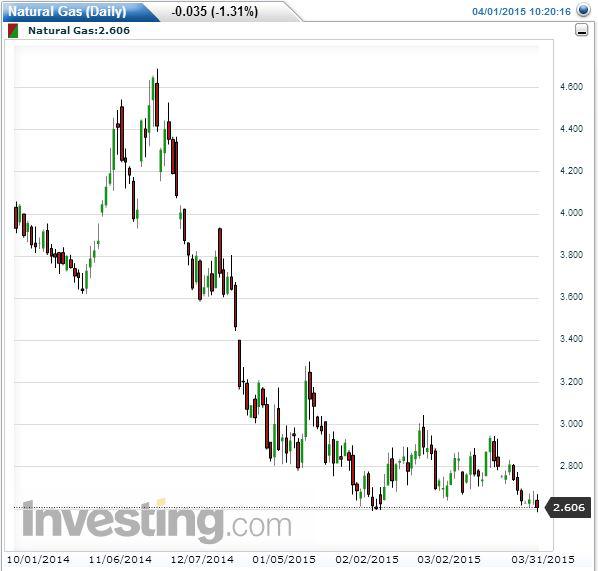 Performance of Long ETFs/ETNs
Shown below are several long funds' performance from the past six months, October 1 - March 31 and a summary of the long only funds (Source: Google Finance).


Performance of Short ETFs/ETNs
Shown below are several short funds' performance from the past six months, October 1 - March 31 and a summary of the short only funds (Source: Google Finance).


Best Options for Trading/Investing
Short-Term
The best options for short-term trading are UGAZ and DGAZ due to liquidity. It is also worth considering that UGAZ and DGAZ have 2.75x higher fees than UNG, but are also triple levered funds. It is hard to compare UGAZ and DGAZ to the 6 month performance of natural gas futures as UGAZ and DGAZ are intended to be short-term instruments. Long-term performance for these two funds is significantly affected by roll gains/losses and tracking error.
Long-Term
Most ETFs/ETNs for trading natural gas are designed as short-term instruments. For longer-term moves, UNG and UNL are both possibilities for long-term investments, as UNG tracks the prompt month and UNL tracks the 12 month rolling strip (depends on contango/backwardation since holding multiple contracts).
Moreover, UNG has sufficient liquidity for an investor to get the best price possible. Additionally, the market seems to understand that both oil and gas are plagued by overproduction, and although rig counts are decreasing, the levels of production remain high due to advances in drilling technology over the last several years. Additionally, the price has been pushing to higher levels of support and resistance. The price of natural gas has touched lows of just below $2.60 the last few days, providing investors believing in a turnaround in natural gas prices an entry point into UNG and UNL.
UNG has underperformed the slide in natural gas over the last 6 months by -5.02%, while UNL has outperformed natural gas futures by 4.86%. Yet, the difference in performance comes from UNG only tracking prompt month, and losing more on the roll each month than UNL. Yet, UNG should recover more quickly if a recovery in natural gas prices appears.
GAZ and DCNG could also be used for longer-term trading, however both have fairly low liquidity, with DCNG's average volume being very low (637 trades).
Disclosure: The author has no positions in any stocks mentioned, and no plans to initiate any positions within the next 72 hours.
The author wrote this article themselves, and it expresses their own opinions. The author is not receiving compensation for it (other than from Seeking Alpha). The author has no business relationship with any company whose stock is mentioned in this article.