Clorox (NYSE:CLX) reported fiscal first-quarter results Wednesday that showed declining sales in its US categories and higher commodity costs. We weren't that impressed with the performance, but we are maintaining our $72 per share fair value estimate.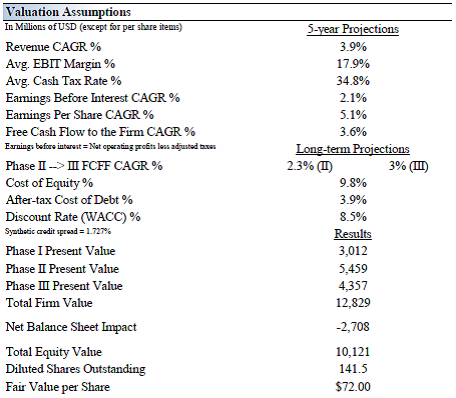 Source: Clorox Company Report, Valuentum Securities, Inc.
The firm's revenue expanded 3% on mostly volume growth thanks to product innovation. Revenue increased in three of its four reportable segments, with International (all countries outside of the US) revealing 9% sales expansion. Clorox continues to gain traction in its Argentina business and rolled out Glad in China. Its Lifestyle segment (dressings and sauces, water filtration, global natural personal care, etc.) experienced 6% volume growth during the quarter led by double-digit volume growth in its Burt's Bees business. Clorox also noted strength in its new Brita on-the-go-bottle. Its Household business also had a nice showing in the period thanks to strength in cat litter shipments and Kingsford charcoal, though volume in its Cleaning segment fell due to weakness in laundry-related products.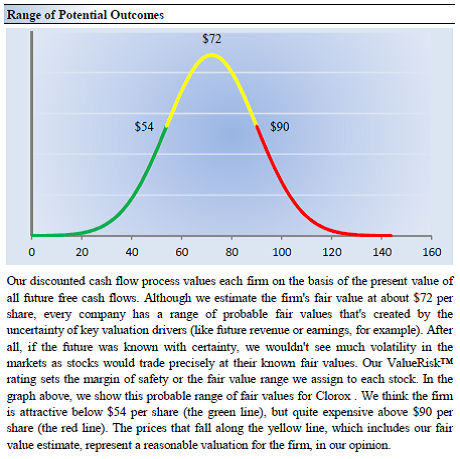 Source: Clorox Company Report, Valuentum Securities, Inc.
Earnings from continuing operations fell from the same period a year ago as higher commodity costs took their toll (pretax earnings declined 7%). The steeper commodity costs were apparent in Clorox's gross margin, which fell 250 basis points, to 41.8%. Diluted earnings per share, however, was flat at $0.98, as share buybacks helped to hold the line. Despite the meager profit performance, cash flow continues to be robust (at roughly 10% of sales), increasing modestly from the same period a year ago.
Looking ahead, Clorox expects 1%-3% sales growth on relatively flat gross margins. Though we think the expectations for sales expansion are in the ballpark, we're less confident in management's forecast for flat gross margins, though commodity costs should ease a bit this fiscal year (and higher sales prices should help). Management guided its bottom line to $4.10 at the high end for fiscal 2012, a level that can be reached only if commodity costs cooperate, in our opinion.
Read our full 16-page report on Clorox here.
Disclosure: I have no positions in any stocks mentioned, and no plans to initiate any positions within the next 72 hours.