For two years following the March 2009 bottom, Caterpillar (NYSE:CAT) led the stock market ever higher. It even gave Apple (AAPL) a run for its money. Then it ran into two downdrafts this year. The first, April-June, was a valuation adjustment in line with the stock market. The second, July-September, was a recession fear buzz saw. For cyclical companies like Caterpillar, recessions are destroyers of profitability and investors' returns. Adding in previous expectations of high growth and the stock's dramatic rise made CAT particularly vulnerable. These conditions produced a 35+% drop (meaning a 50+% rise was needed to reclaim its lost ground).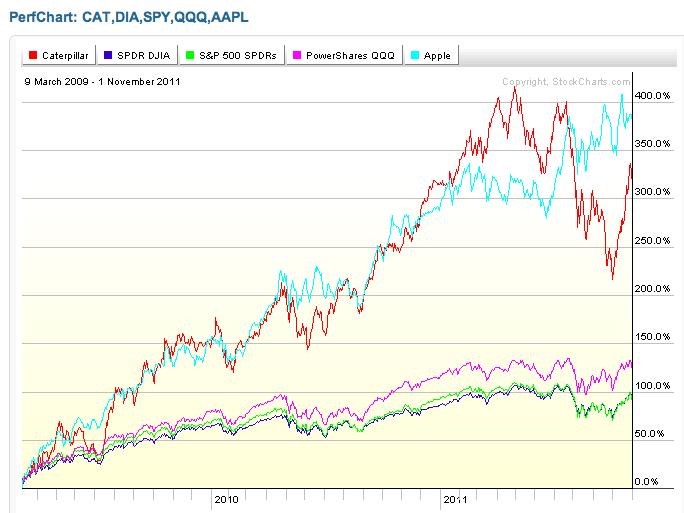 (Stock chart courtesy of StockCharts.com)
Clearly, CAT participated in the October rally, rising over 30%. So, now what? Does that take it back to a more reasonable valuation? Or is there still plenty of room to grow? I believe it's the latter, and here's why…
Alcoa and Caterpillar managements confirm no recession ahead
Dwindling recession fears are credited for October's stock market rise. Importantly, we got real world confirmations from two companies who know the global economy well. Alcoa (AA) led off this earnings report season saying they are seeing growth, not retrenchment (see my article). Caterpillar followed that up with positive data and bright forecasts.
One warning among stock bears has been that analysts remain over-optimistic. However, Caterpillar's announced a 2011 earnings projection that exceeded analysts' estimates. The Peoria, Illinois, company is not noted for over-optimism, so it appears analysts are leaning towards caution, not over-estimation.
Here is the latest picture of estimated earnings for CAT.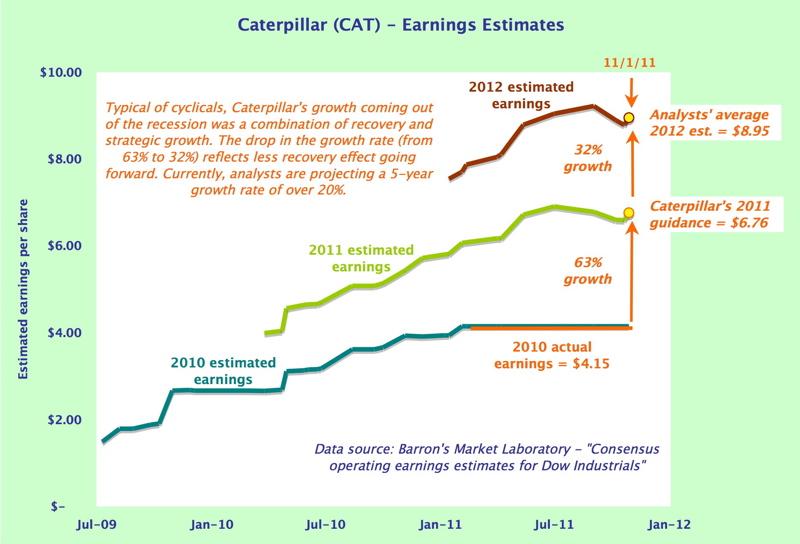 Next year is here, and it offers investors great value
The focus is now on 2012, and Caterpillar's 30+% growth estimate is very desirable. Even after the recent rise, the 2012 estimated earnings yield is a high 9.8%. Here is how the earnings yields have changed over the past two years.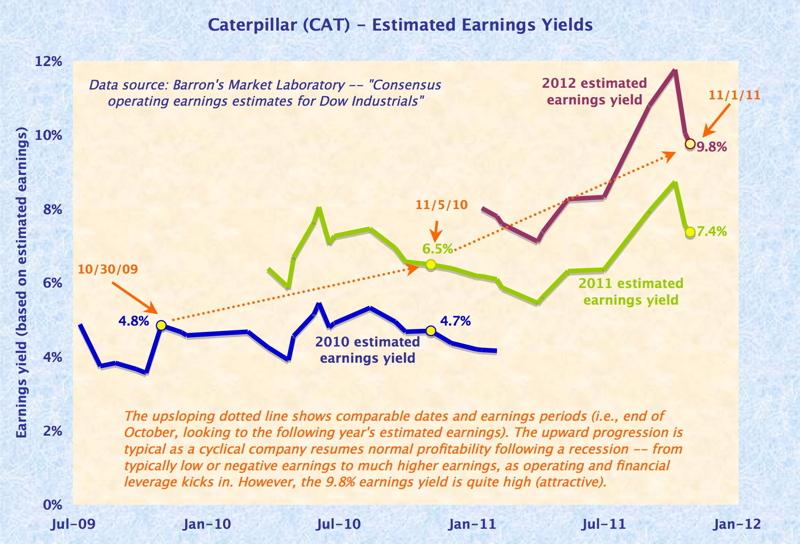 Note the early October blip to an earnings yield of 11.8% (equivalent to a price/earnings (P/E) ratio of only 8.5x. That extraordinarily cheap level reflects both the level of pessimism and how oversold the stock market had become.
Historical valuation comparison is excellent
What makes today's 9.8% earnings yield (~10x P/E ratio) so desirable is Caterpillar's high growth outlook. Cyclical stocks' valuations change over time, from looking expensive during a recession (when the economy and company are operating well below normal) to looking cheap during a boom (when the economy and company are operating a capacity). The following graph shows a history of P/E ranges and stock prices covering both recession and growth periods.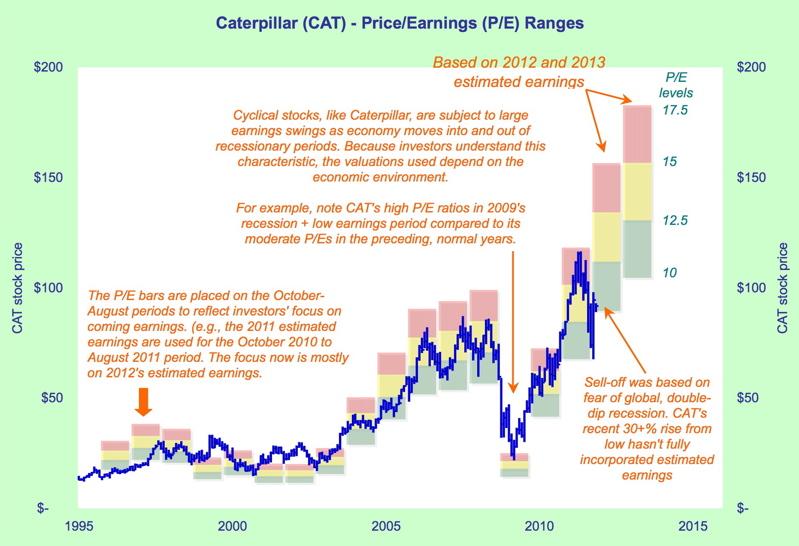 As we know, the economy is not back to normal, much less operating at capacity. That is why the company and analysts see sizeable earnings growth potential. With CAT sitting at about 10x P/E level, it clearly has plenty of room to rise (and no excuse to fall).
The bottom line
Caterpillar's actual results have shown the company's success in this economy even though we are not back to normal. With global recession fears fading and management seeing growth coming, we can expect more of the same ahead. Therefore, in spite of the stock rising 30%, it looks that was from an oversold position and there is potential for more gains.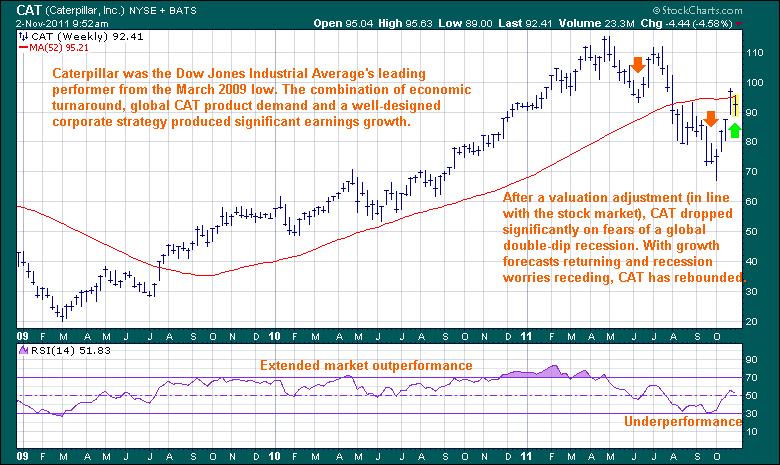 (Stock chart courtesy of StockCharts.com)
Disclosure: I am long CAT, AAPL.
Additional disclosure: Positions held: Long U.S. stocks and U.S. stock funds