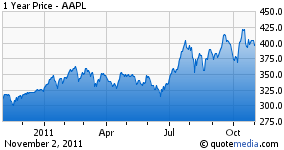 Despite my belief that PCs are becoming a commodity, I still find myself very bullish on Apple (NASDAQ:AAPL). As more people around the world gain the financial stability to purchase electronics, Apple will remain the gold standard for years to come. In this article, I highlight some of Apple's recent developments that make me believe the company will continue to excel.
First off, Apple stock still looks good from a pure analyst expectation standpoint. Its one year target price is $501.70 according to Yahoo Finance, and analysts remain generally bullish when looking at how many Strong Buy recommendations it receives. The company will still be in a strong growth stage for this year and next year as analysts expect its EPS to increase from $27.68 in FY 2011 to $38.63 in FY 2013. When looking at today's world economy, it seems like all of these estimates are fairly reasonable. The estimated 25% growth rate is definitely not an industry best, but it is a much safer stock to buy than Dell (DELL), HP (NYSE:HPQ) or any of Apple's Asian competitors.
Rumors about Apple entering the television industry are still very hazy and I don't believe that analysts have really put much merit into how much value this move would potentially add to the company. On a positive side, it would add another profitable product to Apple's main product line. With the company having such large buckets for each product, a successful Apple television could realistically add up to $90 billion to its market cap.
From a strategy standpoint, television is an industry in dire need of innovation. Compared to the computer world's ability to double computing power every two years, the television industry has been able to improve picture quality, but distribution struggles to innovate past the DVR and on-demand movies. As more people start to watch television on their personal computers, there is real value in bringing consumers back to television without sacrificing the on-demand characteristics that services like Hulu and Netflix (NASDAQ:NFLX) have brought. Smart TVs are out, but there is very little buzz in the industry. An entrance by Apple could really make the industry boom.
Despite Apple's recent acquisition of C3 Technologies being small relative to its giant amount of cash, the strategy behind it shows that Steve Jobs' ideas still guide the company in the right direction. This acquisition will give Apple its own map data which will help end its dependency on Google (NASDAQ:GOOG) Maps. Apple's success is derived mainly from its ability to participate in all aspects of the electronics value chain. Although the company has outsourced some of its business functions, Apple still has the ability to operate on its own if need be. This means that Apple can better adjust to harsh changes in the electronics value chain, like an increase in component prices.
I have been very bullish on Apple stock ever since I've started following the stock market and I still believe that investors can earn a strong return off of a long position. I do not expect shares to give astronomically high returns, but Apple stock is still a good holding in any portfolio. Even after the Steve Jobs era, I believe that Apple has the power to continue being innovative.
Disclosure: I have no positions in any stocks mentioned, and no plans to initiate any positions within the next 72 hours.