Group buying and daily deal sites seem to be losing their shine – witness the recent layoffs at Buywithme.com (which has recently merged with Gilt Groupe) and the repricing of the Groupon (GRPN) IPO due to concerns with its model, and other issues. From my perspective, I've long thought that the daily deal space was overcrowded and people were starting to ignore the offers – call it deal fatigue setting in. We can see some of this in Compete PRO's data.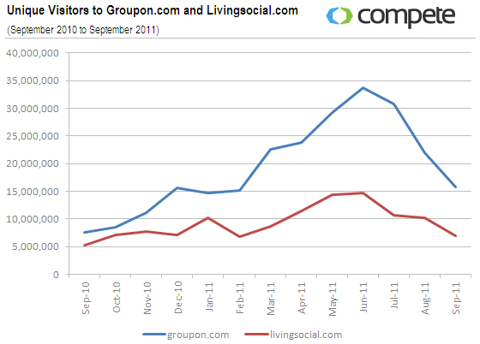 But where it gets interesting is to look at the daily deal aggregators websites – let's look at Yipit.com (my personal favorite). On Yipit, we see continued, continuous growth (albeit off a small base):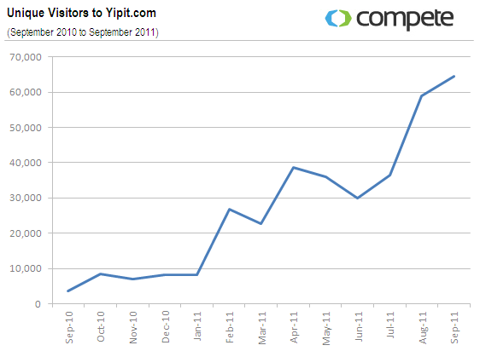 The data on Yipit seems to indicate that people are still interested in daily deals, but that they may be turning to aggregators to deal with the large number of companies and deals.
Now, I don't think daily deal sites are going away, but there are clearly too many of them right now, and deal quality has been sliding as merchant get more weary of the deals. That will likely lead to margin compression – businesses may not be as willing to jump at deals where Groupon gets 50% of the revenue. Bottom line, I would expect more of these companies to go under or get bought up in firesales.
This all may, in fact, be good news for Groupon and Livingsocial, the two biggest players in the space. As industry consolidation happens, it may give them the ability to hold onto more consumers and therefore have more pricing power with merchants to keep margins up. It's been an exciting space to watch for the past year – I'm looking forward to updating this post in another 6 months to see what actually happened.
Are you still looking at daily deal websites? How often are you using their services? Let us know in the comments.