Hedge-fund manager David Einhorn is betting that gold-mining companies will outperform bullion, reversing the trend from the past six months.
"A substantial disconnect has developed between the price of gold and the mining companies," Einhorn said yesterday in a conference call discussing results at Greenlight Capital Re Ltd.
"With gold at today's price, the mining companies have the potential to generate double-digit free cash flow returns and offer attractive risk-adjusted returns even if gold does not advance further," Einhorn said. "Since we believe gold will continue to rise, we expect gold stocks to do even better."
"Given the challenging macroeconomic environment, we intend, for the foreseeable future, to continue holding a significant position in gold and other macro hedges in the form of options on higher interest rates and foreign exchange rates, short positions in sovereign debt and sovereign credit-default swaps," the reinsurer said in a regulatory filing yesterday.
Current conditions are perfect for gold, with greater potential for the coming year. By the end of the first quarter of 2012 the price of gold could reach $1950 per ounce, up 13% some analysts predict.
Gold is ready for a take off as a result of the slow economic growth and growing concerns about European debt. A lack of confidence in the entire financial system and an urgent need for a safe haven for investors will play an important role once again.
This year the gold price increased by 21. After a brief drop in prices in September, the price of gold rose 6.3% in October.
How can we profit from it? I would say buy Market Vectors Junior Gold Miners ETF (NYSEARCA:GDXJ). Why?
The last 18 months Junior Gold Miners and Explorers/Developers have underperformed Bullion. Gold increased almost 80% in value, while gold stocks rose between 50 - 60%.
Click to enlarge images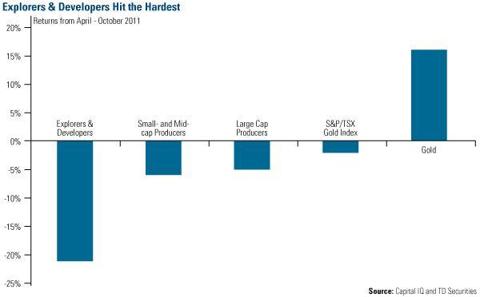 Explorers and Developers are valued with a deep discount.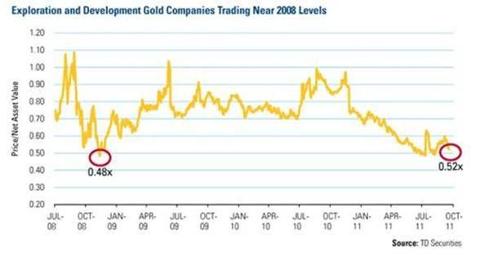 If you think the risk is too high, I would suggest buying Market Vector Gold Miners fund (NYSEARCA:GDX). This fund attempts to mirror the NYSE Arca Gold Miners Index as closely as possible, before any fees are removed from the investment. Using index investing, your portfolio will have 32 mining companies behind it. Keep in mind, this type of Gold ETF is made up of gold company stocks, thus it tracks the gold stock index, not the gold price index.
Disclosure: I have no positions in any stocks mentioned, and no plans to initiate any positions within the next 72 hours.