The other week I saw an article here on Seeking Alpha predicting future yield-on-cost based on current yield and historical dividend growth rate. I think this methodology can be highly flawed as a company's historical dividend increases have no impact on their future dividend growth.
As an example, the author had used Altria (NYSE:MO) and suggested that their approximately 6% yield would continue to grow at their 5-year DGR of over 14%. This is highly unlikely as Altria's pay-our ratio has ballooned to over 93% and their quarterly dividends now aren't even covered by free cash flow. Their projected EPS is less than half of their historical dividend growth rate, so it is very difficult to imagine where the cash for large dividend increases would come from. This ignores the fundamental problem of declining U.S. smoking rates, as well.
As I was thinking about this, I began to wonder how the U.S. Dividend Champions were doing with their dividend growth as a whole. I took the information from David Fish's Dividend Champion list and plotted the change in historical dividend growth rates for some of the Dividend Champions that are recognized as industry leaders and have the longest streak of dividend increases. This list included 3M (NYSE:MMM), Aflac (NYSE:AFL), Air Products (NYSE:APD), AT&T (NYSE:T), Automatic Data Processing (NASDAQ:ADP) and Emerson Electric (NYSE:EMR). Lest you think that I cherry-picked the data, I also included the average DGR for every Dividend Champion.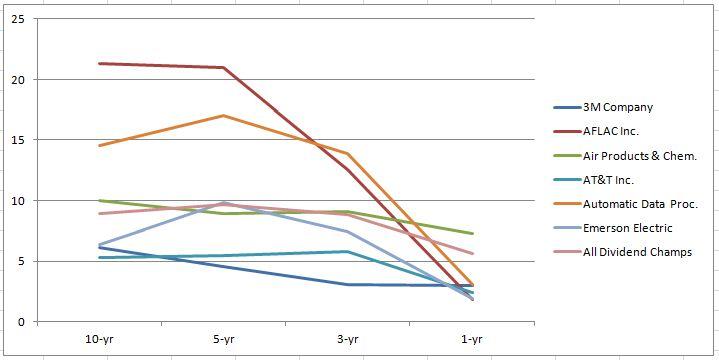 You can see by the data that most Dividend Champions begun slowing down their pace of dividend growth several years ago and that decrease accelerated after the great recession. The average Dividend Champion's dividend growth rate has decreased by 37% this decade.
Below, I repeated the same chart but with the highest, yielding companies on the list. These were: Pitney Bowes (NYSE:PBI), Old Republic International (NYSE:ORI), Washington REIT (NYSE:WRE), Altria (MO), Cincinnati Financial (NASDAQ:CINF) and AT&T. As you can see, these stocks continued with great dividend increases later in the decade but once the Great Recession hit, their slide was even greater. The average dividend growth rate among this group declined over 57%. Click to enlarge: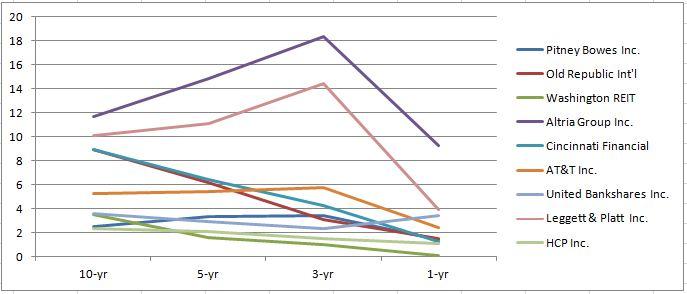 Out of curiosity I checked the DGR rates of the Canadian Dividend Aristocrat list and compared them to the U.S. dividend champion list. As you can see, the Great Recession wreaked havoc on both sides of the border, however Canadian companies have ramped up their dividend machines again while U.S. companies have not.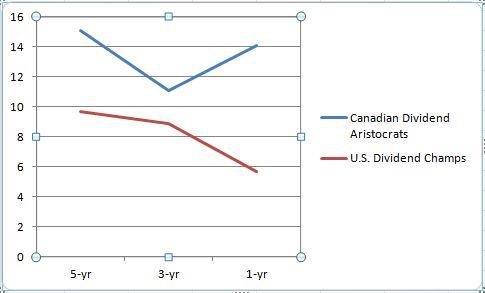 I have long argued that Dividend Growth Investors need to have at least some diversity away from U.S. blue chips and that last chart helps to make my point. My American friends should check out the list of Canadian Dividend Aristocrats. The list is not near as comprehensive as the fine work done by Mr. Fish but it is still a good place to start your research. I wonder if Mr. Fish has a Canadian cousin?
Finally, for even more perspective, I added the change in dividend growth rates of Europe as measured by the Europe STOXX 30 Dividend Index; as well, the dividend history of the ten largest dividend paying ADRs from Brazil.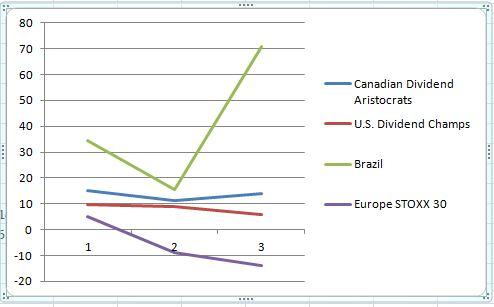 Please note the obvious problems with this analysis. First, the Canadian and U.S. data are from only companies that consistently raise their dividends whereas the European and Brazilian data is from all dividend paying companies. Finally, the Brazil data has a very small sample set which could affect the results. Still, I think this is interesting and underscores the need for geographic diversification for dividend growth investors.
Disclosure: I have no positions in any stocks mentioned, and no plans to initiate any positions within the next 72 hours.
Additional disclosure: I am long several Canadian Aristocrats and U.S. Dividend Champions, as well as a few dividend paying ADRs that were used in this analysis.