The markets are all higher today as we got some good economic news that really set the tone earlier this morning. The markets were indicated lower before all of the jobs data came in, and now we suspect that in the next few days people will question this move higher based on the possibility that the Federal Reserve might have to raise rates sooner. We have no idea whether that will happen, but so far this year it seems to have been the trend.
There are already some analysts saying the Federal Reserve might have to raise rates twice this year, but the only way that seems possible and/or logical to us is if their initial move is by an amount lower than 25 basis points. The Federal Reserve moving by 50 basis points over the second half of the year is nonsensical, especially with this dovish crowd.
Chart of the Day:
With the recent pullback, some have begun to worry about the technicals on the Russell 2000 and the iShares Russell 2000 ETF (NYSEARCA:IWM). We think investors need exposure to these smaller names in order to minimize the impact of the strong U.S. Dollar on their portfolios come earnings season.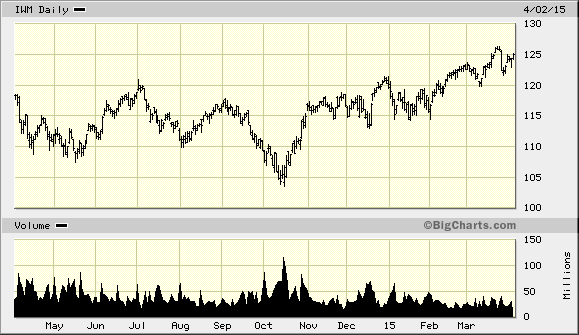 Source: BigCharts
We have economic news today, and it is as follows:
Challenger Job Cuts (7:30 a.m. EST): Est: N/A Act: 6.4%
Initial Claims (8:30 a.m. EST): Est: 285k Act: 268k
Continuing Claims (8:30 a.m. EST): Est: 2424k Act: 2325k
Trade Balance (8:30 a.m. EST): Est: -$42.0 B Act: -$35.4 B
Factory Orders (10:00 a.m. EST): Est: -0.5% Act: 0.2%
Nat Gas Inventories (10:30 a.m. EST): Est: N/A Act: -18 bcf
The Asian markets are higher today:
All Ordinaries - up 0.65%
Shanghai Composite - up 0.43%
Nikkei 225 - up 1.46%
NZSE 50 - down 0.07%
Seoul Composite - up 0.03%
In Europe, markets are higher today:
CAC 40 - up 0.23%
DAX - down 0.17%
FTSE 100 - up 0.33%
OSE - up 0.36%
McDonald's Raises Wages, Adds Benefits
As we begin to see wage pressure mount for the first time in years, McDonald's (NYSE:MCD) has announced that it will be joining the likes of Target (NYSE:TGT), TJX Companies (NYSE:TJX), Wal-Mart (NYSE:WMT) and Gap (NYSE:GPS) in raising the wages that it pays its restaurant workers. McDonald's will raise wages at company-owned stores, which make up roughly 10% of all stores in the United States, by 10% for its restaurant workers. This will see 90,000 employees receive higher wages and bring the company's average hourly wage for restaurant workers up to $10/hour by 2016.
Even better for employees is the news that the company is going to increase certain benefits, namely the education programs geared towards making sure employees have a high school diploma or equivalency and college tuition assistance should employees require it. McDonald's will also now begin to allow employees to accrue paid time off, although this perk will not be available to everyone.
Now that McDonald's has decided to raise wages, it will be interesting to see how their franchisees react to the news as well as the other fast food chains.
Regulators Never Learn When it Comes To Tech
If one had to pick a sector that the regulators seem to always get wrong, and we mean across the board wrong, it would be technology. It matters little what the precise issue is, but regulators have always decided to use policy tools which are far too severe for the situation. Now to be fair, a lot of this technology is fast moving and new but it seems more often than not we see regulators around the world using chainsaws to cut flimsy twigs.
Now we all remember what happened to Microsoft (NASDAQ:MSFT) when both the United States and European Union went after it; Microsoft spent a lot of money fighting and delaying and once the rules were finally enacted, the tech world had pretty much moved on. So forgive us for rolling our eyes after reports from the Wall Street Journal came out discussing how European anti-trust regulators are set to file charges against Google (NASDAQ:GOOG) (NASDAQ:GOOGL) in the next few weeks. As if that were not enough, apparently European regulators are also looking into Apple's (NASDAQ:AAPL) deals with music labels for its streaming service.
While Europe will be a thorn in Google's side, we think that there are far more pressing concerns for the company's shareholders than worrying about what comes of these complaints. Just this morning, Engadget ran an article (located here) highlighting how Comcast (NASDAQ:CMCSA) (CMCSK) is launching a fiber network in Atlanta that will be twice the speed of Google Fiber and will be built out across the city. That just goes to show how quickly things can change in Techland; yesterday Google Fiber was all the rage and today a competitor announces plans for a competing service which is twice as fast!
Disclosure: The author has no positions in any stocks mentioned, and no plans to initiate any positions within the next 72 hours.
The author wrote this article themselves, and it expresses their own opinions. The author is not receiving compensation for it (other than from Seeking Alpha). The author has no business relationship with any company whose stock is mentioned in this article.
Additional disclosure: AAPL & IWM have previously been recommended.