It seems that for quite some time now, Apple (AAPL) has taken over the world with iPods and iPads and even talks of iTV. The stock price has increased over 400% in the past five years, and it seems like Microsoft (NASDAQ:MSFT) just sits in the shadows. Because of the "iMovement," I feel that Microsoft is heavily overlooked. I am still a heavy supporter and user of the company, and frankly, don't see why Apple has received so much attention. Looking at the stock price for the past five years it looks as if Microsoft is a sleeping giant, while Apple is winning the race for technological bliss:

This graph looks daunting to any Microsoft investor, but let's not forget to look at all the facts before making any decisions. Looking at the price change for the past quarter century as opposed to five years shows completely different numbers. It might come as a surprise, but recently Microsoft has been growing at a much faster rate than Apple:


If this trend continues, Microsoft will pass Apple in percentage change within the next five years.
It seems like throughout the past two decades, there has been a swap of control from Microsoft to Apple and back. Schools used to carry Mac computers, which was short lived, and the current "iMovement" will also fade along with the stock price.

KEY POSITIVES FOR Microsoft
Long-term strategy – Where Apple "thinks" it is winning is the personal computer industry. Apple is gaining shares rapidly and doing everything it can to retain its customers and image. One thing Microsoft realized that Apple has not, is overpriced products that look cool will not keep you around forever, they last as long as the markets allow them to. When the next big thing hits, I feel the "iMovement" will fade. Microsoft, like GE (NYSE:GE), has expanded its horizons and is trying to tap into different markets in order to collect revenue from several angles. Microsoft is planning to invest heavily to improve its long-term growth prospects, particularly to capture the fast-growing online market opportunity. I feel that Microsoft has left Apple in the dust, the only reason Apple has gained market share is because Microsoft has expanded, leaving the personal PC behind. Microsoft started with talks about buying Yahoo (YHOO), and moved on to creating their own "decision engine" Bing. Bing is just the "tip of the iceberg" of what is to come from this company.


Unearned Revenue - Analysts believe an increasingly strong unearned revenue balance provides visibility on revenue growth in the coming quarters. All of this unearned revenue also leaves plenty of room for more acquisitions, whether that is Intel (NASDAQ:INTC), RIM (RIMM), or Skype. I believe that Microsoft has a lot of untapped potential and could become the next IBM (NYSE:IBM). IBM switched its entire company from a PC business into IT products and services.


Management - Management follows a well-defined strategy of developing leadership for the future, not to mention Bill Gates. Bill Gates has single-handedly changed the PC and software industry. Even Mac users cannot help but use Microsoft Office. This company has a very strong base and manages the company extremely well.
KEY POTENTIAL PITFALLS FOR Microsoft
Margin Pressure – Microsoft's investment to improve its competitive position is expected to weigh down on near-term margins and earnings as R&D and marketing expenses increase. Although this is the case, the company has proven it can handle this type of pressure, and I can only predict the trend will continue.


Competition – Microsoft faces stiff competition on multiple fronts; Google (NASDAQ:GOOG) in the Internet content/advertising/search sectors, Sony (NYSE:SNE) in the video-game console sector, and from major technology companies that have embraced the Linux operating system. However, the company is no stranger to competition and has always come out on top. An example is the Xbox kinect, there is nothing like it in the marketplace today, Sony's version has controllers and so does the Wii.


New Product Risks – New product launches could be susceptible to cost overruns and/or weaker-than-expected demand. This can hold true to any company, but so far the company's products have been very well accepted by the market.

Conclusion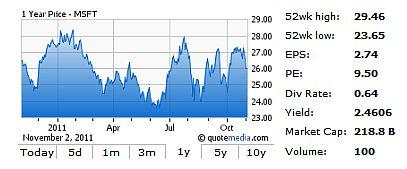 Overall, once the Apple storm has weathered and cleared, there will be a new PC company that dominates. There might even be a new phone and app wave, but what remains clear is that Microsoft has moved on to "bigger and better things." Looking at the growth rate of the graph, one can conclude that Apple has slowed down while Microsoft has sped up. I think this is a great company and a fantastic stock, and it looks like the time is now for this sleeping giant to awake.

Disclosure: I have no positions in any stocks mentioned, and no plans to initiate any positions within the next 72 hours.