It appears that U.S. firms in general have an unprecedented high level of liquidity assets as a percentage of total assets on their balance sheet. For instance, Apple (NASDAQ:AAPL) alone holds more cash since July than the U.S. government. Activity in M&A is recovering and premiums paid are on an upswing.
Click to enlarge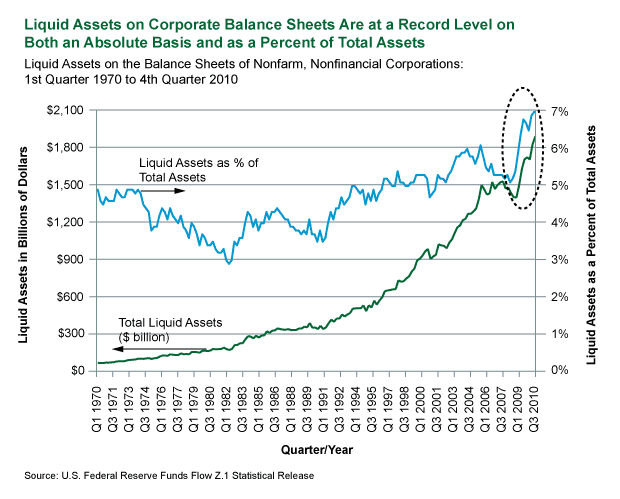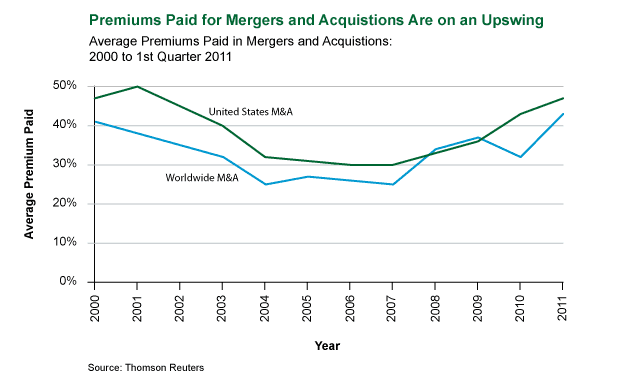 ICT M&A drivers
Financial Technology
The regulatory push and a greater focus on transparency and risk management is fueling demand for more highly integrated software solutions. Some banks will design and develop their own IT platforms, but many are looking for external providers to simplify this process. The FinTech area is likely to receive sharp attention from overseas players this year, especially from Indian players who are looking to buy into FinTech as a route to developing relationships with the global giants of the financial services sector. Misys' acquisition of software vendor Sophis for €435m ($593M) in November 2010 is a good example of consolidation in this sector.
Seeing the Cloud through the fog
The development of virtualization and security technologies will underwrite continued interest in Cloud technologies. The prospect of significant cost savings and ability to handle large data volumes is making companies sit up and consider paying third parties to host their data and applications and take responsibility for their security. All the larger technology players are aggressively battling for a position, and have actively been broadening their product offerings to build a full range of Cloud services. To do this many have looked to acquisitions to build scale and capabilities.
Deal multiples in the Cloud space are high. Cincinnati Bell and Montagu Private Equity paid double digit EBITDA multiples for CyrusOne and Host Europe Group, but these look moderate compared with the prices paid by HP (NYSE:HPQ) and Dell (DELL) in the data storage space.
Mobile data – getting smarter
Mobile application deals will come of age this year, with all key areas of mobile data attracting attention: advertising, payments, messaging, gaming and content. This sector has historically been highly fragmented but larger players, convinced that wireless is a key area, have started acquiring in all areas of mobile data as the growth of the smart phone continues apace.
Google (NASDAQ:GOOG) and Apple both made mobile advertising acquisitions last year, and have started to look at mobile payments, an area of expected rapid growth. In mobile gaming too, Electronic Arts (ERTS) has made a move-- recently acquiring Angry Birds developer Chillingo, while Disney (NYSE:DIS) acquired games publisher Tapulous in July 2010.
Public sector – opportunities in the cuts
Big changes in the public sector will also mean opportunities for some. According to PwC: "Saving costs on the scale that Governments require will necessitate a new approach to outsourcing and ICT. We expect increased collaboration between government departments and local authorities which will drive the demand for master data management technology."
Private equity bounces back
The heavily leveraged private equity business model of the credit boom years came to grief when the supply of cheap debt evaporated in the wake of the sub-prime crisis. However, private equity is back. The combined value of all private equity deals in 2010 was €10.7B ($13.4B), up almost 60 percent from 2009.
Pent-up demand from funds with committed capital to invest and signs of improvement in the fundraising market are underpinning a more aggressive presence from private equity. Improving financing liquidity, meanwhile, is allowing private equity to complete larger deals.
Technology Sector Top 10 Global Deals 2010
Jan 10 - €5,481m –($7.9B) Sun Microsystems acquired by Oracle Corp(NYSE:ORCL)
Jul 10 - €5,595m – ($7.5B) Sybase Inc acquired by SAP AG (NYSE:SAP)
Feb 10 - €5,536m – ($7.5B) Affiliated Computer Services acquired by Xerox Corp (NYSE:XRX)
Apr 10 - €2,798m – ($3.7B) )Renesas Technology Corp acquired by NEC Electronics Corp (

NIPNF.PK)

Oct 10 - €2,457m – ($ 3.4B)Dimension Data Holdings plc acquired by NTT
Apr 10 - €2,127m – ($2.8B)3Com Corp acquired by Hewlett-Packard (HPQ)
Sep 10 - €1,837m – ($2.4B) 3PAR Inc acquired by Hewlett-Packard
Oct 10 - €1,687m – ($2.4B)Intergraph Corp acquired by Hexagon AB (OTCPK:HXGBF)
May 10 - €1,516m – ($1.9B)Skillsoft plc acquired by Berkshire Partners, Advent International and Bain Capital
Nov 10 - €1,466m –($1.9B) Netezza Corp acquired by IBM
Largest ITC 2011 Mergers and Acquisitions (Through May 16)
| | | | | |
| --- | --- | --- | --- | --- |
| Announcement Date | Target Name | Acquirer Name | Announced Value (Bill$) | Payment Type |
| March 20 | T-Mobile USA Inc | AT&T Inc (NYSE:T) | $39.0 | Cash and Stock |
| April 3 | Societe Francaise du Radiotelephone | Vivendi SA (OTCPK:VIVHY) | $11.3 | Cash |
| May 10 | Skype SARL | Microsoft Corp (NASDAQ:MSFT) | $8.5 | Cash |
| April 4 | National Semiconductor Corp | Texas Instruments Inc (NYSE:TXN) | $6.4 | Cash |
| March 7 | Hitachi Global Storage Technologies | Western Digital Corp (NYSE:WDC) | $4.3 | Cash and Stock |
| January 5 | Atheros Communications Inc | QUALCOMM Inc (NASDAQ:QCOM) | $2.9 | Cash |
| April 11 | Global Crossing Ltd | Level 3 Communications Inc (NASDAQ:LVLT) | $2.5 | Stock |
| | | | | |
| | | | | |
| | | | | |
| | | | | |
| | | | | |
| | | | | |
Source: Bloomberg
Notes :
(1) The T-Mobile USA seller is Deutsche Telekom AG
Recent activities
Hewlett-Packard decided to acquire UK software maker Autonomy for $10.3 billion. The $11.7 billion acquisition will allow the company to skip a generation of technology and help business client's track and understand their unstructured data. The trend was evident in the first half of 2011, when M&A activity in the global technology sector nearly doubled from a year earlier. Among the notable deals were Texas Instruments' purchase of rival chipmaker National Semiconductor, Oracle's purchase of Sun Microsystems and SAP's acquisition of Sybase.
There is increasing momentum behind global technology M&A transactions heading into the second half of 2011. According to Joe Steger, leader of global technology transaction advisory services at Ernst & Young, "Technology companies continue to stockpile cash, which gives them the flexibility to act when strategic M&A opportunities arise".
Cross-border deal volume in the second quarter of 2011 was up 32% from the same quarter a year earlier, and accounted for 46% of the aggregate value of global technology deals, he says. Increasing globalization and the growing volume of overseas cash accumulated by U.S. companies may be behind the increase in cross border deals, Ernst & Young says. The U.S. accounted for 56% of cross-border technology acquisitions in the second quarter.
Microsoft used its overseas cash holdings to pay for its $8.5 billion acquisition of Luxembourg Internet-phone-service provider Skype.
Disruptive Innovation
The rise in second-quarter technology mergers was driven by industry consolidation and ongoing disruptive innovation in areas such as cloud computing, smart mobility, Internet and mobile video, as well as the smart grid for electrical power distribution and solar energy. 61% of all disclosed deal value was concentrated in the top 10 deals. However, there was also important deal making strength at the opposite end of the spectrum, in deals of less than $100 million. Cloud computing and software-as-a-service deals are popular.
Google's acquisition of Motorola Mobility (NYSE:MMI) and its 17,000 patents will enable the Mountain View, California search and online advertising company to better protect Android from anticompetitive threats from Microsoft, Apple and other companies, according to Larry Page, Google's co-founder and CEO.
Google's Biggest Deal
Google's $12.5 billion purchase was that of Motorola Mobility, an Android operating system partner with a passel of patents. Google paid a 63% premium for Libertyville, Illinois's Motorola Mobility-- not only for its strength in Android smartphones and devices, but also because it is a market leader in in-the-home devices and video solutions, Page says. The cash deal was Google's largest acquisition ever. Android has become the world's most widely used smartphone operating system. Google licenses the system to device makers, including Motorola Mobility, Samsung Electronics (OTC:SSNLF), LG, Sony Ericsson (NYSE:SNE) and Acer.
Targets
With huge cash reserves, ICT titans will surely be more active in acquisitions. What are their needs?
I will try to identify some potential infocom takeover targets.
1. Akamai (NASDAQ:AKAM)
Cloud computing and mobile data play. Rumors of acquisitions exist a few years already. It has a strong recent quarter.
2. Red Hat (NYSE:RHT)
RHT is a leader in its field (Linux services), with a strong business model. RHT is experiencing strong growth andprofitability.
3. Qlik Techonology (NASDAQ:QLIK)
Qlik has developed an easy-to-use business intelligence solution that enables customers to make better and faster business decisions. Its software platform, QlikView, combines enterprise-class analytics and search functionality. Jefferies & Co proposes this stock will have important growth because of its role in the applications for social networking. The company value is $2.5B. Its products and services are very important for the management of online and mobile advertising.
4. Yahoo (YHOO)
It is not clear that owners want to sell. Google, Microsoft and Alibaba are already interested. Rumors of sell-offs of Alibaba investment (Yahoo has around 40%) and shares buybacks and/or a special dividend are circulating. Whether the company sells part of it or the whole firm, it is great news for investors.
5. Research in Motion (RIMM)
The company is struggling recently. Fast pace of new products and services by competitors are difficult to handle for RIMM's management. The firm has a huge pipeline of patents, which are becoming more critical in ICT with the popular patent wars. Motorola Mobility is an example for Google.