By Mikhil Chopra
Spending on R&D has historically been the hallmark of competitive firms in the fast-paced industrial electrical equipment sector, with an interesting twist involving a conscientious element lobbyists threw in reminding us that we have a duty to take care of our natural environment. In other words, firms have long been given incentive to seek out clean energy options. High Power International (NASDAQ:HPJ) has stepped up in this complex environment and successfully established itself as a leading supplier of battery products, albeit holding a small share in a large and growing market. The story is one of growth, domestically and abroad, with a mix of regulatory factors that could exhume greater capacities, or as investors care to hear, greater profits.
Founded in 2001, High Power International (HPJ) is a producer and distributor of rechargeable battery and energy systems, servicing consumers in the institutional and retail space. High Power predominately produces two types of rechargeable batteries, a nickel metal hydride (Ni-MH) battery and a slightly more complex lithium ion (Li-ion) battery, which the firm introduced in 2008. The Ni-MH batteries are sold to consumers in 'A', 'AA' and 'AAA' battery sizes, in blister packages. The firm also sells chargers and battery packs. For institutions, the Ni-MH battery line is sold as an industrial battery with application in devices such as power tools, electric toys, portable electronic devices and hybrid electric vehicles. The firm's lithium-ion and lithium polymer rechargeable batteries see application in products such as laptops, digital cameras and wireless communication products. Supplementary to battery production, High Power also offers battery recycling and raw material reprocessing services.
Sales originate primarily in Southeast Asia, Hong Kong, and the People's Republic of China, where High Power International holds headquarters. A smaller proportion of revenues also stem from Europe and North America, and marginally from other geographic markets such as Africa. To reach their consumers, High Power has developed relationships with major equipment manufacturers and established a network of distributors and resellers.
While there are numerous factors that may contribute to top and bottom-line growth, I'd like to highlight 5 reasons why I believe High Power International could see tremendous growth over the next 5 years.
1. Growing Battery Demand
The global battery market is expected to reach $74 Billion by 2015 (source). It's a composite of two main sectors: primary and secondary batteries. Primary batteries are the smaller sector and are used in watches, electronic keys and some military devices. The punch line is that the primary battery segment is forecasted to contract 7.4% by 2015.
Non-coincidentally, secondary batteries are seeing tremendous market growth, capturing roughly 76.4% of the global market. Forecasts show this segment will account for 82.6% or $61 billion by 2015. Fortunately, this is where High Power International operates.
To further segment, below is a break-down of the secondary battery market. As you can see, Lithium-ion batteries lead all others with a 37% market share.Click to enlarge: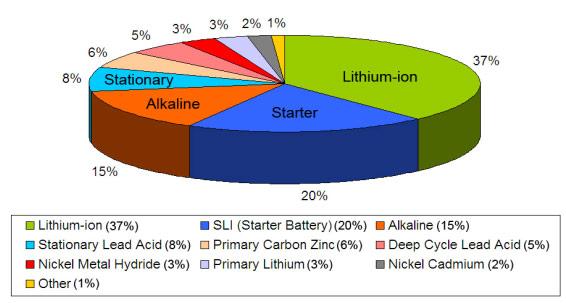 In offering a line of Lithium-ion batteries, High Power International entered a rapid growing category in 2008. Growth has also been noted in the demand for the firm's Ni-MH batteries, where the firm has had to increase production capacity to keep pace with orders from new and existing customers. While Japanese suppliers control roughly 80% of this segment (according to the company), High Power finds itself in a unique position to offer domestic product at competitive prices, consequently presenting a compelling case for capturing market share. This bodes doubly well when facing competitive threats abroad, particularly from the Americas and Europe. The low cost of labor will continue to weigh on competitors and translate to greater market share for High Power.
2. Thriving Sales, Profitability
From 2009 to 2010, High Power grew sales of their Ni-MH battery 18.2%; Li-ion battery at the rate of 88.2% (source). This occurred amid a price-hike on the two lines at 1.8% and 16.8%, respectively. Gross income was $21.8 million or 20.8% of net sales in 2010, down from 21.4% in the year prior. The decrease was attributed to a reduced margin from raw material processing services, which is a lower-margin business. Regardless, net income grew 36% year-over-year. Click to enlarge:
Investors recently valued High Power International at about 7x earnings, even as sales reached a new record-high in the last 12 months. Net sales for the years ended 2010, 2009 and 2008 were $104.9 million, $70.3 million, and $75.04 million, respectfully. Shares traded as high as $4.80 before bottoming (it seems) in the past few weeks (see chart above). The small-cap china pandemic, which plagued High Power International notwithstanding, seems to have had its toll and passed. The future now vests with High Power's growth in the battery space as efforts are made to establish a presence in high-growth regions such as Russia and India.
3. Expanded Production Capacity
The anticipated completion of a new manufacturing facility in Huizhou, Guangdong Province will significantly increase production capacity. The firm plans to eventually house all production of Ni-MH batteries at this location, with excess capacity dedicated to meeting roaring demand for the company's Li-ion battery line. In quantitative terms, this facility will hold manufacturing capacity thrice the size of High Power's current operations in Shenzhen.
According to the company, current production in Shenzhen is 12-14 million Ni-MH battery units per month; 1.2-1.5 million Li-ion battery units. High Power has stated that they intend to grow Li-ion production capacity 30-40% by December of this year. Using conservative estimates for growth, we find that the company would be able to produce upwards of 24 million Ni-MH batteries and 1.56 million Li-ion batteries each month. In doing so, the firm will better meet consumer demand for their products and realize further efficiencies with economies of scale. This should bode well for the firm, competitively speaking.
4. Unique New Revenue Stream
Raw material processing services accounted for 12% of net sales in 2010. In 2009, this revenue stream contributed less than 1% to fiscal sales. The added-benefit, top and bottom-line growth aside, is an additional source of raw materials that relaxes High Power's supply chain. This becomes detrimental, of course, in the case of excess demand. Importantly, it highlights efficiency, which has arguably accounted for much of High Power's growth as a supplier of batteries.
5. Regulatory Incentives and Investment
China is planning to put into effect several regulations favorable to the production of electric vehicles, which require - you guessed it - electric batteries. They've currently put into place a pilot project consisting of 13 cities in the People's Republic of China to test this program (source). The premise is simple: by providing subsidies for purchases of all-electric battery cars, plug-in hybrids and hydrogen fuel-cell cars, the government is hoping they can bolster local demand, and in the long-run, production. Consequently, High Power could see a surge in demand for their batteries to power electric cars and bikes. More importantly, the demand would originate with manufacturers of these electric vehicles, which almost always implore large quantities of product.
Other regulations in the People's Republic of China could remove barriers that limited foreign investment into electric component producing companies. This, in turn, could open the doors for foreign companies to become involved with domestic manufacturers.
High Power International will likely be the beneficiary of a favorable macro-environment, government-incentivized investment in electric vehicles, and lower production costs as a result of efficiencies. Management is anticipating growth in demand for the firm's products and has responded by increasing capacity. The firm's development of a new production facility is a good example of how High Power is building long-term shareholder value as it interrelates with long-term growth at the company. This growth should trump any short-term hiccups and provide investors with productive returns.
Disclosure: I have no positions in any stocks mentioned, but may initiate a long position in HPJ over the next 72 hours.