The San Francisco Bay Area, extending from the North Bay of Marin County through the Mid-Peninsula and Silicon Valley, and all the way to South San Jose, arguably represents the world's premier global melting pot of people, culture, and innovation.
With that said, it is no surprise that this global innovation Mecca is also an international capital 'magnet' attracting global liquidity from every corner of the planet. Unprecedented global capital inflow as well as massive wealth creation in the region has played a major role in making the Bay Area, including the City of San Francisco itself, one of the most expensive housing markets in the United States.
Thanks to recent research provided by Case-Shiller and Zero Hedge, a new report reveals that for the first time since 2010, San Francisco home prices suffered their biggest drop in three years. Even more interesting however, is the fact that over the past 20 years of periodic 20%+ annual price appreciation, a falloff in San Francisco housing prices has presaged all of the previous three bubbles to bust, including the DotCom Bubble (2000), the Real Estate/Credit Bubble (2007-9), and the European Sovereign Debt Bubble (2011).
The chart below is self explanatory: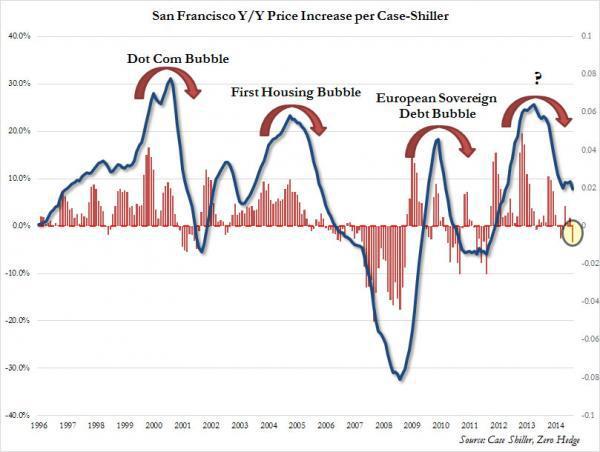 Global financial markets are cyclical, and we are now 7 years long into the current market uptrend. Historically, market cycles last only 5-7 years and as a result, global investors should be keen to changes in the global macro environment - from falling oil prices, to falling global currencies (relative to the US Dollar), to negative interest rates (Europe) as well as San Francisco housing prices and real estate trends.
Tell-tale signposts, many of which in retrospect were hiding in plain sight all along, have preceded every financial market crisis. Strategic Preservation Partners LP (http://sppfund.com) believes today's global financial marketplace will prove to be no different.
Kirk D. Bostrom
Chief Portfolio Manager
Strategic Preservation Partners LP
http://sppfund.com
Disclaimer: The views expressed are the views of Kirk Bostrom and are subject to change at any time based on market and other conditions. This material is for informational purposes only, and is not an offer or solicitation for the purchase or sale of any security and should not be construed as such. References to specific securities and issuers are for illustrative purposes only and are not intended to be, and should not be interpreted as, recommendations to purchase or sell such securities. The opinions expressed herein represent the current, good faith views of the author at the time of publication and are provided for limited purposes, are not definitive investment advice, and should not be relied on as such. The information presented in this article has been developed internally and/or obtained from sources believed to be reliable; however, the author does not guarantee the accuracy, adequacy or completeness of such information.
Disclosure: The author has no positions in any stocks mentioned, and no plans to initiate any positions within the next 72 hours.
The author wrote this article themselves, and it expresses their own opinions. The author is not receiving compensation for it. The author has no business relationship with any company whose stock is mentioned in this article.