By David Blitzer
Since the S&P/Case-Shiller National Home Price index bottomed in December 2011, the national index is up 24%, or 7.5% annually. While the Index is about 10% below the peak level set in July 2006, the indices for Denver and Dallas set new all-time peaks last year. Boston and Charlotte, NC are both closing in on new record highs. The rise in home prices comes against a background of stagnant wage gains, raising worries that some people are at risk of being priced out of the home market.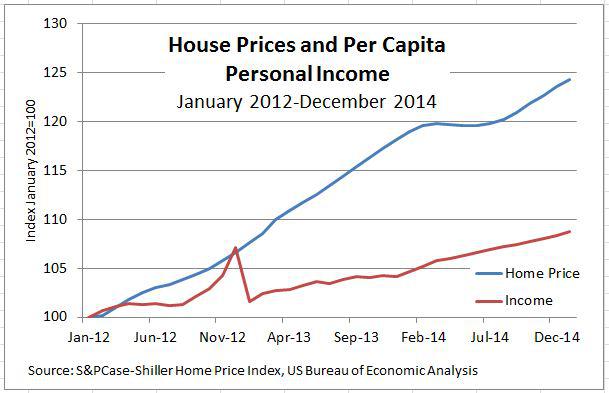 The short-term picture, shown in the first chart, may be cause for concern. The chart compares the S&P/Case-Shiller National index with per capita personal income during 2012-2014. Home prices rose steadily except for a brief pause in early 2014. Incomes also rose, but by 9% over three years, only one-third as much. The spike in income at the end of 2012 reflects a one-time shift in the pattern of dividend payments caused by fears that the Congress would not renew their favorable tax treatment.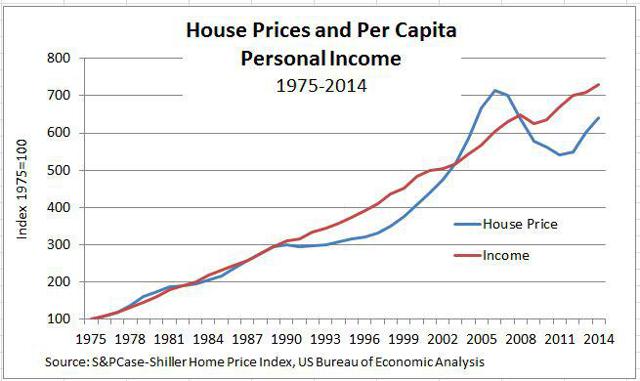 A longer view of the data tells a different story, as shown in the second chart. From 1975, when the S&P/Case-Shiller National Index starts to about 1990, home prices and per capita income tracked one another quite closely. In the early 1990s, the combination of the 1990-91 recession followed by Fed tightening of monetary policy a few years later caused home prices to flatten out while incomes continued to rise. In the late 1990s, the housing boom began to gather steam and home prices rapidly outpaced incomes (and much else). The dip in incomes and the collapse in home prices beginning in 2007 stand out, as does the recent faster growth in home prices. With both house prices and incomes driven by the overall economy, a gradual convergence of the series is possible. If home prices do outpace incomes, some potential home buyers will be priced out of the market and prices will slow or possibly drop in response.
Disclosure: © S&P Dow Jones Indices LLC 2015. Indexology® is a trademark of S&P Dow Jones Indices LLC (SPDJI). S&P® is a trademark of Standard & Poor's Financial Services LLC and Dow Jones® is a trademark of Dow Jones Trademark Holdings LLC, and those marks have been licensed to S&P DJI. This material is reproduced with the prior written consent of S&P DJI. For more information on S&P DJI and to see our full disclaimer, visit www.spdji.com/terms-of-use.