With Treasury yields at historical lows and no real guarantee that inflation won't eat away at returns, corporate bonds and related exchange traded funds may be more attractive than U.S. Treasuries. In fact, corporate bond ETFs look cheap compared to Treasuries, says an industry strategist.
"Today's Treasuries buyers are accepting a loss of purchasing power and significant duration risk," iShares Global Chief Investment Strategist Russ Koesterich said in a note. "Under any scenario other than a Japanese-style deflationary spiral, it's hard to justify locking in a 2% pre-tax nominal yield for the next decade when U.S. inflation is running close to 4%."
Furthermore, a loose monetary policy will eventually stoke prices and keep inflation above the CPI's 20-year average of 2.5%.
Koesterich, though, suggests corporate bonds as an alternative.
ETFs that invest in corporate bonds include iShares iBoxx $ Invest Grade Corporate Bond (NYSEARCA:LQD), Vanguard Intermediate-Term Corporate Bond (NASDAQ:VCIT) and PIMCO Investment Grade Corporate Bond (NYSEARCA:CORP).
ETFs that invest in high-yield or "junk" bonds include iShares iBoxx $ High Yield Corporate Bond (NYSEARCA:HYG) and SPDR Barclays Capital High Yield Bond (NYSEARCA:JNK). [High-Yield Bond ETFs in Huge Rally as Recession Fears Abate]
"Despite the severity of the recession and the weakness of the recovery, U.S. companies have continued to thrive— while government revenue has collapsed as a percentage of GDP," Koesterich added. "U.S. companies are also holding more than $2 trillion in cash representing roughly 7% of company assets, the highest level since 1963."
Additionally, given the spread between corporate yields and Treasuries is two times the 60-year average, corporate bonds look relatively cheap.
iShares iBoxx $ Invest Grade Corporate Bond ETF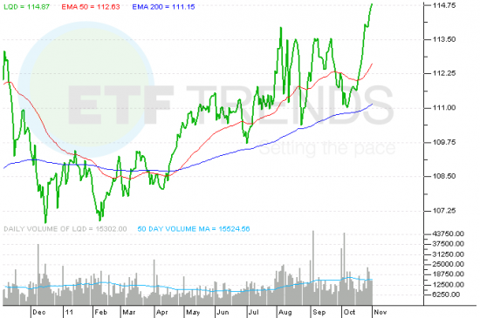 Max Chen contributed to this article.
Disclosure: None