* All data are as of the close of Thursday, April 2, 2015. Emphasis is on company fundamentals and financial data rather than on commentary.
There is a very intricate trapeze act taking place in the CATV Systems industry. No sooner does one player swing to the rafters high above the rest, another swoops up to take his place, only to be replaced by yet another at the top of his arc moments later.
Perhaps the best way to negotiate our way through this industry is to use the swinging vines maneuver, where we catch each company on its upswing, let it go right at the top of its arc, and then catch the next company's vine taking us forward through its arc to the next vine beyond. Be sure to belt out a Tarzan yell as you go.
Looking back at the CATV Systems industry's recent past, we have already seen one company reach its peak and be overtaken by another. More of the same is forecast for the future, as the leadership in earnings growth is seen changing over the near term, and changing yet again longer term.
Yet by the end of today's competition, even these leaders are ultimately overtaken by another which isn't even a growth play at all, but one of value.
Having already compared America's 3 Largest CATV Systems Companies - Time Warner Cable Inc. (NYSE: TWC), DirecTV (NASDAQ: DTV), and Dish Network Corp. (NASDAQ: DISH) - we'll now look at the next 3 largest U.S. companies in the industry: Netflix Inc. (NASDAQ: NFLX), Charter Communications Inc. (NASDAQ: CHTR), and Discovery Communications Inc. (NASDAQ: DISCA).
• Netflix Inc., founded in 1997 and headquartered in Los Gatos, California, is an Internet television network providing Internet delivery of TV shows and movies directly to TVs, computers, and mobile devices in the U.S. and abroad, in addition to providing DVDs by mail order. The company has approximately 57 million customers in approximately 50 countries.
• Charter Communications Inc., founded in 1999 and headquartered in Stamford, Connecticut, offers entertainment, information, and communications programming and content to residential and commercial customers in the U.S., including basic and digital cable video programming, premium channels, on-demand, pay-per-view, high definition television, and digital video recorder services, in addition to its Charter TV App which enables customers to view content on mobile devices. It also provides Internet services, e-mail services, entertainment, games, news and sports content, computers virus and spyware protection services, telephone services through Internet voice over protocol, broadband services, Internet access, business telephone services, data networking, and fiber optic connectivity to cellular towers and office buildings for businesses and communications companies. It has approximately 4.2 million residential video customers, 4.8 million residential Internet customers, 2.4 million residential voice service customers, and 619,000 commercial small- and medium-sized commercial customers.
• Discovery Communications Inc., headquartered in Silver Spring, Maryland, owns and operates television networks under the Discovery, TLC, Animal Planet, Investigation Discovery, Science, Velocity, Discovery Family, American Heroes, Destination America, Discovery Life, Oprah Winfrey Network, Eurosport, DMAX, and Discovery Kids brands, covering a range of genres, including survival, exploration, sports, lifestyle, general entertainment, heroes, adventure, crime and investigation, health, and children's programming. It also distributes programming through brand-aligned websites, web-native networks, online streaming, mobile devices, video on demand (VOD), and broadband channels. In addition, the company provides access to an online suite of curriculum-based VOD tools, professional development services, digital textbooks, and student assessments to primary and secondary schools, and also operates production studios that develop television content for television service providers.
Over the past 3.5 years since the correction of Q3 2011, two of today's three underdogs have completely dominated all three of their larger rivals, putting on a dazzling trapeze show for all to marvel at as graphed below.
Where the broader S&P 500 index [black] has gained 88% since then, the 5th largest Charter [blue] and 4th largest Netflix [beige] have been swinging high above their peers, repeatedly switching positions in the top two spots at least 9 times.
At the time this most current snap shot was taken, five of the six largest U.S. companies in the space are beating the S&P as ranked below:
• 5th largest Charter with gains of 335%,
• 4th largest Netflix with gains of 262%,
• 3rd largest DSH [gray] with gains of 200%,
• largest TWC [orange] with gains of 145%, and
• 2nd largest DTV [yellow] with gains of 110%.
The 6th largest Discovery [purple], for its part, falls just a little shy of the market with gains of 70%, though only just recently after three full years of market outperformance.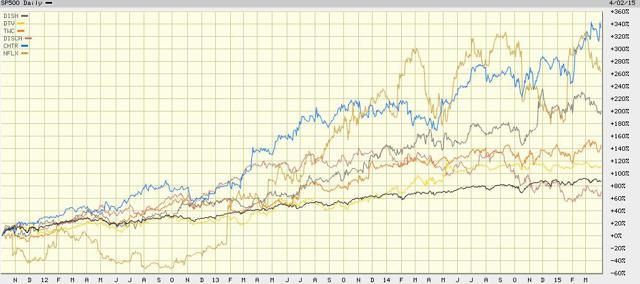 Source: BigCharts.com
Yet over the past six months since the correction of Q3 2014, our top two acrobats are at completely opposite ends, with Charter still in top spot, while Netflix drops to last spot, slightly below the previous trailer Discovery. Two of our three underdogs have been knocked back in their places as the only two of the six to be negative.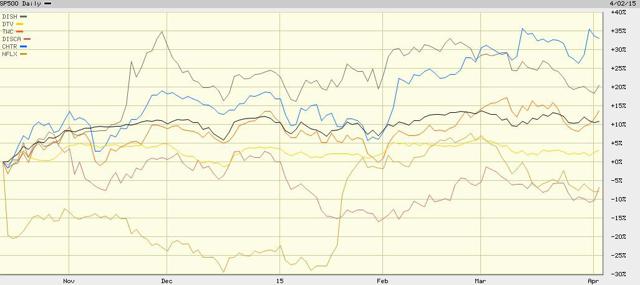 Source: BigCharts.com
The trapeze act has reshuffled yet again since the pullback of late January 2015. We once again have two underdogs in the upper half of the grouping, this time with Discovery in 3rd place, while Charter is still on top.
Netflix, for its part, is now all alone at the bottom as its swing is decidedly on the down part of its arc. By the look of future earnings growth projections, this backward phase of Netflix's arc is set to continue for quite some time.
Source: BigCharts.com
For the CATV Systems industry as a whole, earnings growth is near the apex of its upswing, as tabled below where green indicates outperformance, while yellow denotes underperformance relative to the broader market.
During the next quarter, the industry's earnings are expected to outgrow the broader market's earnings growth at some 8.28 times its rate, before slowing to a slightly slower but still forward-moving 2.22 times over the next five years.

Zooming-in a little closer, Charter and Netflix are expected to continue their trapeze act, trading places at the top at least once more as far as earnings growth is concerned, as tabled below.
Over the current and next quarters combined, Charter is still expected to lead its peers with a total of 240% of earnings growth, followed by TWC with 14.10% in combined growth. The remaining four companies are all on the backward parts of their arcs with net shrinkage ranging from -1.7% to -39.8%, with Netflix still at the bottom.
But over the next year, Netflix's swing finally begins moving back up as it scores the 2nd best growth rate at 62.50%. Charter, for its part, is still in 1st spot with another impressive growth rate of 269.20%, with Discovery back in 3rd place with growth of 20.20%. The three underdogs are once again seen dominating their top three rivals.
Yet over the next five years, our top two trapeze artists switch places yet again, this time with Netflix flying above all others with average annual earnings growth of 24.03%, while Charter slips to the very bottom with gains of just 3.00% averaged per year. Discovery, for its part, climbs into 2nd place with growth of 16.38%. Once again, we have two underdogs in the top two spots and one in the last spot, just as when we first began in the first graph above, only with some reshuffling of the trapeze.
Investors are thus given some choices. If growth is your focus, you might swing on Charter's vine for a while which is still in its upswing, and when it reaches its apex next year, simply jump onto Netflix's vine to continue moving forward.
Value investors, on the other hand, have another option all together, focused on the other of our three underdogs, Discovery, as the remainder of today's competition reveals.


Indeed, there is more than earnings growth to consider when sizing up a company as a potential investment. How do the three compare against one another in other metrics, and which makes the best investment?
Let's answer that by comparing their company fundamentals using the following format: a) financial comparisons, b) estimates and analyst recommendations, and c) rankings with accompanying data table. As we compare each metric, the best performing company will be shaded green while the worst performing will be shaded yellow, which will later be tallied for the final ranking.
A) Financial Comparisons
• Market Capitalization: While company size does not necessarily imply an advantage and is thus not ranked, it is important as a denominator against which other financial data will be compared for ranking.

• Growth: Since revenues and expenses can vary greatly from one season to another, growth is measured on a year-over-year quarterly basis, where Q1 of this year is compared to Q1 of the previous year, for example.
In the most recently reported quarter, Netflix delivered the greatest trailing revenue growth year-over-year, while Discovery delivered the least.
Since Charter's trailing earnings growth rate is not available, the metric does not factor into the comparison. Though it is worth noting that Netflix's earnings growth beat Discovery's, which was negative, denoting shrinkage.

• Profitability: A company's margins are important in determining how much profit the company generates from its sales. Operating margin indicates the percentage earned after operating costs, such as labor, materials, and overhead. Profit margin indicates the profit left over after operating costs plus all other costs, including debt, interest, taxes and depreciation.
Of our three contestants, Discovery enjoyed the widest profit and operating margins, while Charter and Netflix split the narrowest margins between them.

• Management Effectiveness: Shareholders are keenly interested in management's ability to do more with what has been given to it. Management's effectiveness is measured by the returns generated from the assets under its control, and from the equity invested into the company by shareholders.
For their managerial performance, Discovery's management team delivered the greatest returns on assets and equity, where Charter's team delivered the smallest returns in both, losing some equity in the process.

• Earnings Per Share: Of all the metrics measuring a company's income, earnings per share is probably the most meaningful to shareholders, as this represents the value that the company is adding to each share outstanding. Since the number of shares outstanding varies from company to company, I prefer to convert EPS into a percentage of the current stock price to better determine where an investment could gain the most value.
Of the three companies compared here, Discovery provides common stockholders with the greatest diluted earnings per share gain as a percentage of its current share price, while Charter's DEPS over current stock price is lowest, even negative, denoting loss.

• Share Price Value: Even if a company outperforms its peers on all the above metrics, investors may still shy away from its stock if its price is already trading too high. This is where the stock price relative to forward earnings and company book value come under scrutiny, as well as the stock price relative to earnings relative to earnings growth, known as the PEG ratio. Lower ratios indicate the stock price is currently trading at a cheaper price than its peers, and might thus be a bargain.
Among our three combatants, Discovery's stock is the cheapest relative to forward earnings, company book value, and 5-year PEG. At the overpriced end of the scale, where Netflix's stock is the most expensive relative to earnings, Charter's is the priciest relative to book and PEG.

B) Estimates and Analyst Recommendations
Of course, no matter how skilled we perceive ourselves to be at gauging a stock's prospects as an investment, we'd be wise to at least consider what professional analysts and the companies themselves are projecting - including estimated future earnings per share and the growth rate of those earnings, stock price targets, and buy/sell recommendations.
• Earnings Estimates: To properly compare estimated future earnings per share across multiple companies, we would need to convert them into a percentage of their stocks' current prices.
Of our three specimens, Discovery offers the highest percentages of earnings over current stock price for all time periods, while Charter offers the lowest percentages near term, and Netflix offers it for the next year.

• Earnings Growth: For long-term investors, this metric is one of the most important to consider, as it denotes the percentage by which earnings are expected to grow or shrink as compared to earnings from corresponding periods a year prior.
For earnings growth, Charter offers the greatest growth for the near term, where Netflix offers it over the next five years. At the low end of the spectrum, where Netflix offers the slowest growth for the near term, Discovery offers it for the next year, and Charter offers it over the next five years.

• Price Targets: Like earnings estimates above, a company's stock price targets must also be converted into a percentage of its current price to properly compare multiple companies.
For their high, mean and low price targets over the coming 12 months, analysts believe Netflix's stock offers the greatest upside potential and greatest downside risk, while Charter's offers the least upside and Discovery's offers the least downside.

• Buy/Sell Recommendations: After all is said and done, perhaps the one gauge that sums it all up are analyst recommendations. These have been converted into the percentage of analysts recommending each level. However, I factor only the strong buy and buy recommendations into the ranking. Hold, underperform and sell recommendations are not ranked since they are determined after determining the winners of the strong buy and buy categories, and would only be negating those winners of their duly earned titles.
Of our three contenders, Charter is best recommended with 4 strong buys and 7 buys, representing a combined 64.71% of its 17 analysts, followed by Netflix with 7 strong buy and 15 buy ratings, representing a combined 50% of its 44 analysts, and lastly by Discovery with 2 strong buy and 5 buy recommendations, representing 25% of its 28 analysts.

C) Rankings
Having crunched all the numbers and compared all the projections, the time has come to tally up the wins and losses and rank our three competitors against one another.
In the table below, you will find all of the data considered above plus a few others not reviewed. Here is where using a company's market cap as a denominator comes into play, as much of the data in the table has been converted into a percentage of market cap for a fair comparison.
The first and last placed companies are shaded. We then add together each company's finishes to determine its overall ranking, with first place finishes counting as merits while last place finishes count as demerits.
And the winner is… Discovery with a pioneering lead, outperforming in 14 metrics and underperforming in 4 for a net score of +10, followed by Netflix way back on the trail, outperforming in 7 metrics and underperforming in 10 for a net score of -3, and with Charter waiting for a guide to show it the way, outperforming in 8 metrics and underperforming in 15 for a net score of -7.
Where the CATV Systems industry is expected to outperform the S&P broader market substantially next quarter, and meaningfully next year and beyond, the next three U.S. companies in the space are expected to swing in different directions like a well-choreographed acrobatic ballet - with Charter leading all in earnings growth near term before slipping into last place longer term, Netflix bottoming out with the worst shrinkage near term before swinging back up to top spot longer term, and Discovery hanging around somewhere in the middle near term before swinging into 2nd place longer term.
Yet after taking all company fundamentals into consideration, Discovery Communications Inc. is found to have the finest financials, given its lowest stock price ratios, widest profit and operating margins, greatest returns on assets and equity, highest EBITDA over revenue, highest diluted earnings over current stock price, highest future earnings over current stock price throughout, and best low price target - decisively winning America's Next 3 CATV Systems Companies competition.