Despite all the hand-wringing over the never-ending euro drama, everlasting U.S. economic weakness and an impending China crash, the major indices are basically at break-even for 2011. At these levels, most stocks are trading at fair value, which is less than ideal for value investors. With the cheap stock candidate pool dwindling, I've resorted to the age-old vulture screen -- the 52-week low list.
Even with the big October rally, screening on the criteria of exchange-traded stocks trading within 15% of 52-week lows still yielded hundreds of names. To further winnow the list, I eliminated micro-cap stocks as these tiny companies may require in-depth research beyond the average investor's resources. To avoid any crash-and-burn stocks, I added the criteria of > 10% return-on-assets (ROA) an estimated next fiscal year P/E ratio from 0 to 15x to derive the following 22 stocks:
(Click chart to expand)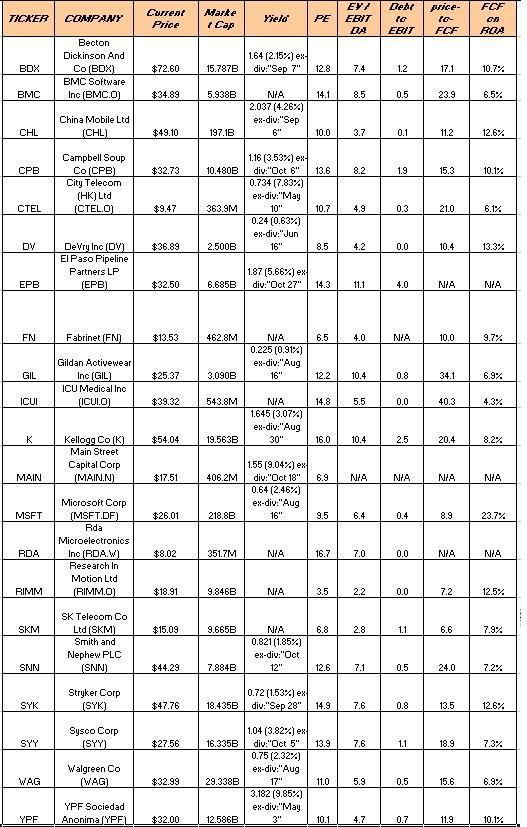 View in-depth financial metrics for this stock screen, including my estimated fair value, in spreadsheet format here.
I must admit to some disappointment as this screen was not as fruitful as expected. It yielded only two bonafide prospects, one of which has already turned up in other screens (Microsoft (NASDAQ:MSFT) ... maybe the stock gods are trying to tell me something). Perhaps SK Telecom (NYSE:SKM) could be considered another prospect as well but SKM is no stranger to the Enlightened American portfolio and seems to be chronically undervalued. With intense competition, tighter regulation and lack of a catalyst, SKM seems less than ideal. Patience is a virtue, however and if Greece continues to roil the world economy, prices on some of these names may drop to desired levels for investment.
C. R. Bard, Inc. (NYSE:BCR) is engaged in the design, manufacture, packaging, distribution and sale of medical, surgical, diagnostic and patient care devices. ROE of 16.91% and ROI of 12.35% compare favorably with the industry average of 11.37% ROE and 9.24% ROI. The company is a free cash flow maven, averaging nearly 17% FCF return on assets. It may be trading at the bottom of its 52-week range but I find shares to be fairly valued at these levels.
Becton, Dickinson and Company (NYSE:BDX) is a global medical technology company engaged in the development, manufacture and sale of medical devices, instrument systems and reagents used by healthcare institutions, life science researchers, clinical laboratories, the pharmaceutical industry and the general public. BDX delivered 24% ROE and 15% ROI, topping industry averages of 13% and 10%, respectively. BDX has not dropped much from the last time it was featured in a screen and remains a pass for now.
BMC Software, Inc. (NASDAQ:BMC) is a software company, providing information technology (IT) management solutions primarily for large enterprises. Returns are fine with 30.84% ROE vs the industry's 22.35% and ROI at 15.75% lagging the average 18.74%. Like AGP, BMC has net cash on its balance sheet, to the tune of $7+ per share. While it's generated impressive free cash flow in recent months, its five-year track record is inconsistent, ruling it out for consideration at this time. At $34.89, it dropped nearly $5 from last we saw it in our screen for possible option/leverage candidates but I still view shares as over-valued.
China Mobile Limited (NYSE:CHL) provides a range of mobile telecommunications services in 31 provinces, autonomous regions and directly-administered municipalities in the People's Republic of China, as well as in the Hong Kong Special Administrative Region of the People's Republic of China. Returns vs. industry look good with 21.46% ROE vs 10.97% and 20.48% ROI vs 7.99%. The company carries around $12 net cash per share, comprising nearly a quarter of its market cap, but I am reticent to credit too much toward intrinsic value due to the Chinese command economy. Investors can never be sure these companies will do what's best for shareholders or what's best for the Communist Party. As such, I'd require a bit more margin of safety before seriously considering CHL for investment.
Campbell Soup Company (NYSE:CPB) is a manufacturer and marketer of convenience food products operating in four segments: U.S. Simple Meals; U.S. Beverages; Global Baking and Snacking; International Simple Meals and Beverages, and North America Foodservice. Stellar returns of 79.05% ROE look attractive, though its ROI is much closer to industry average at 17.68%. The company's outstanding track record and strong brands make it an attractive prospect and the stock is not trading at much of a premium, if any. I see shares as slightly undervalued but I'd need to see CPB drop 15-20% below its 52-week low to derive an adequate margin of safety.
City Telecom Limited (CTEL) is a Hong Kong-based provider of residential and corporate fixed telecommunications network and international telecommunications services. The Company specializes in the residential mass market and small-to-medium corporate and enterprise market segments. With returns of 17.80% ROE and 15.80% ROI, it generates much better returns than peers' 7.69% and 5.73%, respectively. CTEL also pays a fat 8% dividend and carries over $1 net cash per share but still looks overvalued based on FCF analysis.
DeVry Inc. (DV) is a provider of educational services and the parent organization of Advanced Academics, Becker Professional Education, Carrington College and Carrington College California, Chamberlain College of Nursing, DeVry Brasil, DeVry University, and Ross University. DeVry generated 23.97% ROE vs peers' 9.22% and 21.96% ROI vs 6.48%. With unemployment at prolonged elevated levels and regulatory murmurs hanging over the for-profit education sector, DeVry's share price has taken a hit. But investors may want to distinguish between the various players in the sector. DeVry's technical and vocational focus distinguishes it from some of the others' college degree substitute approach. With strong free cash flow and net cash on hand equal to 13% of its share price, DV looks like one of the strongest prospects in this screen. With a paltry dividend below 1%, DV would be a candidate for using long-term LEAPS options for leverage (an approach I've advocated in the past), but trading volumes are fairly anemic and make it hard to execute.
El Paso Pipeline Partners, L.P. (NYSE:EPB) owns and operates natural gas transportation pipelines and storage assets. The Company conducts its business activities through various natural gas pipeline systems and storage facilities, including the Wyoming Interstate Company, L.L.C. system, the Southern LNG Company, L.L.C. among others. El Paso delivered returns of 11.35% ROE vs 19.26% for peers and 14.97% ROI vs 8.52%.
Fabrinet (NYSE:FN) provides precision optical, electro-mechanical and electronic manufacturing services to original equipment manufacturers (OEMs) of complex products, such as optical communication components, modules and sub-systems, industrial lasers and sensors. In a profit-anemic industry that averages less than 1% ROE and little over 2% ROI, FN outperformed with 24.11% and 22.47% ROI. The company also sports a rock-solid balance sheet with over $3 net cash per share and trades at a reasonable 4x EV/EBITDA. Nevertheless, based on FCF analysis, shares look too pricey for serious consideration.
Gildan Activewear Inc. (NYSE:GIL) is a Canadian-based marketer and vertically integrated global manufacturer of basic, non-fashion apparel products for customers. It sells active wear products to screen print markets in North America, Europe and other international markets. It beats industry peers with ROE of 21.06% and ROI of 18.69% vs 8.27% and 7.46%, respectively. Despite the admirable performance, I found Gildan lacking in FCF -- based on that metric, GIL was the most overvalued stock in this screen.
ICU Medical, Inc. (NASDAQ:ICUI) is engaged in the development, manufacture and sale of medical devices used in vascular therapy, oncology and critical care applications. The company slightly beats the industry average of 11.37% but fares better on ROI with 12.41% vs 9.24%. ICUI also has over $8.50 net cash per share but does not have a history of delivering high FCF, with only TTM numbers somewhat justifying its current share price.
Kellogg Company (NYSE:K) is engaged in the manufacture and marketing of ready-to-eat cereal and convenience foods. The contrast between Kellog's high 51% ROE (vs. 20% industry) below average 14% ROI (vs. 15% industry) illustrates the company's relatively high debt load at 2.5x debt-to-EBITDA. I also found its FCF generation too small to warrant its current trading price.
Main Street Capital Corporation (NYSE:MAIN) is a principal investment firm focused on providing customized financing solutions to lower middle-market companies with annual revenue between $10 million and $100 million. The Company was formed for the purpose of acquiring 100% of the equity interests of Main Street Mezzanine Fund, LP. It delivered returns of 18.90% ROE and 10.86% ROI vs 2.73% and 1.72%, respectively.
Microsoft Corporation develops, licenses and supports a range of software products and services. It also designs and sells hardware, and delivers online advertising to the customers. Historically, MSFT is a veritable cash cow as evident in its 45% ROE and 33% ROI vs. 23% and 19%, respectively, for the industry. Based on its recent FCF run rate around $25B, the shares would be worth $40 excluding net cash of $5 per share. However, the market doubts whether Microsoft can successfully navigate the transition into the post-PC world of tablets and smartphones. I have been waiting for shares to drop to $24 for 40% margin of safety but MSFT has performed admirably as a safe harbor during the recent market swoon, dropping far less than the market while still generating a nice return for investors via its decent dividend that's assured to grow.
RDA Microelectronics, Inc. (NASDAQ:RDA) is engaged in fabless semiconductor company, which designs, develops and markets radio-frequency and mixed-signal semiconductors for a range of cellular, broadcast, and connectivity applications. Like Fabrinet, it leaves behind the industry with ROE of 28.56% and ROI of 31.68% and carries a quarter of its market cap in net cash on hand.
Research In Motion Limited (RIMM) is a designer, manufacturer and marketer of wireless solutions for the worldwide mobile communications market. Past returns have looked stellar at 33.50% ROE and 32.57% ROI, but those may have been the good old days. Recent times have seen the company struggle with its outdated BlackBerry line in the face of Apple's iPhone, and there's little indication at the moment that management can turn this around. The company is in good financial health, with a large $5B cash horde and no debt, but will RIMM meet the same fate as Palm? It seems as if every time RIMM pops up on a screen, the market has pegged the stock down even lower.
SK Telecom Co., Ltd. is a Korea-based wireless telecommunications services provider. It generates good returns of 23.81% ROE and 14.75% ROI, beating peers' 10.97% and 7.99%. As mentioned above, the company delivers adequate performance but operates in an intensely competitive and over-saturated market. Unlike current holding, Telefonica (NYSE:TEF), SK has little outlet to growth markets outside its home base.
Smith & Nephew plc (NYSE:SNN) is a global medical devices business operating in the orthopeadics, endoscopy and advanced wound management markets. The company operates in three Global Business Units (GBUs): Orthopaedics, Endoscopy and Advanced Wound Management. Returns vs. industry came in at 23.08% ROE vs 11.37% and 17.06% ROI vs 9.24%. While its current finance results are impressive, I am uncomfortable extrapolating it out into the future and thus value SNN more conservatively based on its 5-year track record, which suggests shares are a bit over-valued.

Stryker Corporation (NYSE:SYK) is a medical technology company that provides orthopaedic implants, as well as medical and surgical equipment. It has two segments: Orthopaedic Implants and MedSurg Equipment. Returns of 16.67% ROE and 12.46% ROI beat the industry averages of 11.37% and 9.24%. It seems as if a fair number of medical industry companies are turning up on my screens but like most of them, SYK is trading roughly at my fair value estimate at the moment.

Sysco Corporation (NYSE:SYY) is a North American distributor of food and related products primarily to the foodservice or food-away-from-home industry. Returns look good with ROE of 27% and ROI at 15% vs. industry averages of 8% and 6%, respectively. I thought shares were trading at a premium a few weeks ago and the stock has moved up slightly since then.

Walgreen Co. (WAG) together with its subsidiaries, operates a drugstore chain in the United States. Walgreen delivered 18.56% ROE and 14.20% ROI, besting peers' average of 14.23% and 11.65%. The company delivers solidly on free cash flow and has a manageable debt load at less than 1x debt-to-EBITDA. Operating in the demographic sweet spot as the baby boomers move toward retirement, WAG looks to be trading at fair value but it may be a name to own if it drops a bit more.

YPF SA (NYSE:YPF) is an Argentinean integrated oil and gas company. Returns look good at 28.06% ROE and 18.42% ROI, compared with the industry's 12.13% ROE and 9.08% ROI. Being an integrated energy company, I valued YPF based on free cash flow, on which basis shares look slightly undervalued. The stock also yields near 10%. It may look attractive on a net asset/sum of the parts valuation but I am always a little wary of investing in places like Argentina, where foreign capital is not always protected by the authorities.

Disclosure: I am long TEF.