By Michael Ide
When Saudi Arabia started its bombing campaign in Yemen, oil prices rallied because the world's largest oil producer was suddenly going to war, but the reality is that the crisis in Yemen shouldn't have much impact on oil prices even if headlines are able to push market sentiment.
"For as long as the security situation remains uncertain, there will be disruptions to Yemen's oil production - indeed some of the major oil companies have already left the country; but interruptions to the movement of the significant supplies which transit through the Bab el Mandeb at the southern end of the Red Sea every day are unlikely," writes retired British general Charles Vyvyan, who is now a geopolitical and defense advisor for RBC Capital Markets.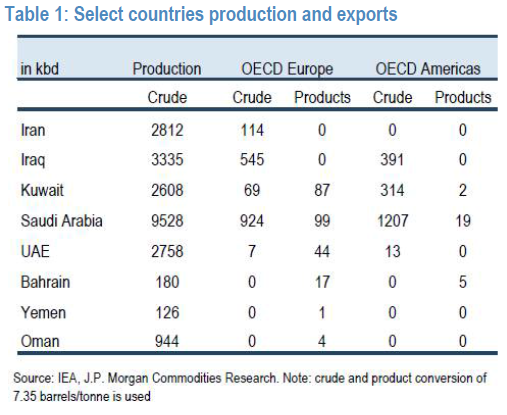 Yemen doesn't produce enough oil to impact prices globally
While it's true that oil and gas is extremely important to the Yemeni economy (energy accounts for 75% of government revenue), that doesn't mean that Yemeni oil has a big impact on the rest of the world. Production has already fallen from 400,000 bpd in 2001 to 100,000 bpd recently, which J.P. Morgan analyst Benjamin Wilson points out is less than 0.2% of global oil production. It also produces about 1 Bcf of natural gas per day.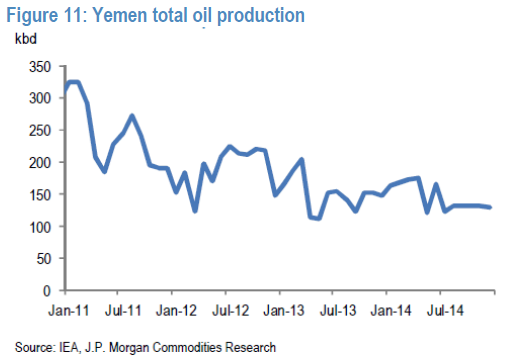 Even if Yemen were to have a protracted civil war (which is very possible at this point), the loss of its oil production isn't enough to change the overall direction of energy markets. That's not to say the price of oil won't bounce back (I'm not trying to call that either way), but other market forces are a lot more important. A quick look at year-on-year crude inventories and rig counts will show you that oil needs more than a minor cutback if it's going to return to the same levels of the last few years.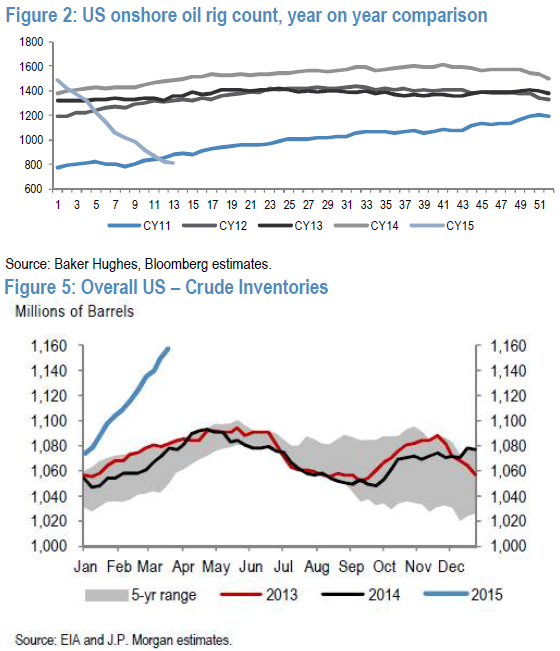 Bab el-Mandeb unlikely to come under threat
The other possibility is that the war in Yemen could disrupt oil transport through the Bab El Mandeb, which is the entrance to the Red Sea that tankers have to go through on their way to the Suez Canal. If that were to happen, it would dramatically slow the flow of crude, but analysts don't think such a development is likely.
"Because of their strategic nature for oil trade and other commerce, the Gulf of Aden, the Bab el-Mandeb Strait, and the Red Sea are heavily and permanently patrolled by US, NATO, and other allied naval forces. The Iranian navy also maintains a regular presence," writes Societe Generale analyst Michael Wittner. He points out that Egypt has sent four more ships to the Red Sea, and that the US (which has a naval base in nearby Djibouti) has said that it will keep regional shipping lanes safe. Vyvyan and Wilson agree that the Bab el-Mandeb Strait is unlikely to come under serious threat, though they don't get into quite as much detail.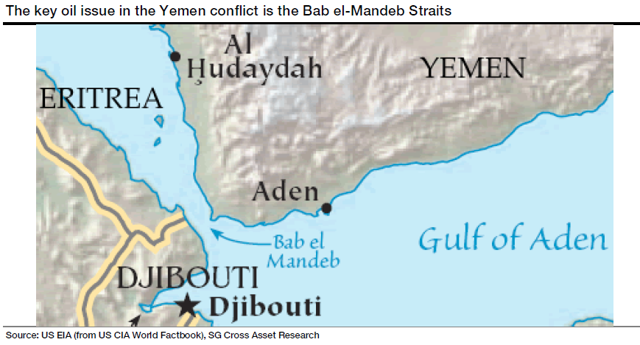 Some investors may also worry about how the war could affect Saudi oil production, but they probably shouldn't. Saudi Arabia's main oil fields are far from the fighting and heavily defended, assuming Shia Houthi had the capability to launch such an attack in the first place.
Even if war in Yemen shouldn't affect oil prices, that doesn't mean it won't. Whenever we see terrible headlines from Yemen that involve Saudi Arabia or other major energy producers in the region (sadly, this will probably keep up for a while), some investors are going to respond, adding another layer of volatility to an asset that's already difficult to price.
Disclosure: None