We recently wrote an article arguing that the recent solar rally (some stocks almost doubled) was unsustainable. A recent update by Trina Solar (NYSE:TSL) is confirming this.
Trina issued a PR with new guidance. Demand is falling in Europe, hence production has to adjust. The guidance on shipment figures is a good deal lower than before, 372-375MW versus 480-520MW. And you have to realize that lower shipments are compounded by lower prices and inventory write downs.
As we expected, there is going to be an inventory write down of approximately $19M, which takes overall gross margin to 10-11%, a low figure for Trina, but considerably higher compared with many other competitors. Indeed, in-house wafer margins are considerably higher (18-19%), we would say that under the present climate, these are good margin numbers. Average selling prices (ASP's) are falling (Trina called that a "deflationary pricing environment").
Full year shipments are also guided downwards to 1.4GW, from previous guidance of 1.75-1.8GW. Lower volume plus (significantly) lower selling prices plus inventory write downs are going to take a large bite out of earnings this year, but much of that is already in the stock price. The question remains how much.
A specific problem mentioned is the financing environment in Europe. Not only are feed-in tariffs falling in a few places but it's getting challenging to get projects financed. Not really a surprise, considering what's going on in Europe, but there is no end in sight still.
(Click chart to expand)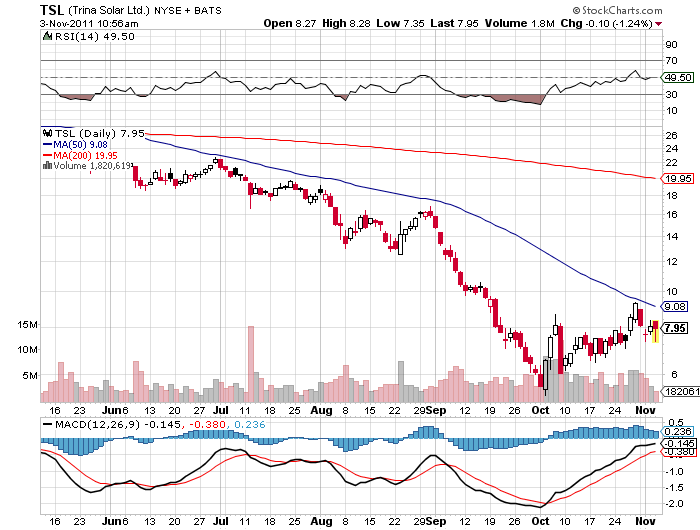 Any silver lining?
None of this could have come as a surprise. In fact, one could say that it could have been worse. Trina, contrary to some competitors, is able to still enjoy reasonable margins. If it can weather this storm (and we don't really see why not), it's well positioned for the next leg up, whenever that comes. The price isn't reacting too badly to the news.
While Europe could remain stagnant for some time to come, Trina is encouraged by developments outside Europe (the Americas, Africa and Asia). The issue that led John Hempton in August to give Trina less than a year to bankruptcy, supposedly onerous polysilicon supply contracts, looks like it's being defused at least partially, as Trina argued that it had renegotiated some of these.
The upshot
Investing in Trina (or most other solar stocks, with the proviso that we think Trina has better survival opportunities compared with many) now is gambling that things won't get much worse. We know a new leg up will come, the question is when. The rally from the low was a first installment, but we think it was premature.
So far, there aren't any indications that the worst is over. Average selling prices aren't stabilizing yet. While many markets are growing, the biggest ones (Germany and Italy) are stagnant at best and industry production capacity is growing as well, probably still faster than overall market demand.
It's difficult to say how much inventory still has to be written off. It's also quite possible that things will get considerably worse still; this depends on a rather wobbly Europe.
Since these solar stocks are so volatile, timing is rather important. In the absence of any sign that the market is stabilizing, we still think it's too early to buy, although we realize that stock prices might well move ahead of that (as they already have done). We prefer to play it safer and wait for any concrete signs on pricing stability and inventory write-offs in particular.

Disclosure: I have no positions in any stocks mentioned, and no plans to initiate any positions within the next 72 hours.