Overview
In this series of articles, I will be taking a look at various industry sectors and selecting what I believe will be outperforming stocks for 2015. In Part 1, I reviewed 47 stocks within the Aerospace and Defense industry sector. For part 23, in determining my favorite stocks in this sector for 2015, I will review the following Food & Staples Retailing stocks:
Andersons (NASDAQ:ANDE)
Casey's General Stores (NASDAQ:CASY)
Chef's Warehouse (NASDAQ:CHEF)
Costco Wholesale (NASDAQ:COST)
CVS Health (NYSE:CVS)
Fresh Market (NASDAQ:TFM)
Ingles Markets (NASDAQ:IMKTA)
Kroger (NYSE:KR)
Liberator Medical Holdings (NYSEMKT:LBMH)
Natural Grocers By Vitamin Cottage (NYSE:NGVC)
Pricesmart (NASDAQ:PSMT)
Rite Aid (NYSE:RAD)
Roundys (NYSE:RNDY)
Sprouts Farmers Market (NASDAQ:SFM)
SUPERVALU (NYSE:SVU)
Sysco (NYSE:SYY)
United Natural Foods (NASDAQ:UNFI)
Village Super Market (NASDAQ:VLGEA)
Wal-Mart Stores (NYSE:WMT)
Walgreens Boots Alliance (NASDAQ:WBA)
Weis Markets (NYSE:WMK)
Whole Foods Market (WFM)
Step 1
The first step I took to narrow down the list of possible options was to look at the earnings over the past five years of these stocks within the industry sector. I removed the following stocks from further review because of their negative or flat (less than 3%) earnings growth over the past five years:
Roundys
SUPERVALU
Sysco
Village Super Market
Walgreens Boots Alliance
Weis Markets
Step 2
I then took the list of remaining stocks and checked the revenue growth of each over the past two years. I am removing any stocks that had flat (less than 3%) growth or saw a decline in revenue over the past two years. These stocks include:
Step 3
My next move was to examine the trailing PEG ratio of each of the remaining stocks. I removed any stock that had a PEG ratio over 2 to focus more specifically on fairly valued/undervalued stocks. These stocks included:
Chef's Warehouse
CVS Health
Liberator Medical Holdings
Pricesmart
United Natural Foods
Wal-Mart Stores
Whole Foods Market
Step 4
The next set of data I reviewed was the Fundamental and Value Scores for each of the ten remaining stocks. These scores are calculated by YCharts and I have found them to be very useful when researching investment options. More details on each of the scores can be found here and here.
|   | Fundamental Score | Value Score |
| --- | --- | --- |
| Casey's General Stores | 9 | 2 |
| Costco Wholesale | 9 | 10 |
| Fresh Market | 9 | 7 |
| Kroger | 7 | 4 |
| Natural Grocers | 8 | 5 |
| Rite Aid | 6 | 10 |
| Sprouts Farmers Market | 7 | 10 |
To determine the best stocks for 2015, I'm only taking into consideration stocks with combined scores of 15 or higher across both categories. Doing this left me with the following remaining stocks:
Costco Wholesale
Fresh Market
Rite Aid
Sprouts Farmers Market
Step 5
My next step was to look at the book value of each company and to remove any stock that has seen a decrease in its book value over the past five years. The following stock saw a decline in book value during this time period.
Step 6
My next step was to look closer at each stock remaining that passed all previous criteria and determine whether or not there were any reasons to eliminate them as great stock candidates for 2015. In doing so, I reviewed the financials of each company, the most recent quarterly report transcripts, and searched for any news items that warranted concern.
Costco Wholesale
In its last quarter, the company posted a 6% increase in revenue and an increase in earnings per share from $1.05 to $1.35 compared to the same period last year.
Comparable sales for the US market increased by 5%, while international comparable sale fell by 1%, mostly due to the negative impacts of foreign currency exchange and lower gasoline prices. Membership sales continue to increase and with expansions continuing throughout the US, Canada, UK, Asia, and Australia, and Mexico, I believe Costco's trend of strong growth will continue into the foreseeable future.
Fresh Market
In its last quarter, the company posted a 13% increase in revenue and an increase in earnings per share from $0.04 to $0.42 compared to the same period last year. The company's comparable store sales increased by 3% and the company saw its highest year over year customer traffic growth in the past ten quarters.
The company has decided to focus on opening new stores in its core markets, while discontinuing operations in California. With a strong focus on completing remodeling and refreshing of certain existing stores in the first half of the year and opening new stores later in the year, I believe Fresh Market will continue to see solid growth and keep its healthy balance sheet in tact.
Sprouts Farmers Market
In its last quarter, the company posted a 21% increase in revenue and a 71% increase in earnings per share compared to the same period last year. The quarter solidified an outstanding year for the company as it saw full year sales increase by 22%, but even more impressive, in my opinion, was the 10% comparable store sales growth.
With a 50% increase in earnings for the year, a 14% increase in its number of operating stores, Sprouts Framers Market appears poised to see strong growth on the horizon with its improving gross margins and lower debt levels.
The company plans on opening an additional 27 new stores in 2015 and expects its comparable store sales to continue to grow at a solid level of 6% to 7%.
Conclusion
I believe that each of the three final stocks reviewed are great investment opportunities, but I am only selecting two as my top picks for the sector this year. While I do believe that Fresh Market's decision to cease operations in California was the correct long term decision for the company, I believe it will make it difficult for the stock to see significant short term price appreciation.
Looking at the chart below, you can see that Fresh Market is the one stock that has not seen any price appreciation year to date and I believe it will continue to struggle to find significant gains for the remainder of the year.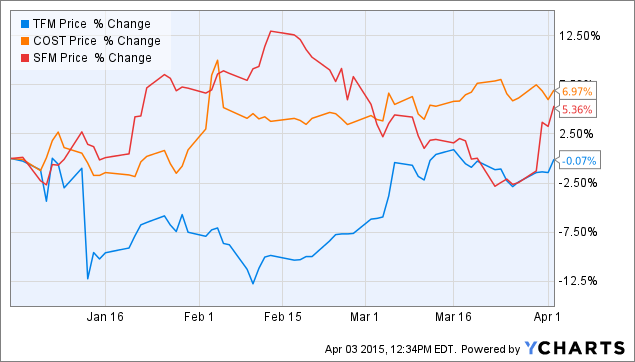 I believe that both Costco and Sprouts Farmers Market have potential to see strong gains for the remainder of 2015 due in part to their aggressive expansion strategies and impressive comparable stores sales growth.
For part twenty four of this series, I will be reviewing the Food Products industry sector. As always, I suggest individual investors perform their own research before making any investment decisions.
Disclosure: The author has no positions in any stocks mentioned, and no plans to initiate any positions within the next 72 hours.
The author wrote this article themselves, and it expresses their own opinions. The author is not receiving compensation for it (other than from Seeking Alpha). The author has no business relationship with any company whose stock is mentioned in this article.