*All data are as of the close of Thursday, April 2, 2015. Emphasis is on company fundamentals and financial data rather than on commentary.
There has been a bit of a reshuffling at the top of North America's Oil & Gas Pipelines industry since the last time I examined it nearly six months ago. So, it's due for another visit.
The biggest change has been the merger of a number of companies which ultimately wipes their tickers off the board.
"Kinder Morgan, Inc. (NYSE: KMI) [on November 26, 2014] announced it has completed its acquisition of the outstanding equity securities of Kinder Morgan Energy Partners, L.P. (NYSE:KMP), Kinder Morgan Management, LLC (NYSE:KMR) and El Paso Pipeline Partners, L.P. (NYSE:EPB)," Yahoo! Finance reported. This is why looking-up the tickers KMP, KMR and EPB on American stock exchanges brings up goose eggs (though the tickers are being used by other companies on some foreign exchanges).
The merger means we have a new company occupying the top spot in the Oil & Gas Pipelines industry in North America. Though the previous top spot six months ago was occupied by KMP, this latest incarnation of Kinder Morgan changes the company enough to warrant a new comparison.
The other two of the three largest North American companies in the industry have also been altered a little, in that they have traded places over the past six months, with Enbridge Inc. (NYSE: ENB) moving up from third to second largest, while Williams Companies Inc. (NYSE: WMB) slips from second to third. Let's now meet our three contestants in their latest forms.
• Kinder Morgan Inc., headquartered in Houston, Texas, is an energy and energy infrastructure company which owns and operates interstate and intrastate natural gas pipeline and storage systems; natural gas and crude oil gathering systems; natural gas processing and treating facilities; natural gas liquids fractionation facilities; liquids and bulk terminals; and rail transloading and materials handling facilities that transload and store such products as refined petroleum products, crude oil, condensate, coal, petroleum coke, cement, alumina, salt, and other bulk chemicals. It also owns interests in oil-producing fields, gas processing plants, crude oil and natural gas pipelines, and seafaring tankers. The company's Canadian division owns and operates the Trans Mountain pipeline system that transports crude oil and refined petroleum products from Edmonton, Alberta, to marketing terminals and refineries on the west coast of British Columbia and Washington State. The new merged company now owns an interest in or operates approximately 80,000 miles of pipelines and 180 terminals.
• Enbridge Inc., founded in 1949 and headquartered in Calgary, Alberta, Canada, is an energy transportation and distribution company with operations in Canada and the U.S. which include pipelines and terminals that move common carrier and contract crude oil, natural gas liquids, and refined petroleum products. It also owns a natural gas utility that serves residential, commercial, and industrial customers in central and eastern Ontario, northern New York State, Quebec, and New Brunswick; in addition to owning interests in natural gas pipelines in the Gulf of Mexico, and natural gas fractionation and extraction facilities; in addition to interests in renewable energy projects, including wind, solar, and geothermal projects with a combined generating capacity of approximately 2,200 MW. The company also offers such services as energy marketing services, supply management, hedging programs, product exchanges, transportation, balancing, and storage.
• The Williams Companies Inc., founded in 1908 and headquartered in Tulsa, Oklahoma, is an energy infrastructure company which owns and operates natural gas pipeline systems connecting energy producing regions, including Texas, Louisiana, Mississippi, and the offshore Gulf of Mexico to energy consuming regions such as Alabama, Georgia, South Carolina, North Carolina, Virginia, Maryland, Delaware, Pennsylvania, New Jersey, and New York City; in addition to a natural gas pipeline system extending from the San Juan basin in Northwestern New Mexico and Southwestern Colorado through Colorado, Utah, Wyoming, Idaho, Oregon, and Washington to the Canadian border crossing of Sumas, Washington; as well as a Gulfstream natural gas pipeline system extending from Alabama's Mobile Bay to markets in Florida, and a constitution pipeline that connects the company's gathering facilities in Susquehanna County, Pennsylvania, to the Iroquois Gas Transmission and Tennessee Gas Pipeline systems in New York. The company also gathers, treats, and processes natural gas and natural gas liquids, offers deepwater production handling and crude oil transportation services, and gathers, fractionates, treats, stores, and sells ethane/ethylene, propane, propylene, normal butane, isobutane/butylene, and condensate. The company owns and operates approximately 13,600 miles of pipelines, and approximately 1,096 miles of NGL pipelines.
Before comparing the performances of the three largest North American companies in the Oil & Gas Pipelines industry, it would be helpful to first differentiate them from other oil & gas companies, as they are definitely not grapes from the same bunch.
All materials sectors, from energy to mining, to forestry and others, are typically divided into three main segments: upstream, midstream, and downstream. Just like a river starts upstream in the mountains and ends downstream in the ocean, so too these materials streams begin at the point of extraction and end at the point of consumption.
In the energy sector, therefore, oil and gas exploration and extraction companies are classed as upstream companies, whereas oil and gas delivery and pipeline companies are classed as midstream companies, while oil and gas refiners and marketers are classed as downstream companies. Some of the larger companies, however, have their tentacles in more than one section of the stream through various subsidiaries.
The three companies of today's comparison are generally categorized as midstream companies, since they focus primarily on oil and gas pipelines and transportation (although some have a toe or two upstream as they also engage in energy production to a limited extent).
The important thing investors need to keep in mind is that each of the three main sections of the oil and gas stream reacts differently to changes in the oil price. Generally, upstream energy exploration and extraction companies are the most vulnerable to an abrupt and precipitous plunge in the oil price, as we have been experiencing since the summer of 2014, for their sales prices and profits are dependent on the oil price.
Midstream transporters and downstream refiners and marketers, on the other hand, are less susceptible to oil price shocks, since the midstream transporters can continue charging the same prices for their transportation services regardless of the price of oil, while the downstream refiners and marketers can maintain their same profit spreads between the price at which they buy their raw materials and the price at which they sell their refined products.
This difference in each segment's reaction to the recent plunge in oil prices is clearly evidenced in the graph below spanning the past 9.5 months, during which oil has plunged 54.386% from its last peak of $107.73 per barrel in the third week of June 2014 to $49.14 a barrel at the close of last week.
For this graph, I have selected the two largest U.S.-listed companies in the upstream Oil & Gas Drilling & Exploration industry, CNOOC Ltd. (NYSE: CEO) [purple] and Concho Resources Inc. (NYSE: CXO) [orange], the two largest U.S.-based companies in the downstream Oil & Gas Refining & Marketing industry, Phillips 66 (NYSE: PSX) [yellow] and Valero Energy Corporation (NYSE: VLO) [gray], and today's three contestants from the midstream Oil & Gas Pipelines industry, Kinder [black], Enbridge [beige], and Williams [blue].
Their performances rank as follows, in order from best to worst:
Down-streamer VLO = +17%,
Mid-streamer Kinder = +16%,
Mid-streamer Enbridge = +2%,
Down-streamer PSX = -4%,
Mid-streamer Williams = -13%,
Up-streamer CXO = -15%, and
Up-streamer CEO = -17%.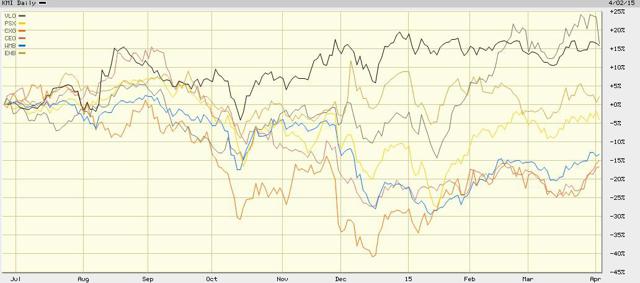 Source: BigCharts.com
It is clear to see how the upstream producers have suffered the worst, while the midstream and downstream companies are equal contenders for the best honors.
Yet it is important to note that just because a company belongs to a segment that "should" be performing well, individual company fundamentals can still cause them to underperform. This can be clearly seen in one of today's contestants, Williams, which despite belonging to the advantaged midstream Oil & Gas Pipelines industry has been faring almost as poorly as the upstreamers.
Investors, therefore, must never take anything for granted, and must still conduct some due diligence into every stock they add to their portfolio. Let's do that now on today's three contestants.
Over the past 3.5 years since the steep correction of Q3 2011 as graphed below, Williams [purple] had outperformed its rivals most impressively as the price of oil remained strong. But notice when Williams' stock peaked? In late June of 2014, just as oil hit its recent peak.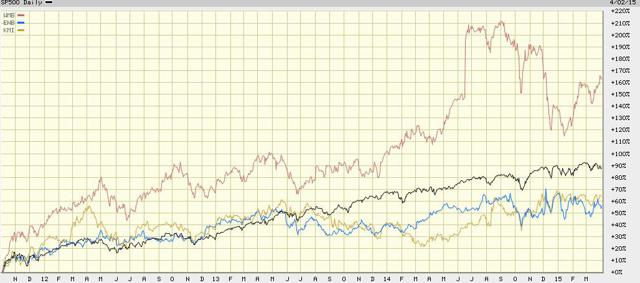 Source: BigCharts.com
We already saw in the first graph what the recent plunge in the oil price since last June has done to Williams' stock. But its rout has enticed a number of investors looking for a deep value opportunity, as graphed below, causing Williams' stock to shoot upward nearly 15% over the past two months since the last market pullback in January, beating its two competitors which are lagging behind even the broader S&P itself.
Investors have clearly been bottom-fishing, looking for the stocks that have been pressed down the most like a coiled spring packing an incredible amount of upward inertia potential. Investors were likely eyeing the companies' betas as well, with Williams offering the highest beta of the three at 0.88, as compared to Kinder's 0.47 and Enbridge's 0.35.
But as the companies' future earnings growth potential shows, now might still be a little premature for bottom fishing in the energy space.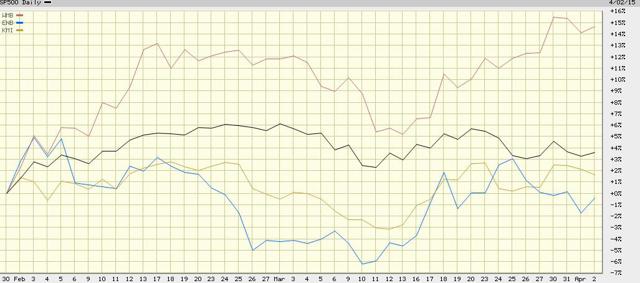 Source: BigCharts.com
For the Oil & Gas Pipelines industry as a whole, earnings growth is still expected to contract for the near term, as tabled below where green indicates outperformance, while yellow denotes underperformance relative to the broader market.
During the current and next quarters, the industry's earnings are expected to under-grow the broader market's earnings growth quite substantially, losing more than a third each quarter.
But things look markedly different next year, when the industry is expected to grow its earnings at some 1.88 times the S&P's average rate, while still maintaining strong momentum at 1.49 times the market's rate annually over the next five years. We can see the light at the far end of the pipe, but we're not quite there yet.

Zooming-in a little closer, our three contestants are expected to suffer with the rest of their industry near term, as tabled below. But each is destined for a different course.
Over the current and next quarters combined, where Williams is seen shrinking its earnings by a combined 50.70%, Enbridge is seen actually growing rather robustly by nearly a third. Kinder, for its part, is expected to remain somewhere in between them, with slight shrinkage totaling about a third.
Next year, however, promises to look much brighter for all three companies, as they not only grow their earnings but beat the S&P in the process, with Williams the clear leader.
Yet over the next five years, growth is seen to even out between Williams and Enbridge, which are both expected to outgrow the market. Kinder, however, is seen lagging behind, though still in positive earnings growth.

Yet there is more than earnings growth to consider when sizing up a company as a potential investment. How do the three compare against one another in other metrics, and which makes the best investment?
Let's answer that by comparing their company fundamentals using the following format: a) financial comparisons, b) estimates and analyst recommendations, and c) rankings with accompanying data table. As we compare each metric, the best performing company will be shaded green while the worst performing will be shaded yellow, which will later be tallied for the final ranking.
A) Financial Comparisons
• Market Capitalization: While company size does not necessarily imply an advantage and is thus not ranked, it is important as a denominator against which other financial data will be compared for ranking.

• Growth: Since revenues and expenses can vary greatly from one season to another, growth is measured on a year-over-year quarterly basis, where Q1 of this year is compared to Q1 of the previous year, for example.
Since several trailing growth rates are not available, neither metric factors into the comparison. Though it is worth noting that Williams' trailing revenue growth surpassed Kinder's by far, while Kinder's trailing earnings growth was negative, denoting shrinkage.

• Profitability: A company's margins are important in determining how much profit the company generates from its sales. Operating margin indicates the percentage earned after operating costs, such as labor, materials, and overhead. Profit margin indicates the profit left over after operating costs plus all other costs, including debt, interest, taxes and depreciation.
Of our three contestants, Williams enjoyed the widest profit margin, Kinder operated with the widest operating margin, while Enbridge contended with the narrowest of both.

• Management Effectiveness: Shareholders are keenly interested in management's ability to do more with what has been given to it. Management's effectiveness is measured by the returns generated from the assets under its control, and from the equity invested into the company by shareholders.
For their managerial performance, Kinder's management team delivered the greatest returns on assets, where Williams' team delivered the greatest returns on equity. At the low end of the scale, Kinder and Williams split the worst returns between them.

• Earnings Per Share: Of all the metrics measuring a company's income, earnings per share is probably the most meaningful to shareholders, as this represents the value that the company is adding to each share outstanding. Since the number of shares outstanding varies from company to company, I prefer to convert EPS into a percentage of the current stock price to better determine where an investment could gain the most value.
Of the three companies compared here, Williams provides common stockholders with the greatest diluted earnings per share gain as a percentage of its current share price, while Kinder's DEPS over current stock price is lowest.

• Share Price Value: Even if a company outperforms its peers on all the above metrics, investors may still shy away from its stock if its price is already trading too high. This is where the stock price relative to forward earnings and company book value come under scrutiny, as well as the stock price relative to earnings relative to earnings growth, known as the PEG ratio. Lower ratios indicate the stock price is currently trading at a cheaper price than its peers, and might thus be a bargain.
Among our three combatants, Enbridge's stock is the cheapest relative to forward earnings and 5-year PEG, where Kinder's is the cheapest relative to company book value. At the overpriced end of the scale, where Kinder's stock is the most expensive relative to earnings and PEG, Enbridge's is the priciest relative to company book.

B) Estimates and Analyst Recommendations
Of course, no matter how skilled we perceive ourselves to be at gauging a stock's prospects as an investment, we'd be wise to at least consider what professional analysts and the companies themselves are projecting - including estimated future earnings per share and the growth rate of those earnings, stock price targets, and buy/sell recommendations.
• Earnings Estimates: To properly compare estimated future earnings per share across multiple companies, we would need to convert them into a percentage of their stocks' current prices.
Of our three specimens, Enbridge offers the highest percentages of earnings over current stock price for all time periods, while Williams offers the lowest percentages near term, and Kinder offers it for the next year.
• Earnings Growth: For long-term investors, this metric is one of the most important to consider, as it denotes the percentage by which earnings are expected to grow or shrink as compared to earnings from corresponding periods a year prior.
For earnings growth, Enbridge offers the greatest growth in the near term, where Williams offers it next year and the next five. At the low end of the spectrum, where Williams offers the slowest growth in the current quarter, which is negative, denoting shrinkage, Kinder offers it beyond, which is also negative near term, denoting shrinkage.

• Price Targets: Like earnings estimates above, a company's stock price targets must also be converted into a percentage of its current price to properly compare multiple companies.
For their high, mean and low price targets over the coming 12 months, analysts believe Enbridge's stock offers the greatest upside potential and least downside risk, while Williams' offers the least upside and greatest downside.
It must be noted, however, that Kinder's and Enbridge's stocks are already trading below their low targets. While this may mean increased potential for sharp moves upward, it may warrant reassessments of future expectations.

• Buy/Sell Recommendations: After all is said and done, perhaps the one gauge that sums it all up are analyst recommendations. These have been converted into the percentage of analysts recommending each level. However, I factor only the strong buy and buy recommendations into the ranking. Hold, underperform and sell recommendations are not ranked since they are determined after determining the winners of the strong buy and buy categories, and would only be negating those winners of their duly earned titles.
Of our three contenders, Williams is best recommended with 3 strong buys and 11 buys, representing a combined 87.50% of its 16 analysts, followed by Kinder with 4 strong buy and 9 buy ratings, representing a combined 81.25% of its 16 analysts, and lastly by Enbridge with 0 strong buy and 4 buy recommendations, representing 80% of its 5 analysts.

C) Rankings
Having crunched all the numbers and compared all the projections, the time has come to tally up the wins and losses and rank our three competitors against one another.
In the table below, you will find all of the data considered above plus a few others not reviewed. Here is where using a company's market cap as a denominator comes into play, as much of the data in the table has been converted into a percentage of market cap for a fair comparison.
The first and last placed companies are shaded. We then add together each company's finishes to determine its overall ranking, with first place finishes counting as merits while last place finishes count as demerits.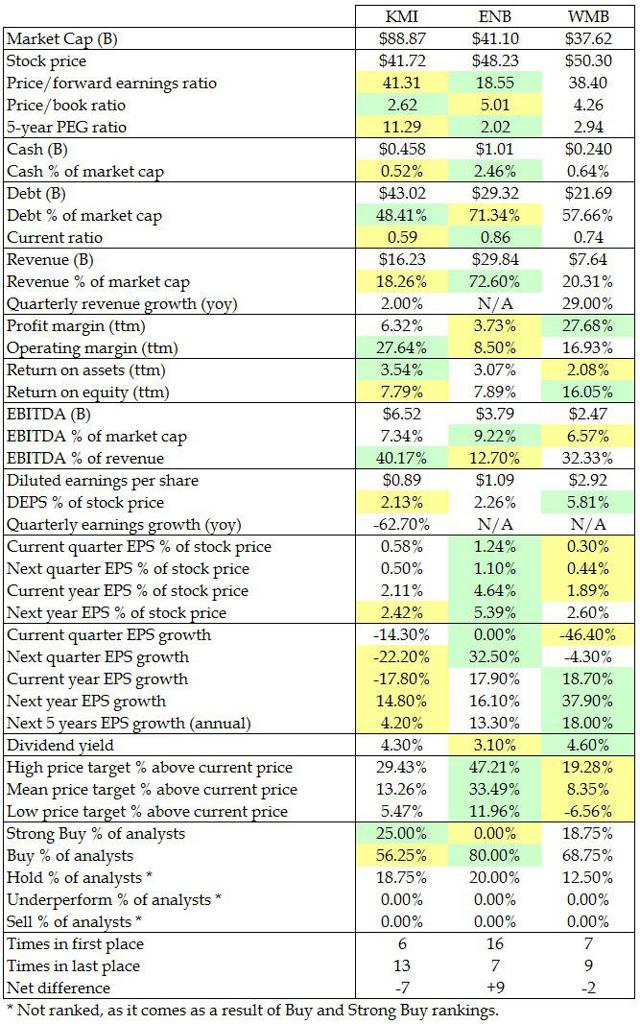 And the winner is… Enbridge with an energetic lead, outperforming in 16 metrics and underperforming in 7 for a net score of +9, followed far behind by Williams, outperforming in 7 metrics and underperforming in 9 for a net score of -2, with Kinder springing a few leaks, outperforming in 6 metrics and underperforming in 13 for a net score of -7.
Where the Oil & Gas Pipelines industry is expected to underperform the S&P broader market substantially this and next quarters, then outperform meaningfully next year and beyond, the three largest North American companies in the space are expected to split perform near and far - with Enbridge outperforming all in earnings growth near term, Kinder shrinking a little near term and then growing the least longer term, and Williams shrinking the most near term before growing the most longer term.
Yet after taking all company fundamentals into consideration, Enbridge Inc. delivers the most combustive financials, given its lowest stock price to forward earnings and 5-year PEG, highest cash/revenue/EBITDA over market cap, highest current ratio, highest future earnings over current stock price throughout, highest future earnings growth near term, best price targets, and highest buy recommendations percentage - decisively winning North America's New 3 Largest Oil & Gas Pipeline Companies competition.