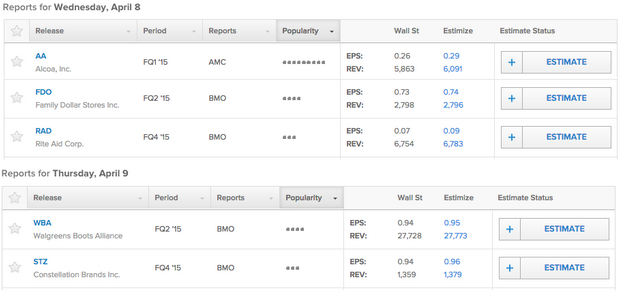 >
Alcoa - Wednesday
First-quarter earnings kick off this week with Alcoa (NYSE:AA) reporting Wednesday. The aluminum giant has launched earnings season with a roar in each of the past three quarters on top and bottom line beats.
This week Estimize contributors are predicting that Alcoa will top the consensus from Wall Street by 3 cents per share, while hoisting a major victory on revenues. Estimize analysts are looking for $6.09 billion in sales, while Wall Street is forecasting $5.86 billion.
Rite Aid - Wednesday
Rite Aid (NYSE:RAD) is the first of two major pharmacy chains set to reveal financial results for the first part of the year this week. Rite Aid's fundamentals and stock price have been boosted in part by moderate gains to same-store sales over the past several months. January, February, and March same-store sales improved 4.8%, 3.3%, and 4.3%, respectively, compared to last year.
Estimize contributors are looking for $6.783 billion in sales, which would only be a 3.3% gain overall. On the bottom line, Estimize contributors expect Rite Aid to come out 2 cents per share ahead of Wall Street's view. Estimize contributors have predicted a 2 cent beat vs. Wall Street in the previous two periods only to have their expectations topped both times.
Family Dollar - Wednesday
Family Dollar (NYSE:FDO) also participates in the earnings season opening salvo on Wednesday. The discount retailer's investors ended a long saga in January by approving a merger with Dollar Tree (NASDAQ:DLTR). Dollar Tree's chief rival Dollar General (NYSE:DG) had also been soliciting Family Dollar for a potential takeover.
Ahead of its still pending merger, Family Dollar will report earnings Wednesday before the opening bell. The consensus from Wall Street is that Family Dollar's second fiscal quarter earnings will drop from 80 cents per share last year to 73 cents. Contributing analysts on Estimize only expect a penny better at 74 cents in EPS. Estimize contributors are setting the bar even lower on revenue, expecting a marginal miss against Wall Street's projection.
Walgreens Boots Alliance - Thursday
The freshly merged Walgreens Boots Alliance (NASDAQ:WBA) will report earnings Thursday. Walgreens Boots Alliance was formed by combining the largest drugstore chain in the United States with the largest pharmaceutical wholesaler in Europe.
In addition to reporting results for this quarter, Walgreens Boots Alliance has promised to announce full-year guidance. This will help investors wrap their heads around how much money the super-giant drug seller is making. The consensus from Estimize is $27.8 billion in sales this quarter and 95 cents in earnings per share. These estimates are slightly higher than Wall Street's view, which projects $27.7 billion in revenue and 94 cents per share in profits.
Constellation Brands - Thursday
Our final featured earnings report this week comes from Constellation Brands (NYSE:STZ). The beer, wine, and liquor importer's stock has been on a roll since it acquired full ownership of Crown Imports back to 2012. That acquisition gave Constellation the rights to sell Groupo Modelo products in the United States, which include Corona.
The deal helped fuel massive fundamental growth a year and a half ago. In the past 2 years, Constellation has achieved 2 periods of triple digit revenue growth and one quarter of more than doubling its profits. Now that the Grupo Modelo products are an integrated part of Constellation's portfolio, there won't be opportunity for the same gigantic growth.
Analysts on Estimize are forecasting small to medium sized beats against the Wall Street consensus Thursday. Estimize contributors expect revenues to jump 5.6% higher than reported in the same quarter of last year, while profits rise by a meaty 18.5%.
Disclosure: None