The stock market is filled with many types of companies, some controversial, some plain and simple. We hear stories about Exxon Mobil (NYSE:XOM) and Pfizer (NYSE:PFE) often, and hear little about Procter & Gamble (NYSE:PG). Yet some companies are controversial not for their business practices, but for their financial data. Salesforce.com (NYSE:CRM) is just such a company. For all their success in cloud computing, the stock is not one we would suggest to readers, for their valuation, balance sheet, and accounting takes the term "creativity" to a whole new level.
It is undeniable that Salesforce.com has been wildly profitable for its investors, with a gain of over 720% since its IPO back in 2004. That has trounced the S&P 500's gain of just over 9% over the same period.

Salesforce has transformed the world of technology and customer relationship management -- hence its ticker symbol, CRM. Allianz, NBC, Dell (NASDAQ:DELL), Starbucks (NASDAQ:SBUX), Siemens (SI), and Google (NASDAQ:GOOG) are just some of the company's customers. The company has many things working in its favor:
Given all these positives, why is Salesforce not a buy? 3 reasons. The valuation, balance sheet, and accounting.
Salesforce trades at a P/E of over 644 for the trailing 12 months. Even granting it a forward P/E of 43 still makes it a very expensive stock. We are not shy about paying for growth stocks. Some of our best performers have been high-multiple stocks such as Chipotle (NYSE:CMG) and Amazon (NASDAQ:AMZN). But there is a limit to how much investors can pay for growth. A P/E of over 600 is absurd. To top it off, Salesforce itself states in its 2011 Annual Report that "we expect diluted earnings per share for fiscal 2012 to be significantly lower than diluted earnings per share for fiscal 2011. True, this is mostly due to massive investments in the business, but at this P/E, that means little. Even Amazon seems cheap by comparison.
Secondly, we would like to address the company's balance sheet. Most companies in the tech sector have impeccable balance sheets. Apple's is the envy of the entire corporate world with over $80 billion in cash, and no debt. Salesforce.com, on the other hand, has a balance sheet with debt nearly exceeding its cash, and assets inflated by over $600 million in goodwill, which can vanish just as easily as it is created.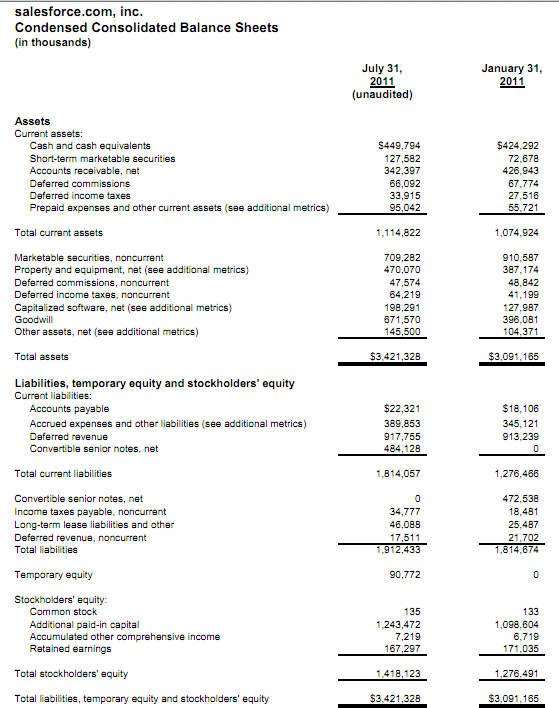 Salesforce.com's book value is supported by a weak balance sheet, and we think that investors should be cautious of this. There are many much safer investments in the tech sector, and while they may not be as rewarding, the decrease in risk should be enough compensation. But, the most important reason Salesforce is not a buy, due to its accounting.
Accounting is inherently a vague enterprise, and each company is different. GAAP accounting standardizes accounting practices across industries and sectors. Yet it can be interpreted in many ways. Take the media sector, for instance. Time Warner (NYSE:TWX) and Viacom (NYSE:VIA) report results in compliance with GAAP, and it is easy to compare them, since both companies are largely similar, with the key variations being in their brands and content.
Yet Netflix (NASDAQ:NFLX), which also reports GAAP results, uses those standards in a different way. Is Netflix playing fast and loose with GAAP? We do not think so. (For the record, we do not intend this article to be another front in the bull vs. bear debate over Netflix. We are highlighting the company to point out how differences in accounting interpretation may alter investors' view of a company.) Salesforce, on the other hand, has some very unique accounting practices that are, while perfectly legal, do raise significant questions.
Salesforce, unlike most companies, does not treat sales commissions as expenses, as is the norm with most companies. Rather, it books them as an asset and depreciates them over time. Why? Salesforce argues that it is not a traditional company. Since it does not sell software as a packaged product, but rather as a service, it recognizes revenues for that contract over its lifetime, not upfront. Therefore, the expenses associated with that contract should be spread out as well, the company argues. If the company had expensed these costs up-front, when they are truly paid, profit would have been 42% lower than reported. And although the FASB is discussing changes to the standards on this issue, we feel that this artificially inflates the company's profits.
Furthermore, new standards about recognizing consulting revenue will allow the company to accelerate revenue recognition in that division, boosting revenues in fiscal 2012 by $20 million. In addition, Salesforce takes far more risk with its cash than any other major company. It is the only company to hold mortgage debt, in the form of collateralized mortgage obligations. As Bernstein's Mark Moedler points out, had Salesforce generated the same yield on cash in FY 2011 as in 2012, he notes, both GAAP and non-GAAP EPS would have been 14 cents a share lower. But what is perhaps even more concerning is Salesforce's compensation structure.
Salesforce's stock-based compensation is huge. While not unusual for a tech company, Salesforce's insistence on ignoring it is. The company actively touts its non-GAAP EPS, which excludes this, while burying the accompanying GAAP results in its press releases. Salesforce's stock option expenses in the last quarter were $0.41 per share, which is more than its non-GAAP EPS for that quarter of $0.30.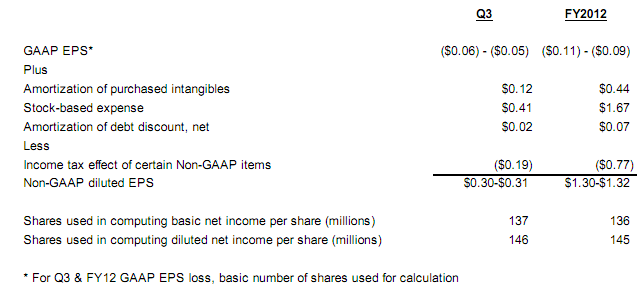 In effect, the company paid out more in stock options than the income of the entire business. We think that this is a significant issue for the company. These options will be cashed in sooner or later, putting pressure on the share price. Salesforce's P/E ratio, already extremely high, would shoot even higher if GAAP EPS was used. And 2012 will most likely be an unprofitable year for the company, based on GAAP standards. While we understand that the company is investing aggressively in its business, there are limits. Even Amazon makes money, despite its massive investments in the Kindle and its retail centers.
Salesforce is growing at an incredible pace as a business, and the company has had great success. It has helped thousands of customers improve their businesses and productivity. Yet data rarely lies. And the data here is very concerning. An extreme P/E, weak balance sheet, and a myriad of accounting issues are simply too much. Individually, any one of these issues can be justified, even the stock option expenses. But put together, these issues raise significant alarm bells.
We would not invest in Salesforce. But is it a short? That is difficult to say. The company is well-admired on Wall Street, and has a deep and loyal shareholder base. We will avoid the issue altogether and buy Oracle instead, a company with far stronger fundamentals. Salesforce.com has been able to sell its customers billions in software. But it has not been able to sell us on its stock.
Disclosure: I am long ORCL, RNOW. We are long RNOW via the PowerShares NASDAQ Internet Portfolio, an ETF that tracks selected Internet and e-commerce stocks that trade on the NASDAQ.