Europe is in a panic mode. The European Central Bank unexpectedly cut interest rates. Italian and Spanish borrowing costs soared and European leaders for the first time openly spoke about the prospect of Greece exiting the monetary union. The announcement from Papendreou on a Greece referendum, just a few days after the European leaders declared victory, was a shock for the international community. It is clear that country interest is prevailing above a European solution. A solution to the European debt crisis is further away than ever. Greece is a done deal. Question is how much worse it can get. In my view, things are looking pretty ugly.
The real indication of how bad the situation is comes from Italy. Italy's GDP is around 2.05 trillion. It is the eight-largest economy in the world. Their debt level is 119% of GDP (around $2.5 trillion). Average GDP growth in the last 10 years has been around 0.8%. Not a country that is going to grow itself out of this pile of debt.
The Italian 10 year bond yield has soared to a high of 6.39% today. Graph 1 gives a good overview of how the bad the situation has become in the last months.
Graph 1: Italian Government 10 year bond yield (source: Bloomberg)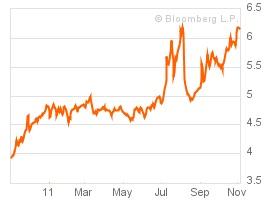 With a debt level of approx $2.5 trillion, each 100 basis points increase in bond yields increases the borrowing cost with $25 billion. Yields have risen from less than 4% to more than 6% in 1 year. This will increase the borrowing cost with more than $60 billion a year. According to the CIA – World factbook, revenue and taxes stand at 46.6% of GDP revenue. The 0.8% GDP growth only provides an additional $8 billion in government revenue. In other words, Italy requires an additional $52 billion a year just to cover the increase in interest payments. The country is getting trapped in a vicious circle where it needs to increase borrowing to cover interest payments. The last 2 years have learned that when borrowing cost reach 7%... it is game over.
I wouldn't be surprised if Italy is next.
Disclosure:
I have no positions in any stocks mentioned, and no plans to initiate any positions within the next 72 hours.