Falling manufacturing PMI in China could have adverse effects on economic growth measures going forward, weighing on asset markets. A way of gaining exposure to China's asset market is through iShares China Large-Cap (NYSEARCA:FXI)
In March, the NBS manufacturing PMI figure came in at 50.1, up from the previous month's reading of 49.9, while exceeding estimates for 49.7. A reading above 50 signals expansion. Over the last few years, however, manufacturing activity in the country has been stagnant, seen below. With slack remaining in the manufacturing sector, analysts see further policy easing in the future.
"After a string of disappointing data, the improvement in the official PMI is welcome news and suggests that the recent rate cuts and pick-up in bank lending growth may be helping to support large firms.

That said, growth is still likely to have slowed sharply last quarter and we expect more policy support measures, including further rate cuts and required reserve ratio reductions, as the government moves to avoid missing its annual growth target," Julian Evans-Pritchard, China economist with Capital Economics, told CNBC.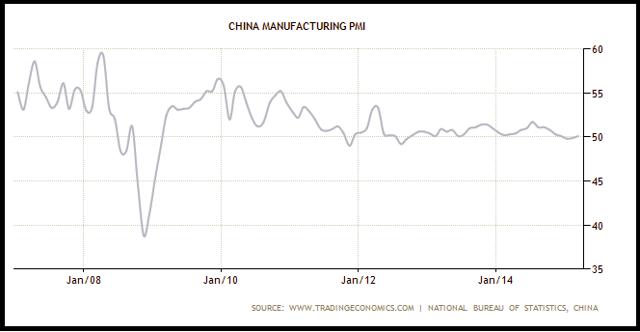 Moreover, economic growth has tracked manufacturing activity lower. In the fourth quarter, the economic growth figure came in at an annual pace of 7.3%, unchanged from the previous quarter, and above estimates for 7.2%. Since 2010, economic growth has fallen from near 12%, to current levels. Falling retail sales and investment growth could push economic activity below government targets in future quarters.
"Growth in China's investment, retail sales and factory output all missed forecasts in January and February and fell to multi-year lows, leaving investors with little doubt that the economy is still losing steam and in need of further support measures.

The figures came after data showed deflationary pressures intensified in the factory sector in February, reinforcing expectations of more interest rate cuts and other policy loosening to avert a sharper slowdown in the world's second-largest economy," according to Reuters.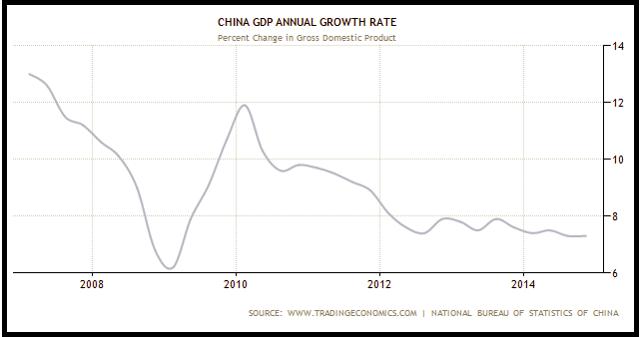 Lastly, alongside weakening economic activity, price pressures are similarly on the decline. In February, the inflation figure came in at an annual pace of 1.4%, up from the previous month's reading of 0.8%, as well as exceeding estimates for 0.9%. Since 2011, however, inflation has fallen from over 6% annually, to current levels. Pork and transport costs weighed most on the inflation measure.
"Prices decreased for pork (-1.5 percent from -5.3 percent) and liquid milk and dairy products (-1.5 percent from -0.5 percent). Downward price pressures [also] came from: transport and communications (-1.7 percent from -1.1 percent), water, electricity and fuels (-1.9 percent from -2.0 percent) and liqueur (-1.5 percent from -1.1 percent)," according to Trading Economics.
The Chinese economy continues to slow as economic activity is hindered by the falling manufacturing sector. Moreover, economic weakness is weighing on price pressures. With economic growth likely slowing, the only real catalyst for buying Chinese assets is in the event of increased stimulus measures enacted by desperate policymakers in coming months.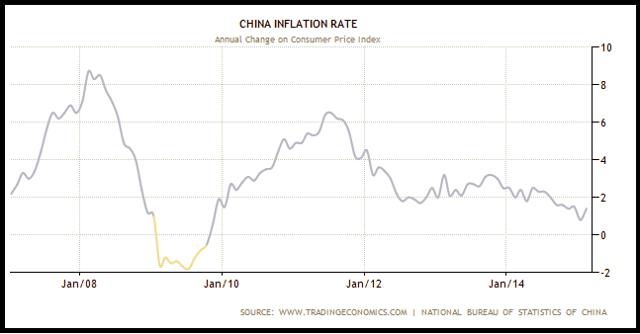 Disclosure: The author has no positions in any stocks mentioned, and no plans to initiate any positions within the next 72 hours.
The author wrote this article themselves, and it expresses their own opinions. The author is not receiving compensation for it (other than from Seeking Alpha). The author has no business relationship with any company whose stock is mentioned in this article.