Ekso Bionics Holdings, Inc. (NASDAQ:EKSO) shares have been up huge since the start of April, on the announcement that an individual in the U.K. has 1) won the cost of an EKSO GT robotic exoskeleton in a lawsuit; 2) the replacement costs to follow in years to come; and 3) any and all related utilization costs. You can imagine that this precedent potentially has very positive long-term implications for the company.
Ben Rogers, Partner at Stewarts Law LLP (the U.K.'s largest litigation only law firm that specializes in high-value and complex disputes), was quoted as saying:
"So far as we are aware, this is the first time that damages have been recovered in England & Wales to reimburse for the cost of a home rehabilitation device and a trained physiotherapist to operate it. The settlement reflects both the ability in principle to recover damages for the Ekso Bionics robotic exoskeleton and of course the need for specialized medical and legal experts to assist with processing these claims (SOURCE: EKSO UK PR)"
I've been recommending a speculative long position in EKSO, depending on time horizon and risk tolerance, since initiating coverage on the company back in mid-July 2014 (for Seeking Alpha PRO members), and it has been mostly for reasons described in yesterday's PR. I believe that EKSO will be a viable player in the exo rehab vertical of the broader exo space, as well as the only prominent player in the future verticals of construction and military end-points. I believe that EKSO has a competitive exo in the rehab vertical, but prior to this "U.K. PR," I would have and have been telling private investors that the company's exo is no more preferential to the exo offered by Rewalk Robotics (RWLK). This PR implies something substantially more bullish for EKSO:
"During my case, many subjects were discussed and items of equipment reviewed including other, similar exoskeletons. One such item was the Ekso (referring to the EKSO GT robotic exoskeleton) and it proved to be more valuable than I could imagine, and in a league of its own," said Dale (the paralyzed recipient of the EKSO GT). "The benefit I experience from the Ekso ranges from pain relief, improvements to my bladder/bowel function and more recently an increase in my motor function and sensation."

- Source: EKSO U.K. PR
If EKSO can develop a reputation for having a more efficacious exo, whether this is verifiable or not, it would substantially pull forward the admittedly vague "long-term" bull case for the company that I have outlined for SA readers. I'm not sure that there is near-term way for EKSO to prove out that its exo is more efficacious from the standpoint of providing data and/or analytics, as studies to publish such data usually require years of test time and large population pools; but for me, it's almost more important that EKSO establish itself as efficacious in reputation as in data. Put simply, I think that when it comes to the legal arena and potential litigants being awarded exos in settlements, earning the top-of-mind request from the party requesting the exo is more important than having a publication in a journal somewhere attesting that it should be the chosen exo. With the EKSO GT having already been an exo that a court has awarded, I think that the legal arena will find it a path of least resistance to continue to request this model. Why take on the risk of requesting a RWLK exso when you have the EKSO GT as low-hanging fruit?
I've been 75%/25% long-term bullish this name for its construction/military monetization routes versus its medical device/rehab monetization routes. That said, I have also outlined that the exact dates of monetizing its HULC and MANTIS exos would be irresponsible to try to predict, but that recent developments have been clearly supportive of this vertical moving forward. You can imagine, having a near-term revenue generator with scale-up potential would significantly alter the financial situation, which has been one of cash burn and ensuing cash raise. EKSO, for the record, has been a habitual fader on equity pricing pops for this exact reason, and has been a habitual diluter as a result of its inability thus far to scale-up revenues. If EKSO can make way into moving towards cash flow breakeven, this could slow or ultimately stop the what seems like constant dilution.
Finally, and this is big for long-term holders, this announcement increases the potential revenue derivation for EKSO's rehab vertical in a way that might be the final straw that compels a company to make a purchase offer. Google has been very active in the robotics space recently, and an acquired company is currently partnered with EKSO on a Defense Advanced Research Projects Agency task. I believe the story at the company continues to shape positively for bulls, and that my patience will eventually pay out. Now, can I get specific, or am I willing to get specific as to the overall market size of the "rehab" vertical, or can I or will I get specific as to how much revenue I think EKSO can generate in this vertical in the near term? I'd rather not, because, as I said above, I think that can lead to some really irresponsible numbers being used as hypotheticals - and in a space this young that deals with so many variables (medical, governmental, military, legal, etc.), I just think that can call into question author credibility. I will, however, point readers to pages 8-12 of the recently filed 10-K, which does outline that there are hundreds of thousands of people worldwide that would qualify for seeing benefit from an EKSO exo, both in the limited-mobility and able-bodied market. Would be easy for me to say that EKSO's total addressable market is in the billions, and that it could potentially do "x amount of billions" in revenue per year? Yes. But is that realistic near-term, and responsible? Probably not. If you're going to own EKSO, don't own it for a flip - own it for a longer-term hold, and because you believe in the capacity of the space. Not because you think you can model with accuracy exactly how the space will develop, and exactly how quickly the company can monetize it.
I continue to recommend a long position in EKSO; make sure the pricing here holds before deciding to jump in at these levels, for those who do extensive due diligence and still like the attractiveness of the space and the company.
The shares are up ~59% since initiation: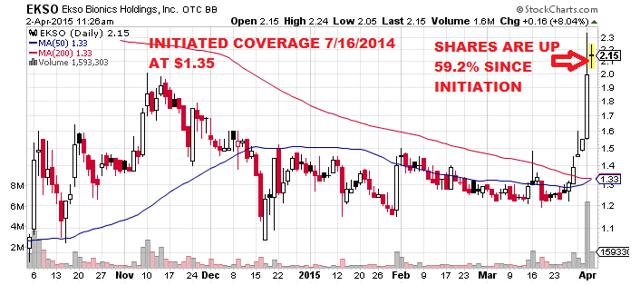 Good luck, everybody.
Editor's Note: This article discusses one or more securities that do not trade on a major U.S. exchange. Please be aware of the risks associated with these stocks.