Happy second quarter! Welcome to my new readers that came on board with last week's column, Top Biotech Value Picks Starting Q2 2015. We've had a bit of a lackluster start to the quarter for biotech, with the iShares Nasdaq Biotechnology ETF (NASDAQ:IBB) down 1.1% and the SPDR Biotech ETF (NYSEARCA:XBI) down 2.3%. Both continue to exhibit impressive returns on a year-to-date basis, with IBB up 12.0% and XBI up 18.2%.
Small cap biotech investors are always concentrating on finding the next big standard of care. As an investor in the small cap biotech space, this should always be a major goal as it is something that can lead to enormous returns given the steady cash flow and high peak sales that a treatment becoming the next standard of care in a sizeable market can provide. While the robustness of a company's pipeline based on things such as market potential, chance of approval, and time frame to reach the market are all important, I want to spend this week's piece discussing why financials matter in small cap biotech investing as this is an underappreciated part of the due diligence necessary for biotech investors. Topics that I will highlight include:
Debt
Cash Burn
The Headline Number
1. Debt: Many small cap biotechs never enter the debt market to raise funds, as they will just sell common stock. While many investors might initially think they would rather have their biotech company raise money in the debt markets as opposed to diluting their investment with more common stock, it's important to realize that large (compared to the company's market cap) debt offerings with high interest rates can have a crippling effect on companies later down the road. Missteps along the way after debt offerings such as a slow drug launch, a significant failure in the clinic, or timeline delays are all factors that can cause debt to overtake a company.
For an example of this, look no further than Dendreon Corporation (OTCPK:DNDNQ), which announced entering chapter 11 bankruptcy on November 10th, 2014.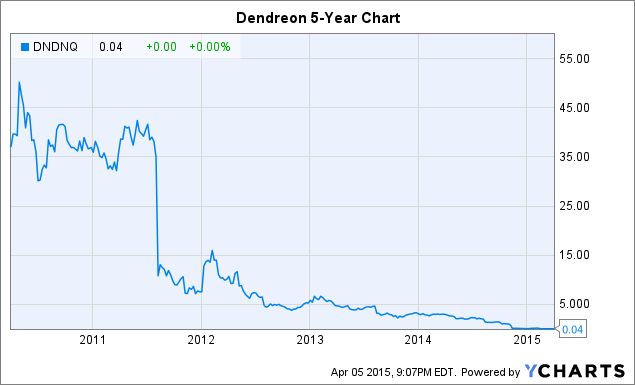 DNDNQ data by YCharts
Dendreon was hampered by a disappointing start for Provenge, its treatment for advanced prostate cancer. Seeking Alpha's Bill Maurer had long been highlighting the risk of the company's poor balance sheet and discusses this here. As you can see from his chart below, the company was engulfed by its debt and could no longer survive as a company:

Source: Bill Maurer - Dendreon Files for Bankruptcy
A recent example I have highlighted as posing similar risk as Dendreon is Exelixis (NASDAQ:EXEL). The company's debt structure is illustrated below:

Exelixis holds this almost $475 million outstanding debt balance, while only having approximately $243 million in cash and equivalents. The company has an extremely important readout from the METEOR trial, which is the pivotal Phase 3 study of cabozantinib in metastatic renal cell carcinoma. I have taken the position that the company will certainly be able to survive with positive METEOR results, as it would open up a $400 million in peak sales opportunity for the company, but I believe that the company will likely head on the path toward bankruptcy if this trial fails. So far, the stock has performed very well year-to-date. Various members of the financial media have come out positive on the name in the past few months, with Seeking Alpha author Thomas Chin already saying that "Expected METEOR Success Changes Everything." My opinion is that the bulls are not considering the potentially crippling debt load and are overestimating the chance of success of METEOR. As a general comment, I would say that it's not smart to assume a trial will be a success based on calculating an overall survival or progression-free survival figure based on trial enrollment timeline, as trials are not that simple for this to be an accurate methodology. Will METEOR be a success? Most would agree that chances are certainly less than 50% that it will be. Time will tell, and I look forward to seeing the results.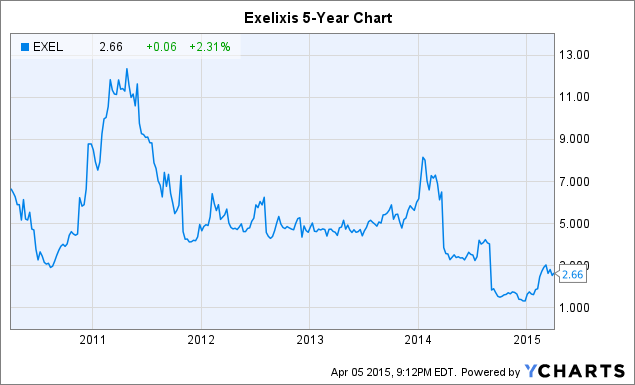 EXEL data by YCharts
What other companies in the small cap biotech space have debt loads that should concern investors? To find others that may have issues with substantial debt loads, a good place to start would be screening by debt to market cap. A few companies I would highlight with debt that is a bit concerning are Vivus (NASDAQ:VVUS) (increasing competition), Navidea Biopharmaceuticals (NYSEMKT:NAVB), and potentially MannKind (NASDAQ:MNKD) (slow launch).
2. Cash Burn
As a biotech investor, cash burn is something that should always be on your mind. Questions you should always be asking yourself are:
How much cash and cash equivalents were on the balance sheet as of the last quarterly report?
How much cash and cash equivalents are currently on the balance sheet if I project out how much cash the company likely burned between last report and now?
How much cash and cash equivalents will they have at the next catalyst?
How will cash burn be affected by trials the company will be initiating?
When will capital expenditures on trials wrapping up end, and how will this affect cash burn?
While cash and cash equivalents as of the last corporate update should be where you start your cash and cash burn research, this by no means should be where it ends. Too often I see people quoting the cash balance as of calendar third-quarter end in mid-March, seemingly ignoring the cash that was burned in the five-and-a-half months between October end and mid-March. While it is annoying how delayed cash updates can be, especially after fiscal year end given that companies have a quarter or so to file a 10-K, it's important to not ignore the cash that is being burned while investors are waiting for the annual report.
In the example of Sophiris (NASDAQ:SPHS), investors buying the stock after its market cap dropped from over $45 million to approximately $10 million in December continued to quote the company's cash and equivalents balance of $29.1 million as of October end. The company certainly did not have $29.1 million in mid-December. The market is very smart in that it does not care how much cash you have on the balance sheet as of the most recent corporate update, but it cares how much cash you will have by the time of your next catalyst (a phenomenon I discussed in a previous Biotech Weekly). In the case of Sophiris, the company burns approximately $6.5 million per quarter and has no major clinical catalysts to year-end 2015, as it continues to push back the timelines for trial readouts and initiations. As I listed above, considering cash that will be burned by trials that the company is expected to initiate is also important. In the case of Sophiris, it is expected to initiate a Phase 2 proof of concept trial for PRX-302 in low to intermediate risk prostate cancer, though it has pushed the timeline back on this multiple times. When it finally does begin this trial (which I presume they will PR), cash burn will rise to $7.5-8 million a quarter. Given this, the $29.1 million as of October 2014 end will be close to zero by the time of the next catalyst near the end of 2015, which is the 12-month readout for PRX302 in BPH.
In the case of companies with a deeper pipeline, understanding how cash burn will be affected by trials being initiated and trials wrapping up is very important. For the example of Exelixis, the company has a number of Phase 3 trials that have already provided readouts for which the company is potentially still incurring costs, as the trials have not fully wrapped up. I would much prefer if companies would break down R&D costs by trial as this would be a substantial help for shareholders trying to understand what costs are rolling off and when they are rolling off, but many companies do not provide this information. I requested that Exelixis provide additional information on this as it would help investors better understand their cash situation.
3. The Headline Number
I've seen a number of things in regards to headline numbers and small cap biotechs that I wanted to discuss, and I figured this article would be a good avenue to do so. First off, the headline number (the earnings per share) matters very little for small cap biotechs. Small cap biotechs are being valued based on the net present value of future earnings given the probability of assets reaching the market. Most of these names have little or no revenue. While a large milestone payment for achieving a goal in the clinic is one way a small cap biotech might turn a profit in a quarter, I wanted to point out a couple recent examples so investors can have a better understanding of why you might see a positive headline number when you know the company is losing money.
On March 17th, AEterna Zentaris (NASDAQ:AEZS) issued its year-end 2014 corporate update, with Seeking Alpha coming out with the headline "AEterna Zentaris beats by $0.22" and stating "Q4 EPS of $0.06." Anyone that has been watching AEterna knows it is by no means making a profit and has not been able to guide a product through the clinic to commercialization. In the case of this headline number, the only reason the company showed a profit is that its warrant liability declined by over $14 million because the company's stock tanked after receiving an ugly CRL for Macrilen:

Source: AEterna Zentaris 3/17/15 10-K
The company was able to report this positive EPS all the while having no sales:

Source: AEterna Zentaris 3/17/15 10-K
On March 26, 2015, Minerva Neurosciences (NASDAQ:NERV) issued its corporate update. My StockTwits stream flowed with people tweeting that Minerva made $4.47 per share profit. Knowing that Minerva is a biotech company led by a Phase 2b asset and no commercialized products, I knew this wasn't right, but I was unsure where the information had originated. The company PR accurately stated that "net loss was $56.9 million for the full year ended December 31, 2014, or a loss per share of $4.47 (basic and diluted)." The wrong information for this actually originated from a media distribution outlet. The lesson here? Always check the primary source!
Conclusion
While researching the valuation of pipeline assets through looking at projected market share, chance of reaching the market, and timeline to reach the market are all very important, company financials should not be ignored. Cash burn and debt are two important aspects to look at when looking at financials in the small cap biotech space. There are many other important aspects to look at that are not discussed in detail here such as warrants, preferred stock, and also inventory if the company has a commercialized product. While looking at the headline number is typically not very helpful, always be skeptical if the number does not look right when it comes across your screen. Things like changes in warrant valuation can cause a struggling biotech to report a nice headline number. Additionally, always check the primary source!
Disclosure: The author has no positions in any stocks mentioned, and no plans to initiate any positions within the next 72 hours.
The author wrote this article themselves, and it expresses their own opinions. The author is not receiving compensation for it (other than from Seeking Alpha). The author has no business relationship with any company whose stock is mentioned in this article.
Editor's Note: This article covers one or more stocks trading at less than $1 per share and/or with less than a $100 million market cap. Please be aware of the risks associated with these stocks.