Oxigene Inc. (OXGN) announced yesterday final results from the FALCON phase 2 trial of ZYBRESTAT™ in non-small cell lung cancer (NSCLC) patients that were mixed. The results indicated no overall survival (OS) benefit for the overall patient population, with the median OS at 13.6 months in the ZYBRESTAT™ arm versus 16.2 months in the standard therapy arm.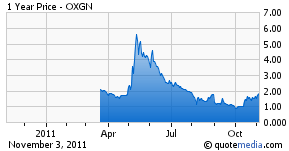 However, improvements were observed in patients with large or hard to treat tumors who appear not to be well-served by the standard therapy. In those patients with aggregate tumor burden greater than 10cm, median OS was 14.2 months in the ZYBRESTAT™ arm versus 11.0 months in the standard therapy arm. Furthermore, the combination regiment was observed to be well-tolerated with no significant cumulative toxicities or overlapping toxicities with Avastin's anti-angiogenic drug bevacizumab, when compared with the control arm of the study.
The control arm of the study included standard chemotherapy drugs carboplatin and paclitaxel, combined with bevacizumab that blocks angiogenesis or the growth of new blood vessels. The FALCON trial was a randomized, controlled study investigating the addition of ZYBRESTAT to standard therapy in patients with Stage IIIb or IV predominantly non-squamous NSCLC. Besides NSCLC, ZYBRESTAT™ is being studied in a phase 2 study of patients with relapsed ovarian cancer, and it recently reported encouraging results from a phase 2 study in anaplastic thyroid cancer (ATC).
The FALCON trial enrollment was completed in June 2010, and updated data previously reported on June 6th showed a progression free survival of 8.6 months for the ZYBRESTAT™ arm versus 9.0 months on the control arm. Furthermore, an analysis of patients with poor performance status (ECOG 1 status) who received ZYBRESTAT in addition to bevacizumab and chemotherapy achieved a median time to progression of 9.8 months compared with only 3.8 months for patients in this same subgroup on the control arm of the study.
As can be seen by comparing these update results from June 2010 with the final results from the phase 2 FALCON study released yesterday, the final results are slightly worse for ZYBRESTAT™ in both the overall group and the ones with a greater tumor burden.
We believe that yesterday's negative trial results reduce the likelihood that OXGN will strike a collaboration partnership or a buyout by a big pharmaceutical company anytime soon. This was heavily rumored last month, and at least in part resulted is a near 150% gain. We believe that OXGN shares are headed back down towards the $1 level.
ZYBRESTAT is Oxigene's lead vascular disrupting agent (VDA) product candidate, a technology that works by damaging the vasculature or blood vessels of cancer tumors. Besides OXGN, a number of other companies have been testing VDAs. This includes Australian drug company Antisoma, who in collaboration with Novartis Ag (NYSE:NVS) failed in its phase 3 trials of lead drug Vadimezan or ASA404, a VDA in NSCLC. Also, Astra-Zeneca Plc (NYSE:AZN), a developer of branded prescription therapeutics to treat various diseases and conditions, recently failed in its phase 2 trials of a VDA, ZD6126, in two phase 2 clinical trials in metastatic renal cell carcinoma and metastatic colorectal cancer.
Furthermore, Sanofi (NASDAQ:SNY), a large French pharmaceutical product and vaccines company with over $45 billion in annual revenue, is testing a VDA, Ombrabulin, in its Oncology programs, in a phase 3 trial in patients with advanced-stage soft tissue sarcoma. Synta Pharmaceuticals (SNTA), a developer of small-molecule drugs indicated for the treatment of cancer and chronic inflammatory diseases, is also testing a VDA, STA-9584, currently in pre-clinical trials in advanced prostate cancer. And finally, oncology-focused biotech company YM Biosciences Inc. (YMI) is also testing a novel anti-cancer VDA, CYT997, in phase 2 clinical trials in combination with chemotherapy in patients with relapsed glioblastoma multiforme (brain cancer).
Disclosure: I have no positions in any stocks mentioned, and no plans to initiate any positions within the next 72 hours.
Disclaimer: Material presented here is for informational purposes only. Nothing in this article should be taken as a solicitation to purchase or sell securities. Before buying or selling any stock you should do your own research and reach your own conclusion. Further, these are our 'opinions' and we may be wrong. We may have positions in securities mentioned in this article. You should take this into consideration before acting on any advice given in this article. If this makes you uncomfortable, then do not listen to our thoughts and opinions. The contents of this article do not take into consideration your individual investment objectives so consult with your own financial adviser before making an investment decision. Investing includes certain risks including loss of principal.