US markets opened up this morning to the downside, but have quickly turned around and are now showing green arrows. The economic data from Friday, the jobs numbers, were pretty awful and missed estimates by a very large margin. While some are saying that this definitely pushes the Fed's rate hike off, we think it is too early to jump to conclusions, even though we have said the Fed is going to move slow. Readers should know by now that it does little good to get caught up in the speculation over what the Federal Reserve may or may not do. Stick to your plans, invest accordingly and do not react to single news items because the Fed most certainly will not.
In what could be setting the field for an interesting battle, there are reports out that indicate that IBM (NYSE:IBM) has hired advisers to help it fend off any activist investors that may launch an attack after the company learned that some of its largest shareholders were seeking help from activist investors to turn the ship around.
Chart of the Day:
It has been a very rough year for Qualcomm (NASDAQ:QCOM) investors, and just when they thought that the company's stock had put in a bottom, they get hit with more bad news. The dividend and buyback program should provide some support, but we would not be surprised at all if we saw the lows of the year tested.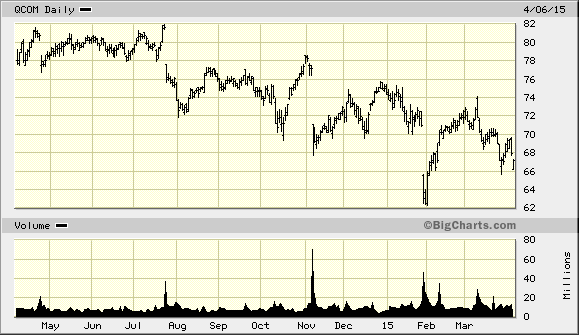 Source: BigCharts
We have economic news today, and it is as follows:
ISM Services (10:00 a.m. EST): Est: 56.9 Act: 56.5
The Asian markets are higher today:
All Ordinaries - CLOSED
Shanghai Composite - up 0.99%
Nikkei 225 - down 0.19%
NZSE 50 - CLOSED
Seoul Composite - up 0.05%
In Europe, markets are higher today:
CAC 40 - up 0.24%
DAX - down 0.28%
FTSE 100 - up 0.35%
OSE - CLOSED
Bad News Stocks
Talk about disappointing names right now and two names likely to be brought up are Herbalife (NYSE:HLF) and Qualcomm. While the news for the two as of late has been mixed, today's news reverts back to the bad. Let's start with Herbalife, which today confirmed to CNBC that some of the company's top sellers were contacted by federal authorities seeking information. According to the reports, Herbalife's top ten sellers were contacted and asked for information. Herbalife has offered to assist these sellers in obtaining legal counsel, but as very little is known regarding which agencies contacted the sellers and what information was sought, it is not known whether any of the top sellers have engaged, or will need to engage, legal counsel.
The story over at Qualcomm seems to get bleaker by the day, as it pertains to its mobile business and Samsung's (OTC:SSNLF) latest generation of mobile phones. In a teardown conducted by Chipworks, it was discovered that Samsung has been substituting more of its chips for Qualcomm products in what appears to be an effort to increase its margins on the phones as its market share decreases. The fact that Samsung is using its own versions of the modem and power management integrated circuit chips for certain carriers, with AT&T (NYSE:T) confirmed, is a blow to Qualcomm and could indicate business which has been lost forever (assuming of course that the chips' performance and durability hold up).
Qualcomm had appeared to turn a corner when management announced the huge share buyback a while ago, but now it appears that all of the goodwill that the gesture created has now been depleted along with the equity gains. While the business has experienced some setbacks, we might be interested in the company's shares as the dividend yield approaches 3%.
Other news that will be a drag on Qualcomm's shares today is the downgrade from FBR, which lowered its rating on the shares to 'market perform' from 'outperform' and its price target to $72/share from $80/share.
REIT Announces Acquisition, Spinoff
Ventas (NYSE:VTR), the large Chicago-based REIT focusing on healthcare facilities, announced a deal to acquire Ardent Medical Services, which is owned by the private equity firm Welsh, Carson, Anderson & Stowe for $1.75 billion in cash. Ventas will then split the company into two entities, keeping the real estate holdings for itself and selling the hospital operations to a new entity to be run by the current Ardent management. Ventas has the right to own up to 9.9% of this new entity and will be able to participate in future deals that the company enters into. The purchase is expected to add $0.08-$0.10/share to Ventas' funds from operations in the first full year.
In a separate announcement today, Ventas announced that it was spinning off most of its post-acute/skilled nursing facility portfolio into a newly formed company. Ventas' shareholders will receive one share in the newly formed company for every four shares of Ventas that they own.
Disclosure: The author has no positions in any stocks mentioned, and no plans to initiate any positions within the next 72 hours.
The author wrote this article themselves, and it expresses their own opinions. The author is not receiving compensation for it (other than from Seeking Alpha). The author has no business relationship with any company whose stock is mentioned in this article.
Additional disclosure: T has previously been recommended.