Stock exchange traded funds rallied Thursday after Greek Prime Minister George Papandreou called off the referendum on the bailout plan and on speculation that the embattled leader may now step down.
In U.S. stocks, the Dow gained 200 points and SPDR Dow Jones Industrial Average ETF (NYSEARCA:DIA) advanced 1.76%.
Vanguard European ETF (NYSEARCA:VGK) was up 3.1% at last check Thursday, iShares MSCI Europe Financials Index (NASDAQ:EUFN) was up 3.3% and CurrencyShares Euro Trust (NYSEARCA:FXE) rose 0.6%.
Papandreou announced he will drop the referendum if the opposition party supports the harsher fiscal cuts required for additional aid while finance minister Evangelos Venizelos already informed European leaders that Greece will drop the referendum, according to a WSJ.com report. [Gold ETFs Rise on Greece Uncertainty, ECB Rate Cut]
Speculation of Papandreou's imminent resignation also supported the markets, since this action would remove the need for the politically influenced referendum on the bailout package. [Euro ETF Steady After Rate Cut]
"I think the prime minister is coming to terms that he can't carry on leading the country. He is looking into whether and how a national unity [administration] could be formed," a cabinet minister said in the WSJ article. "He may visit the president of the republic to discuss this as early as today."
"From a market perspective, it seems to be good news," Stephane Ekolo, chief European strategist at Market Securities, said in a Bloomberg report. "It somehow reduces uncertainty and may pave the way for the implementation of the austerity measures."
"The referendum will revolve around nothing less than the question: does Greece want to stay in the euro, yes or no?" German Chancellor Angela Merkel said earlier ahead of the Group of 20 summit. French President Nicolas Sarkozy promised Greece would not receive a "single cent" of assistance if the plan was rejected.
Vanguard European ETF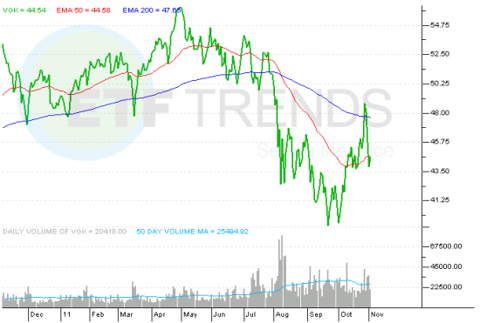 Max Chen contributed to this article.
Disclaimer: Tom Lydon is a board member of the funds for Rydex|SGI.