In the corporate world, there are select companies that are immediately recognizable the world over. They are icons of the modern, global era. The company we want to highlight today is just such an icon, instantly recognizable by millions.
Nike (NYSE:NKE) is one of the world's largest apparel companies, with revenues of almost $21 billion in fiscal 2011. And that is just a fraction of what the company is capable of. The company is on track to post record revenue and EPS this year, and now is an opportune time to invest in the stock. The company's 17.48% advance over the past year, in our mind, does not reflect its true fundamentals.
Click to enlarge

Nike investors have been concerned with economic conditions around the world, but the company's results show that macro-economic uncertainty is not a big issue for the company. In the most recent quarter, Nike's revenues grew by 18%, to $6.1 billion and EPS grew by 19% to $1.36.
Nike, unlike many consumer companies, is not retreating in the face of uncertainty. The company is investing aggressively in its retail and marketing efforts, and those investments are paying off. On the Sept. 22 conference call (see transcript), CEO Mark Parker summed up Nike's dominant position, noting that
"we all know the economic uncertainty that we're seeing in the world today is putting pressure on consumers around the world. Yet, in most countries, we continue to see solid growth in Footwear and Apparel sales, which tells me the growing middle class in developing markets is increasing consumption and that consumers everywhere are ready to buy when they feel good about what they get for their money. At the same time, some countries face slow or no growth, while others work to avoid overheating. Some consumers have returned to higher end goods, while others are trading down or cutting back. These conditions place a premium on companies like Nike, with broadly diversified businesses that are not over reliant on any one market, one price point for one consumer demographic."
Nike is in a unique position in retail. Customers need not trade up or down away from Nike. They simply need to trade up or down the various Nike product lines. Nike has both premium and value products, allowing it to capture sales and profits from the entire spectrum of consumers.
Nike's e-commerce business grew more than 30% this quarter, and the company has streamlined its factory stores to manage inventory. All these investments are designed to position the company for 2012, which will be one of the biggest years in sports. In 2012, we will have March Madness in college basketball and BCS in football, along with the European Championships. Nike is beginning a new era with the NFL, and CEO Parker has "seen the early concepts and design work on the NFL, and its's truly amazing. I look forward to rolling out that story as we approach to [the] 2012, '13 season." But, more important than all of those events are the 2012 Olympic Games. No sporting event is more widely followed, and Nike is poised to reap record profits from the 2012 games. Barclays noted, in its upgrade of Nike from a price target of $100 to $125, that the company's shares have outperformed the S&P 500 by an average of 24.5% over the last 5 Olympic cycles, and the firm expects that outperformance to continue.
On the call, management was pressed on its planned price increases, due to "deteriorating macro-economic conditions." Nike management responded deftly, saying that they
"would say that we're confident in our position on pricing, not cavalier but confident. We have, as Don pointed out very well, that our brand strength, the strength of our product that's in the pipeline coming for spring, what we're going to see the bulk of those price increases to take effect, really feel like we're in a great position to cover those price increases, really better than anybody else in the industry. So I'm not overly concerned but we are keeping a close eye on that, as we are with the rest of the industry. But I think we're in the best position to really take on those price increases at this point in time."
Nike's brand equity is such that they can increase pricing and still post record numbers. Customers all over the globe, particularly those in emerging markets, associate Nike with wealth and success, and as such are willing to pay a premium for it. Future orders, a key gauge of demand, rose 16%, to $8.5 billion.
Nike is well positioned for future growth and success. The company's balance sheet is strong, with $3.9 billion in net cash, or $8 per share.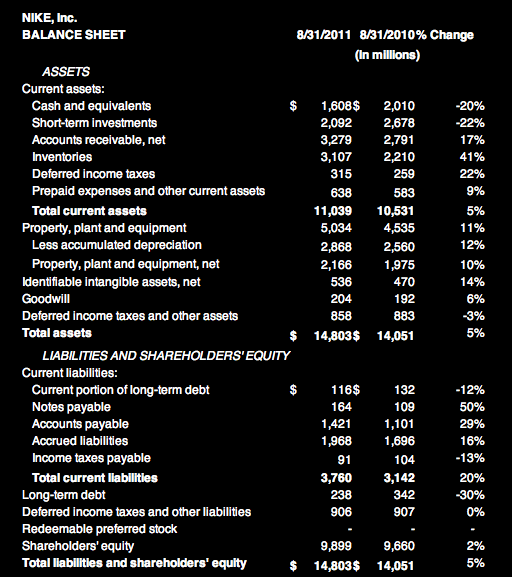 Nike, despite its run, is still cheap, trading at under 21 times earnings. And its forward P/E is below 9, implying continued strong earnings growth. The company is estimated to post $4.97 in EPS in 2012. Cash flow has grown by 8.1% annually over the last 5 years, and the dividend has risen by an average of 15.3% annually. The stock currently yields 1.3%, and there is ample room for it to grow. Analysts are upbeat on the stock, with Barclays seeing it at $125, Goldman seeing it at $108, and the average target at $102.63. We think that as 2012 approaches, the mean target will rise as analysts see the ample growth opportunities ahead for Nike.
Nike's slogan is "just do it." And given the company's growth profile, valuation, and balance sheet, investors should just add Nike to their portfolios.
Disclosure: I have no positions in any stocks mentioned, but may initiate a long position in NKE over the next 72 hours.