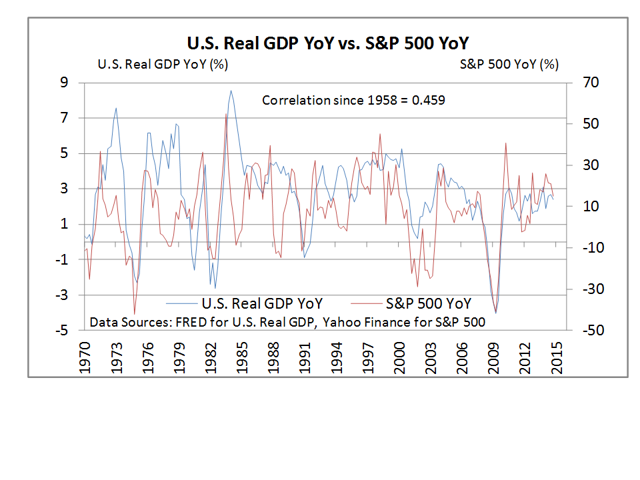 Latest U.S. economic data came in softer: last week's employment numbers were disappointing, while ISM Services ticked marginally lower. Markets went up - on a combination of bullish central bank comments from Dudley, short covering, a jump in oil prices, good weather, and whatever else journalists invent to rationalize price movements on the fly.
Nevertheless, equities had a good day and it takes a certain level of conviction to buy equity beta here as equities are certainly not cheap: the S&P's trailing P/E ratio is around 20, the Shiller cyclically adjusted P/E is around 27 (if you believe in a cyclically adjusted P/E), and forward P/Es have to be taken with a grain of salt due to perpetual analyst revisions. How disconnected are equities from real economic growth?
Equity price performance depends - at least in part - on real earnings growth, and earnings should be reflected in GDP somehow. Ignoring lead/lag effects and timing issues, the chart shows U.S. real GDP vs. the S&P 500 (both year-over-year percentage changes).
Using quarterly data frequency, the correlation of the two series since 1958 is 0.45; the correlation since 2009 is in excess of 0.8. The median real GDP growth is 3.2% while the median YoY price change for the S&P 500 is 9.3%. Since January 2009, the median real GDP growth is 1.9%, and the median YoY price change for the S&P 500 is 12%.
Real GDP growth is below its long-term median while median price changes for the S&P are well above the long-term median of 9%, i.e., the economy is growing slower than normal, while equity prices are increasing faster than normal. While this dichotomy may continue for a while, it is indicative of asset price inflation.
The views expressed in this publication are the personal views of Paul Ticu. This document is not research and should not be treated as research. This document does not represent valuation judgments with respect to any financial instrument, issuer, security or sector that may be described or referenced. This publication has been prepared solely for informational purposes. The information contained herein is only as current as of the date indicated, and may be superseded by subsequent market events or for other reasons. Nothing contained herein constitutes investment, legal, tax or other advice nor is it to be relied on in making an investment or other decision. This publication should not be viewed as a current or past recommendation or a solicitation of an offer to buy or sell any securities or to adopt any investment strategy.
No representation or warranty, express or implied, is made or given by or on behalf of Paul Ticu or any other person as to the accuracy and completeness or fairness of the information contained in this publication and no responsibility or liability is accepted for any such information. By accepting this document, the recipient acknowledges its understanding and acceptance of the foregoing statement.
Disclosure: The author has no positions in any stocks mentioned, and no plans to initiate any positions within the next 72 hours. The author wrote this article themselves, and it expresses their own opinions. The author is not receiving compensation for it (other than from Seeking Alpha). The author has no business relationship with any company whose stock is mentioned in this article.