Background
Let me begin by introducing myself. I am a 32-year old who stumbled upon Seeking Alpha late in 2013 when I was trying to find a better way of investing than watching my mutual funds continually underperform the market. I am continually impressed by the quality of articles that individuals publish, but I feel at times more real-world results would be of benefit to the community. I am hoping that by starting a series of monthly articles, I will be able to give others investing ideas while at the same time give me ideas on how to improve my portfolio through your comments, suggestions, and criticisms. Additionally, I hope that younger investors can learn from my early investing mistakes, which I will outline in this article.
The portfolio I will be discussing is my IRA, comprised of rolled-over funds from my two previous employers. The fund currently sits at about $70k, and in looking at my family's total assets (wife's IRA, my Roth IRA, company stock, home equity, cash), it represents about 20% of our current net worth. At the start of 2014, I had approximately $40k in the fund, and I rolled an additional $27k in during the summer of 2014.
My brokerage gives me 100 free trades a year (I am grandfathered in, I do not believe they offer this anymore), so I do not feel any need to aggregate funds to trade to minimize the cost. I also do not regularly contribute to this fund, as my contributions go into my 401(k) and Roth IRA. So for the time being, and unless I switch jobs, growth within the fund will be organic.
I will begin the discussion with my experiences from 2014 and how they have shaped my current positions and portfolio.
2014
I ended 2013 by selling out of my mutual funds and bought into American Realty Capital Properties (ARCP) and Realty Income (NYSE:O) equally. The portfolio was only $40,000 at the time as I had not yet rolled in my next $27k. Based upon articles from Seeking Alpha, I viewed REITs as an asset class worth investing in, as they had trailed the market considerably in 2013. My bet paid off considerably, and in early 2014, I had large gains as these positions appreciated considerably. In hindsight, I took on a large amount or risk by investing in 2 positions only, but I was willing to take the risk as I saw myself being relatively young, and I noted that the IRA was only a fraction of my overall portfolio.
After watching my newfound investments come back to earth in March of 2014 (though I was still up), I opted to diversify and sold off my investment in Realty Income in favor of higher-yielding investments in LinnCo, LLC (LNCO), Fifth Street Finance (FSC), and American Realty Capital Healthcare Trust (NASDAQ:HCT). I traded quality for yield, and this would haunt me later. I fortunately also sold ¼ of my ARCP and bought SYSCO (NYSE:SYY). During this time, I also made some trades in ARCP and STAG Industrial, Inc. (NYSE:STAG), taking small gains, and largely was doing alright.
By the time summer came along, I had a fresh $27,000 from a 401(k) rollover to add to the portfolio, and I opted to invest largely in dividend aristocrats and lower-yielding companies that mostly fit into the "challengers" category of David Fish's classification scheme. I viewed this as a way of adding some much needed diversification, particularly with higher-quality companies with much more stable and growing dividend payouts. The additional $27,000 was investment (about) equally into Bemis Company (NYSE:BMS), Cardinal Health (NYSE:CAH), Molson Coors Brewing Company (NYSE:TAP), Patterson Companies (NASDAQ:PDCO), Procter & Gamble (NYSE:PG), Target Corp. (NYSE:TGT), Unum Group (NYSE:UNM), 3M Company (NYSE:MMM), and STAG.
My strategy through all of this was to build up a portfolio of monthly payers and staggered quarterly payers, at a relatively high yield, such that I could trade multiple times per month to keep me engaged and to compound at a high rate.
I was riding high through September, but in Q4 2014, my short-lived win streak came to a screeching halt when I was hit by:
Accounting scandal at ARCP - most everybody knows what happened here, stock declined considerably.
Fall out in commodity prices (oil and natural gas) - tanking LNCO along with many other oil and gas companies.
BDCs stumble and dividend gets slashed in 2015 - FSC suspended and cut their dividend.
Could I have predicted any of these events would occur? Obviously not, but there were warning signs, particularly with ARCP, where the payout ratio on AFFO was high and in LNCO which had already started to decline before I had entered into it. Was I too heavily invested in LNCO and ARCP, you bet.
Following these events, my dividend payments heading into 2015 took a serious nosedive, as evidenced by the following "heat map" that I use when tracking my dividend receipts.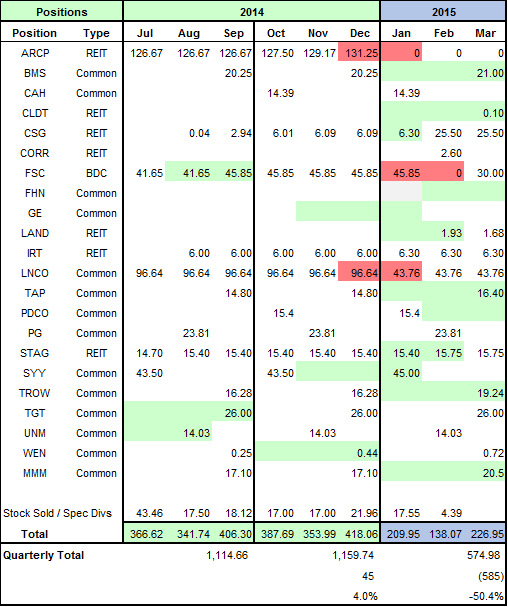 *Note that dividend increases are highlighted green while decreases are highlighted red
The value of the portfolio tanked, and I gave back virtually all of my gains from the first half of the year. I scraped by with a 2.4% increase for the year, though I consider myself lucky it wasn't worse. It very well could have been.
Today
Currently, the portfolio contains all of the securities above with the exception of ARCP, which I sold and have in cash. I held it until it got back above $10 a share and sold. I am waiting for a market correction (3%-5%) before I reinvest the funds, and am considering a few companies to split the $14,000 between. I would like to keep the portfolio to 25 or so securities, and could use some exposure in the technology, telecommunications and pharmaceutical sectors, so I will be looking closely at these. I also need to fill in the positions that I have begun building, consisting of First Horizon National (NYSE:FHN) , General Electric (NYSE:GE), Gladstone Land (NASDAQ:LAND), CorEnergy Infrastructure Trust (NYSE:CORR) and Wendy's (NYSE:WEN), as you will notice below.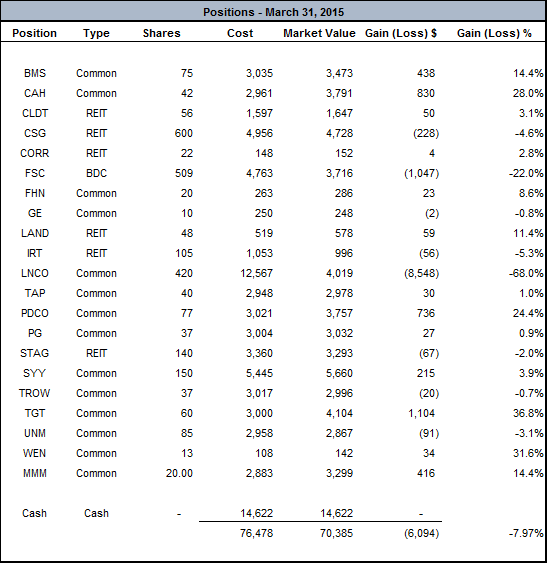 A quick snapshot of the portfolio concentration is as follows. One could argue that I should classify LNCO as an "MLP," which I can consider in future articles.
Summary:
I will begin posting monthly updates of the portfolio, with the hopes of righting the ship and giving insights into my strategy and how I will go about resuming growth. If you look back at the "heat map," overall I am happy with the number of increases in dividend payments in a relatively short period of time.
I currently have Independence Realty Trust (NYSEMKT:IRT) on my watchlist, where I am waiting for an increase and will also be watching FSC to see how the new management performs. LNCO is too depressed to consider selling right now, but ironically I figure if gasoline stays as depressed as it has been, I'm slowly making up the losses at the pump.
I hope you enjoyed my first article. If you take anything from this, it is to make sure you are diversified (I held too high of concentrations of ARCP and LNCO), and do not chase yield. It's a marathon, not a race, something I lost sight of in my ambition to build a large dividend base.
Please send comments my way.
Disclosure: The author is long THE STOCKS MENTIONED IN THE PORTFOLIO ABOVE.
The author wrote this article themselves, and it expresses their own opinions. The author is not receiving compensation for it (other than from Seeking Alpha). The author has no business relationship with any company whose stock is mentioned in this article.