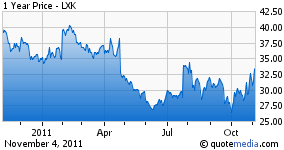 Lexmark International (NYSE:LXK) is involved in the manufacturing, servicing and supply of printing and imaging machines. It also provides document workflow and content management solutions for businesses.
LXK made news recently that it would start paying quarterly dividends of $0.25 a share, a dividend yield of roughly 3.20% at the current price. Martin Whitman's Third Avenue Management is a fan of LXK as is David Dreman's Dreman Value Management, Cliff Asness' AQR Capital Management and Ray Dalio's Bridgewater Associates. Each of these four funds increased holdings in LXK during the second quarter. According to Zacks, LXK had a mixed third quarter, missing analyst estimates on earnings per share while besting analyst predictions concerning its third quarter revenue. Lexmark's third quarter EPS was $0.95 vs. consensus estimates of $1.02. Third quarter revenue increased 1.5% year-over-year to $1.03 billion.
Now analysts are divided. Some forecast LXK, which is currently trading at $31.27, will drop to $25 a share within the next year while others estimate LXK will reach $43 a share. To get an idea whether LXK is worth the chance, we will look at LXK in closer detail and compare its performance to its closest competitors - Canon (NYSE:CAJ), Hewlett-Packard (NYSE:HPQ) and Xerox (NYSE:XRX).
P/E RATIO
First, we will look at the P/E ratio. This metric divides a company's share price by its earnings per share – the lower the number, the better. P/E ratio indicates how many times earnings a company is trading at. If the P/E ratio is high, the stock could be overpriced, so the lower the better. Of these four companies, HPQ has the lowest P/E ratio at 6.16. LXK is next at 7.35, followed by XRX at 10.93. CAJ had the highest P/E ratio at 17.85.
EARNINGS GROWTH
Next, let's look at the earnings growth consistency and expectations. Expected growth estimates can be wrong. In fact, they are frequently overstated, but they can be useful when comparing companies or comparing a company's performance relative to its industry. In the case of LXK, it grew 4.9% over the last five years, outperforming the market by over 5%. The industry lost -0.4% in the last five years. Unfortunately forward earnings for Lexmark are expected to decline by 6.5%. CAJ's earnings, in comparison, shrunk 0.7% over the last five years but are forecast to grow by 6.7% over the next five. Analysts also expect HPQ's earnings will grow by 8% over the next five years. XRX earnings lost 2.4% over the last five years but are expected to gain 18.1% over the next five years.
VOLATILITY
We used beta as a measure of risk. A beta of 1.0 means that the stock moves with the market. The higher a stock's beta, generally, the more volatile the stock, and, as a result, the more risky. A lower beta tends to indicate that the stock moves more independently from the market. LXK has a beta of 1.07, indicating it moves roughly with the market. HPQ is slightly more volatile than the market. It has a beta of 1.34. XRX is even more volatile at 1.79. CAJ was closest to LXK with a beta of 1.13.
HEDGE FUND OWNERSHIP
Stocks that are favored by hedge funds tend to outperform the market by a few percentage points on average. HPQ was the most popular of the stocks we looked at. Forty of the over 300 hedge funds we track are invested in HPQ. XRX was next at 32, followed by LXK at 18 and CAJ with 6.
THE BOTTOM LINE
Lexmark isn't a sell but we don't like the fact that its earnings are expected to decline. So we rate LXK a hold.
If you are looking for less volatility and lower risk we think the best choice here is HPQ despite the recent turmoil in its stock price. The good thing about its nearly 40% decline this year is that it is probably oversold and has a very limited downside. If you don't mind the volatility then we would go with XRX because of its low valuation compared to its growth estimates. The middle ground is CAJ. It has a low beta, moderate earnings forecast, and a decent P/E ratio. Another stock with consistent earnings and low volatility is British Tobacco (NYSEMKT:BTI), with a $3.85 dividend, 17.48 P/E ratio and a 0.62 beta. Overall, we see several stocks with attractive valuations which imply that this is a good time for long term investors to be in the stock market.
Disclosure: I have no positions in any stocks mentioned, and no plans to initiate any positions within the next 72 hours.