Overview
In this series of articles, I will be taking a look at various industry sectors and selecting what I believe will be outperforming stocks for 2015. In Part 1, I reviewed 47 stocks within the Aerospace and Defense industry sector. For part 25, in determining my favorite stocks in this sector for 2015, I will review the following Gas Utilities stocks:
AGL Resources (NYSE:GAS)
Atmos Energy (NYSE:ATO)
Chesapeake Utilities (NYSE:CPK)
Delta Natural Gas (NASDAQ:DGAS)
Gas Natural (NYSEMKT:EGAS)
Laclede Group (LG)
National Fuel Gas (NYSE:NFG)
New Jersey Resources (NYSE:NJR)
Northwest Natural Gas (NYSE:NWN)
ONE Gas (NYSE:OGS)
Piedmont Natural Gas (NYSE:PNY)
Questar (NYSE:STR)
South Jersey Industries (NYSE:SJI)
Southwest Gas (NYSE:SWX)
UGI (NYSE:UGI)
WGL Holdings (NYSE:WGL)
Step 1
The first step I took to narrow down the list of possible options was to look at the earnings over the past five years of these stocks within the industry sector. I removed the following stocks from further review because of their negative or flat (less than 3%) earnings growth over the past five years:
Northwest Natural Gas
Piedmont Natural Gas
Questar
UGI
Step 2
I then took the list of remaining stocks, and checked the revenue growth of each over the past two years. I am removing any stocks that had flat (less than 2%) growth or saw a decline in revenue over the past two years.
None of the remaining stocks fit this criterion.
Step 3
My next move was to examine the trailing PEG ratio of each of the remaining stocks. I removed any stock that had a PEG ratio over 1, to focus more specifically on fairly valued/undervalued stocks. These stocks included:
Chesapeake Utilities
Delta Natural Gas
ONE Gas
Step 4
The next set of data I reviewed was the Fundamental and Value Scores for each of the ten remaining stocks. These scores are calculated by YCharts, and I have found them to be very useful when researching investment options. More details on each of the scores can be found here and here.
| | Fundamental Score | Value Score |
| --- | --- | --- |
| AGL Resources | 8 | 9 |
| Atmos Energy | 7 | 2 |
| Laclede Group | 7 | 5 |
| National Fuel Gas | 8 | 10 |
| New Jersey Resources | 7 | 9 |
| South Jersey Industries | 7 | 9 |
| Southwest Gas | 9 | 5 |
| WGL Holdings | 8 | 8 |
To determine the best stocks for 2015, I'm only taking into consideration stocks with a fundamental score of 8 or higher in both categories. Doing this left me with the following remaining stocks:
AGL Resources
National Fuel Gas
WGL Holdings
Step 5
My next step was to look at the book value of each company, and to remove any stock that has seen a decrease in its book value over the past five years; however, none of the remaining stocks saw a decline in book value during this time period.
Step 6
My next step was to look closer at each stock remaining that passed all previous criteria, and determine whether or not there were any reasons to eliminate them as great stock candidates for 2015. In doing so, I reviewed the financials of each company, the most recent quarterly report transcripts, and searched for any news items that warranted concern.
AGL Resources
In its last quarter, the company posted a 19% increase in revenue and a decline in earnings per share from $0.75 to $0.66 compared to the same period last year. The company had excellent full-year results, with earnings per share increasing 92% from $2.45 to $4.71.
The company recently increased its dividend and raised its 2015 earnings outlook due to strong demand, due to colder weather, as well as better-than-expected results from its wholesale business.
National Fuel Gas
In its last quarter, the company posted a 5% decline in revenue and an increase in earnings from $0.97 per share to $1.00 per share compared to the same period last year.
Unlike AGL Resources, National Fuel Gas has actually decreased its earnings guidance for 2015 from the $3.05-3.35 per share range to a $2.65-2.90 per share range.
WGL Holdings
In its last quarter, the company posted a 10% increase in revenue, and an increase in earnings per share from $0.36 to $1.28 compared to the same period last year.
The company saw earnings increases across the board, with significant increases in its regulated utility, retail energy-marketing, commercial energy systems, and midstream energy services business segments.
Conclusion
The sector in general is facing a difficult time as investors move away from income stocks as Treasury rates rise. However, I feel that AGL Resources and WGL Holdings are still positioned to perform well in the current market environment.
Looking at the chart below, you can see that these two stocks have followed similar trends so far this year, but that WGL has performed significantly better.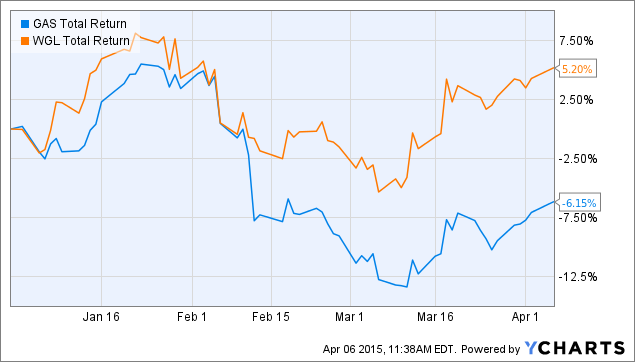 GAS Total Return Price data by YCharts
I feel that this will continue moving forward, with WGL being the better-performing stock of the two. With strong growth across each of its business segments, along with new ventures such as its stake in the Mountain Valley Pipeline project, I feel that the stock will continue to perform well throughout the remainder of the year.
While AGL Resources hasn't fared nearly as well the first few months of the year, I believe that the drop in its stock price is currently an attractive entry position. I am not betting on significant price appreciation from AGL, but with its substantial dividend yield (currently over 4%) and impressive dividend growth, I believe that total returns will still be substantial and likely ahead of many of the other stocks within this industry sector by year's end.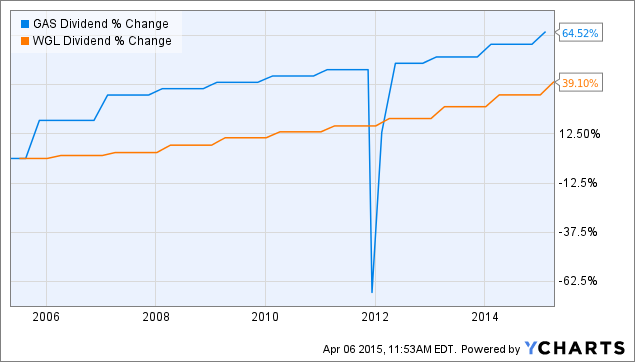 GAS Dividend data by YCharts
For part 26 of this series, I will be reviewing the Health Care Equipment & Supplies industry sector. As always, I suggest individual investors perform their own research before making any investment decisions.
Disclosure: The author has no positions in any stocks mentioned, and no plans to initiate any positions within the next 72 hours.
The author wrote this article themselves, and it expresses their own opinions. The author is not receiving compensation for it (other than from Seeking Alpha). The author has no business relationship with any company whose stock is mentioned in this article.