The bad news about the labor market had some prognosticating that the stock market could crash on Monday. Indeed, all seemed bleak on Good Friday, when the March Employment Report was reported to a closed trading floor; but after three days of a bright spring weekend, investors had only to endure some early morning volatility before seeing green in the light of the new day. So what happened?
First, let's review the scary catalyst that had some ready to run away on Monday. It was Friday's reported Employment Situation Report for the month of March. It was truly troublesome, as it showed nonfarm payrolls only increased by 126K in March, versus expectations for 247K. Also, February's total was revised lower to 264K, from 295K. The depth of the decline in job creation was dramatic and against recent trends showing strong gains. It forces a reassessment of the economic situation. As a result, stock futures were dramatically lower on Monday morning, and some investors were tense all weekend long.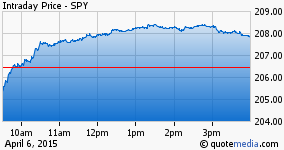 (Day Chart of the SPY at Seeking Alpha)
About a half hour of darkness was all we had to endure, though, on Monday, despite some dire prognostications of imminent doom on the disastrous jobs data. The SPDR S&P 500 Trust ETF (NYSEARCA:SPY) actually ended up closing 0.7% higher, after opening down a half of a percentage point.
| | |
| --- | --- |
| Market Segment Security | Monday 04-06-15 |
| SPDR S&P 500 Trust ETF | +0.7% |
| SPDR Dow Jones Industrial Average ETF (NYSEARCA:DIA) | +0.7% |
| PowerShares QQQ Trust ETF (NASDAQ:QQQ) | +0.8% |
| iShares Russell 2000 ETF (NYSEARCA:IWM) | +0.4% |
| Vanguard Total Stock Market ETF (NYSEARCA:VTI) | +0.7% |
| PowerShares DB USD Bear ETF (NYSEARCA:UDN) | +0.5% |
| United States Oil ETF (NYSEARCA:USO) | +5.0% |
| SPDR Gold Trust ETF (NYSEARCA:GLD) | +1.2% |
Stocks were higher across classes, from large to small, from the Nasdaq to the Dow. But one asset class was profoundly impacted on Monday by the bad jobs news. The dollar index dropped significantly on Friday after the news was reported, and on Monday, the dollar index dropped further. Though, the dollar was appreciating some on Monday evening as I scribbled here.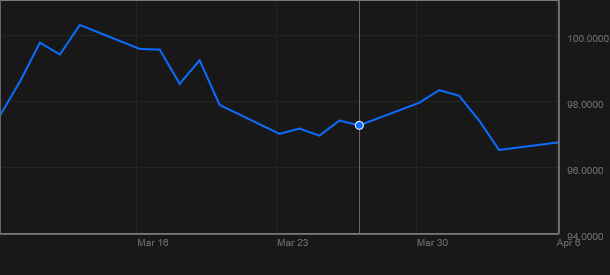 (1-Month Chart of the Dollar Index at Bloomberg)
The dollar saw the most important reassessment among security classes. The dollar was rich, given its significant appreciation over the past year against major currencies on economic strength, and the Fed's tightening plans versus foreign struggles in Japan and Europe and easing measures overseas. If the economy weren't right in the U.S., then that dollar strength faced an important question about whether it was appropriate. If the jobs data and other data reflective of a poor first quarter points to broader weakness beyond March, then the Fed's tightening monetary policy plans could be on hold. So the dollar depreciated, and gold and oil, and other commodities and assets priced in dollars, rose in value.
So, with the Fed potentially on hold, and with equities also purchased with dollars, stocks gained on Monday, where some thought they might crash. But beware investors, because if recession threatens, stocks will not hold the high ground. Rather, as corporate earnings are threatened, stocks would give way as well.
Fear not, though, as first-quarter weakness is a generally accepted view now, but the Federal Reserve and most economists believe that the economy will bounce back in Q2, just like it did last year. For this reason, you'll want to pay special attention to data covering the month of April. If it reflects continued softness in the economy, then stocks could come under pressure. That would be when it would be appropriate to worry, but April's data will also be inclusive of the Easter and Passover holidays this year, and they provide a boost to consumer spending. Thus, I rest comfortably this evening, despite some other issues of concern I see ahead. I cover the market regularly, and invite interested readers to follow my column here at Seeking Alpha for my regular insights.
Disclosure: The author has no positions in any stocks mentioned, and no plans to initiate any positions within the next 72 hours.
The author wrote this article themselves, and it expresses their own opinions. The author is not receiving compensation for it (other than from Seeking Alpha). The author has no business relationship with any company whose stock is mentioned in this article.