The Philippine peso is showing underlying strength as economic growth picks up alongside falling price pressures. Since 2013, the Philippine peso has broadly outperformed the Japanese yen, seen below.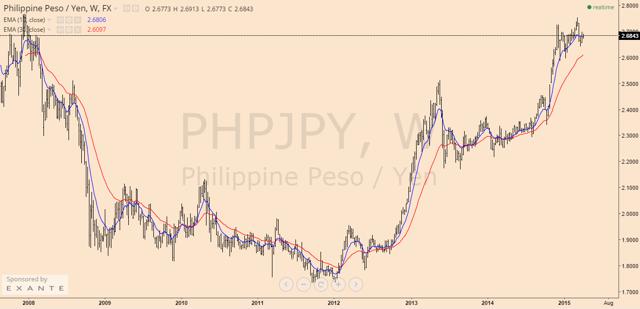 Data provided by Trading View
Economic activity has expanded in recent months. In the fourth quarter, the economic growth figure came in at an annual pace of 6.9%, up from the previous quarter's reading of 5.3%, as well as exceeding estimates for 6.0%. Since bottoming in 2011 at just over 3% annual growth, the reading has more than doubled, as seen below. Increases in household consumption and exports fueled the growth figure.
"On the expenditure side, household consumption grew by 5.1 percent year-on-year, following a 5.2 percent increase in the July to September quarter.

Government expenditure expanded by 9.8 percent, recovering from a 2.6 percent decline in the preceding quarter, mainly due to high cash disbursement of major government expenditures for salaries and wages as well as maintenance and operating expenses.

Exports expanded 15.5 percent, accelerating from a 9.8 percent increase in the previous quarter, mainly due to higher sales of goods and services," according to Trading Economics.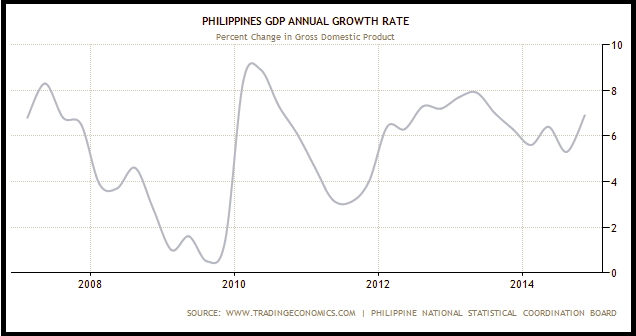 Meanwhile, as economic activity trended higher, price pressures have fallen. In March, the inflation figure came in at an annual pace of 2.4%, down from the previous quarter's reading of 2.5%, while exceeding estimates for 2.6%. Over the last year, inflation has halved, falling from nearly 5%, to current levels. Much of the decline in consumer inflation can be attributed to the large drop in energy prices across the globe.
"Year-on-year, cost of housing, water, electricity, gas and other fuels in March fell by 0.2 percent, following a 1.1 percent drop in February. Cost also declined for transport (-0.2 percent from -0.5 percent) and communication (-0.1 percent from 0.1 percent fall)," according to Trading Economics.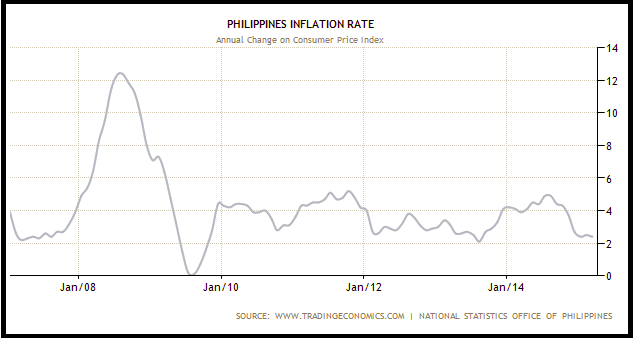 Moreover, lending rates remained unchanged as policymakers are content with the current balance of growth and price pressures. In March, the Philippine central bank kept its lending rate unchanged from the previous month at 4%, and in line with estimates. Last year, policymakers raised lending rates to keep inflation measures in check, and now that policy changes are seeing tangible effects, rates will likely remain steady. Stable rates will likely keep domestic demand robust, while price measures are manageable.
"The Monetary Board's decision is based on its assessment that the inflation environment continues to be manageable. Latest baseline forecasts indicate that inflation is likely to settle within the lower half of the target range of 3.0 percent ± 1 percentage point for 2015 and 2016. The forecasts are also supported by well-anchored inflation expectations, which remain within the target band over the policy horizon.

The Monetary Board likewise noted that the risks to the inflation outlook continue to be broadly balanced, with upside risks emanating from pending petitions for adjustments in utility rates and possible power shortages. Meanwhile, global economic activity has turned slightly more positive but continues to be uneven, which could further mitigate upward pressures on commodity prices.

At the same time, the Monetary Board observed that domestic demand conditions remain robust, owing to solid private demand, adequate domestic liquidity, and buoyant business sentiment. Higher public spending is also expected to support economic activity," according to Trading Economics.
The Philippine economy continues to expand as robust domestic demand and exports are aided by steady price pressures, leading to an attractive lending rate environment. As economic activity further improves, the Philippine peso could move higher against many of its Asian counterparts, including the Japanese yen.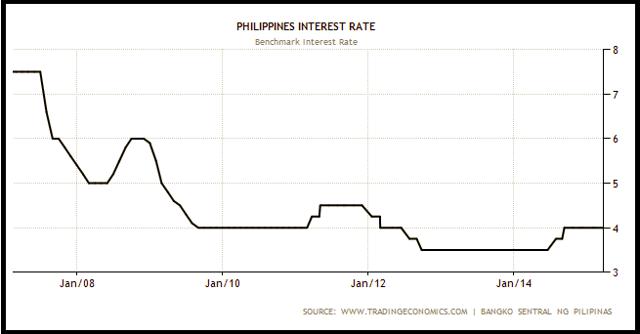 Disclosure: The author has no positions in any stocks mentioned, and no plans to initiate any positions within the next 72 hours.
The author wrote this article themselves, and it expresses their own opinions. The author is not receiving compensation for it (other than from Seeking Alpha). The author has no business relationship with any company whose stock is mentioned in this article.